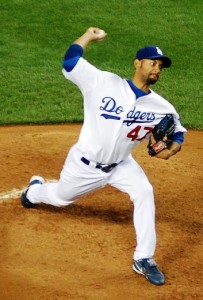 Given the state of their bullpen, we shouldn't write off any pitcher with big league experience that joins the Yankees on a minor league deal over the next few weeks. Randy Flores was the first such move, and apparently he has a mid-June opt-out that is rapidly approaching. The Yankees added lefty Greg Smith and righty Cory Wade yesterday, both of whom are with Triple-A Scranton for the time being. Smith is little more than a fill-in starter for a team with half its rotation in the big league bullpen, but Wade has the potential to be useful in middle relief.
Wade's story isn't terribly long or interesting. The 28-year-old was a tenth round pick of the Dodgers out of Kentucky Wesleyan College in 2004, and he reached the show in 2008 after moving to the bullpen full-time in 2007. Wade threw 71.1 IP across 55 appearances (the Joe Torre Plan( following a late-April call-up, posting a rock solid 3.78 FIP. He struck out just 6.43 batters but only walked 1.51 unintentionally per nine innings that year, getting a ground ball 40.8% of the time. Wade struggled (4.40 FIP, 5.53 ERA) in 27.2 IP with the Dodgers in 2009 and was sent back to the minors. He had shoulder surgery in March 2010 and pitched some late in the year, but was non-tendered after the season. The Rays picked Wade up over the winter and stashed him in Triple-A until he informed them that he planned to use his opt-out clause this past weekend, which is why he was available in the first place.
The shoulder surgery was not any kind of major reconstruction, just an arthroscopic procedure that cleaned things up. Wade was never a hard-thrower before, sitting mostly 88-91 with his fastball in the past and his velocity has reportedly returned to similar levels following the surgery. His bread and butter is a mid-70's curveball with both vertical and horizontal break that he spots well on the outer half of the plate to both righties and lefties. You can see it in this video (first out). He's also uses an 80 mph or so changeup as well, making him a rare three pitch reliever.
Wade's strengths are his lack of a significant platoon split (thanks to the changeup and curve) and his ability to limit walks (1.72 uIBB/9 in the bigs, 1.83 in the minors). His weaknesses are that he hasn't shown much strikeout ability in the big leagues (6.27 K/9 but 8.15 in the minors) and is prone to the long ball (0.91 HR/9 in the bigs, 1.09 in the minors). That tends to happen to fly ball pitchers (just 39.3% grounders) with less than stellar fastball velocity. Wade was his usual self with Tampa's Triple-A affiliate this year (8.35 K/9, 1.47 BB/9, 0.98 HR/9 in 36.2 IP), so it doesn't appear as if the surgery had any ill effects.
Those are two nice strengths but also two serious weaknesses, keeping him from being anything more than a middle innings guy at the big league level, particularly in the AL East. That said, Wade is certainly better than the Buddy Carlyles and Amaury Sanits of the world, so he's a fine pickup that the Yankees can stash in Triple-A and evaluate for a little while before deciding if he's worth a call-up. With Joba Chamberlain done for the year and Rafael Soriano not yet throwing, the more options the Yankees have available to them, the better. Wade's about as good as minor league signings get this time of year.