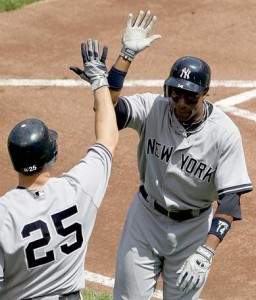 So here's a funny question: when's the last time Curtis Granderson hit a homerun? It's been a while, twelve team games in fact. That doesn't really sound like much, but considering that he hit four homers in the twelve games before that and two homers in the twelve games before that, it feels like an eternity. Grandy's last long ball was this garbage time shot off Yoshinori Tateyama in the first game of the Texas series. Yeah, it's been a while.
There's a few things worth noting about the homerless stretch. First of all, Granderson isn't struggling without them. He has ten hits in his last 37 at-bats, a .270 average that is right in line with his .277 season mark. Two of those ten hits have been triples (though it's hard to call last night's triple and triple, thanks to Nyjer Morgan), and triples still clear the bases like homeruns. He's also drawn eleven walks and been hit by two pitches in that time, good for a .426 OBP. Homers or not, getting on base that often is stellar.
Secondly, the lack of homers is likely a regression back to normalcy more than anything else. With 21 homers through the team's first 65 games, Granderson was on pace to go deep more than 52 times this season, and it was really hard to see him doing that. No matter how prolific his power may be, 52 homers in a season is rarefied air. There's a reason it's only happened 31 times in baseball history. Twenty-one homers through 77 games put Grandy on pace for 44 dingers, which is still a huge number that we would have happily signed up for before the season started.
Third, pitchers really aren't pitching him all that differently. With some help from Texas Leaguers, here's a breakdown of the pitch selection Granderson's seen since his last homer on June 14th…

Just a few more sliders, on average eight more per 100 pitches seen, which works out to about two more per game (give or take). It's not like pitchers have stopped feeding Granderson fastballs all together. Yeah, his strikeout rate has gone up, from one whiff for every 4.38 plate appearances before his last homer to one for every 3.76 at-bats since, but six strikeouts in his first three games after that last homer are skewing the numbers. In his last nine games, Granderson has struck out once every 4.88 plate appearances.
We're just about halfway through the season and Curtis Granderson is hitting .277/.365/.579 (.405 wOBA) with 21 homers, 38 extra-base hits, and 13 steals while playing very good defense at a premium position. He's also played in all 77 team games (75 starts, two appearances off the bench), and durability is a wonderful trait. Whether you prefer fWAR (4.2) or bWAR (2.9), he's already surpassed last season's production (3.6 and 2.8, respectively). Granderson hasn't hit a homerun in more than two weeks, but it's just a blip on the radar more than anything. The fact that it's noticeable when he doesn't go deep for twelve straight should tell you that he's been pretty damn awesome.