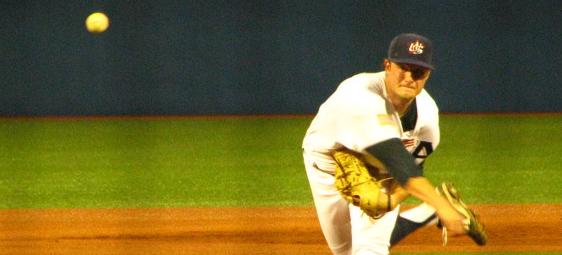 The draft begins at 7pm ET tonight and can be seen on MLB Network, and of course I'll be liveblogging the whole shabang right here. The top three picks are pretty much settled: UCLA RHP Gerrit Cole will go first overall to the Pirates, Rice 3B Anthony Rendon will go second to the Mariners, and UCLA RHP Trevor Bauer will go third to the Diamondbacks. That could still change, but it seems unlikely. I'm not 100% certain, but I do believe Cole and Bauer will be the first pair of teammates to both go in the top three picks of the same draft in history. Rice RHPs Phil Humber and Jeff Niemann went third and fourth overall in 2004, respectively, so Cole and Bauer would replace them as the highest drafted teammates. At least I think they will, like I said I'm not certain.
Anyway, with a few hours to go, here's some miscellaneous draft links to keep you occupied. All of our draft content here can be found right here …
Oppenheimer On The 51st Pick
"It's a lot harder," said amateur scouting director Damon Oppenheimer to George King when asked about not picking until 50 other players are already off the board. "When you pick higher, you can center in on a guys and get multiple looks. Now, with all the supplemental picks, you don't have a clue what [other teams] will do … We will try to find the best available guy we can. It doesn't matter if it's high school or college."
Final Mock Drafts
Both Jim Callis and Keith Law posted their (presumably) final mock drafts earlier today and revised them this afternoon. Callis' list of picks is free but the analysis is behind the pay wall. KLaw's mock is behind the iron curtain of Insider, but MLBTR provided a nice little recap. Kevin Goldstein's mock draft is behind the Baseball Prospectus subscriber wall, though I can tell you that he has the Yankees taking high school outfielder Williams Jerez with that 51st overall pick. I wrote about him here, though I wouldn't be completely in love with that pick. That's not to say it would be bad, Jerez's talent is worthy of that draft spot, he's just a little too raw for my liking.
Draft Chats
In his marathon chat this morning, Frankie Piliere reiterated the Yankees' interest in four high school players: RHP Dillon Howard, SS Brandon Martin, 3B/OF Tyler Goeddel, and LHP Jake Cave. We've heard that before. He adds that they'll probably take high school OF Josh Bell if he's still available, unless they truly believe he won't sign. Law, meanwhile, said he believes that Goeddel will be off the board before the Yankees' pick in his chat this afternoon. That would bum me out, I'm a fan of the kid. Barring something completely unexpected, the Yankees are very likely to take a prep player with that 51st overall pick. I approve.
Draft Things To Know
I enjoyed this post from David Cone favorite Jeff Sullivan, which breaks down some of things you should know heading into the draft if you've never been here before. I have one thing to add: "A 'projectable' player is tall and skinny." That last part is important. If a player is tall and has already filled out, then he has "a good body." This is of paramount importance, I assure you.