Game one of today's doubleheader: a success. Freddy Garcia pitched well, Jorge Posada hit a timely homer, and Mariano Rivera slammed the door in the ninth. Just like we drew it up.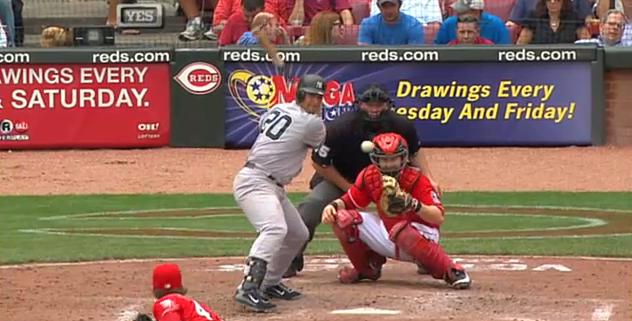 Jorge Takes A Leake (Deep)
It's been a long, long time since Jorge Posada's last homerun. We're talking 60 days, 52 team games, 40 personal games, and 145 plate appearances since he took Jason Berken of the Orioles deep on April 23rd. Posada finally got back in the homerun column this afternoon, jumping all over a first pitch curveball from Mike Leake. It wasn't a bomb, in fact it just barely snuck over the wall in right field, but they all count the same. The sixth run shot gave the Yankees back the two-run lead they had just blown because of…
Ramiro's Bad Day
When you're the backup backup infielder, the only thing you have to do is defense. If you can't hit, that's fine, you're not expected to. Just turn everything that should be turned into outs actually into outs. Pena's always been a strong defender, but the fifth inning of this game was not his finest moment as a big leaguer. First he threw away what should have been a routine throw from third and allowed leadoff man Drew Stubbs to reach, then a few batters later he threw a ball into the dirt trying to cut down the runner at the plate. He was maybe 50 feet away from home, yet he bounced it and the runner was safe. Pena also nearly threw away another ball one batter later.
The Reds picked up just one hit in that inning (a legit single by Brandon Phillips after Stubbs reached) but scored a pair of (unearned) runs thanks to a bunt, sacrifice fly, and Ramiro's two gaffs (both scored as errors). Pena also let a hard hit ground ball get through his legs to leadoff the seventh (hard hit, but that's a play a big league third baseman has to make), though it didn't come back to hurt the team. Tighten that up, Ramirp. You're better than that.
Votto's Bad Decision
The Yankees scored their first two runs in the third inning thanks to a trio of singles, but they also got some help from the reigning NL MVP. Garcia grounded out to start the inning, but Brett Gardner and Curtis Granderson followed up with singles to set up a first and third situation with one out. Nick Swisher worked a six-pitch at-bat before grounding sharply to first, and Votto stepped on the bag for the second out of the inning before trying to get out number three. Instead of throwing to second he went home, but the throw was high and Gardner slid in safe with the team's first run. If he goes to second, it's likely that Granderson intentionally gets caught in a run down to allow the run to score.
Instead of getting two outs on the play and ending the inning, the Yankees were still alive. Sure enough, Robinson Cano singled through the 5.5 hole one batter later to drive Granderson in for the second run. Fallacy of the predetermined outcome, yadda yadda yadda, but Votto's throw home likely contributed to the second Yankee run.
Sweaty Freddy Makes The Reds … See Red
Garcia's thing seems to be starting slow and finishing strong, which is exactly what he did last time out against the Cubs. Today's game featured a double and a walk in the first inning, but Freddy settled down and retired the next eleven men in a row before Pena's adventure in the fifth. The end result was the two unearned runs across seven innings of work, with three hits allowed and the one walk. He struck out four and got ten other outs on the ground. T'was a gem. Bravo, Freddy.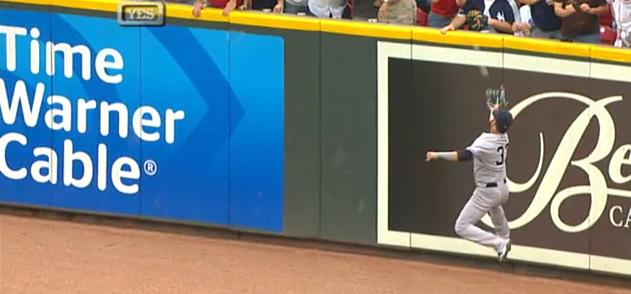 Leftovers
I'm initially didn't like Joe Girardi going to David Robertson in the eighth since Garcia needed just six pitches in the seventh and had thrown only 89 on the day, but I'm fine with the move after thinking about it. I'd rather lift him too early than too late, especially with the lineup about to turn over and the big bats coming up. Ideally they would have been able to save Robertson for tonight, but winning this game is more important. Mo was flawless in the ninth, as usual.
The bottom three hitters in the lineup (not counting the pitcher), combined to go 1-for-10 with a double (Eduardo Nunez, a hustle double), two strikeouts (both by Frankie Cervelli) and a hit-by-pitch (Pena). Nunez promptly got picked off second after the double, so that's a whole lot of outs after the fifth spot in the order. At least the guys at the top did what they had to do. Oh, and how about Gardner starting that third inning rally by beating out an infield single with a headfirst slide into the bag? I believe that's the first time I've ever seen that actually work. Weird.
Four nice defensive plays in the game. First is that catch at the wall by Swisher (above), and the second was by (who else?) Gardner. He caught a Scott Rolen line drive then threw to second to double Jay Bruce off the bag to end the sixth. Cano made a barehanded play to get the runner at first an inning later, then Pena redeemed himself by robbing Rolen of a hit in the ninth with a nice diving stop.
Also, is it just me, or does Garcia seem to catch an inordinate number of line drives? I feel like he catches at least one per start, like he did today in the second inning. Of course, the other side of the coin is that he gives up more line drives than anyone in the American League (25.2%), so…
WPA Graph & Box Score
MLB.com has the box score and video highlights, FanGraphs everything else your heart desires.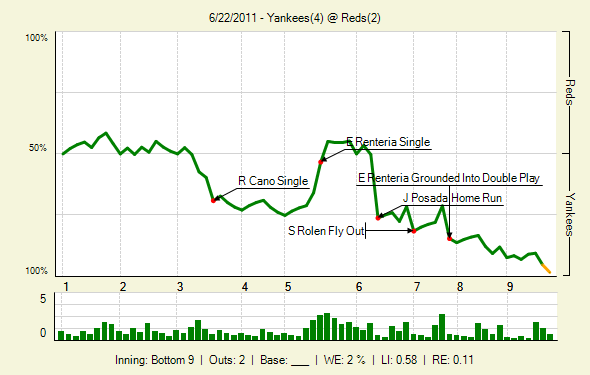 Up Next
The Yankees are a season high 14 games over .500, and will shoot for 15 over later tonight. Brian Gordon starts against Johnny Cueto at 7:10pm ET.