The Yankees are still playing the Brewers, but here are some links for those of you that can't watch the game…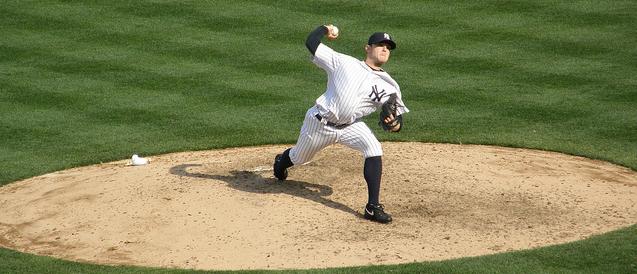 David Robertson, Life Saver (Not Literally)
The Yankees bullpen was supposed to be a strength coming into the season, and it has been for the most part. Just not the way we expected. Rafael Soriano and Joba Chamberlain went down long-term elbow injuries, forcing David Robertson to step up his game and bridge the gap between starter and Mariano Rivera. His performance (1.58 FIP and 1.4 fWAR, third highest among all relievers) earned him a spot on Jerry Crasnick's list of life savers, which focuses on players who thrived after injuries forced them into more prominent roles. "He's always had that great curveball," said a scout that Crasnick spoke too. "And [Joe Girardi] really likes him and trusts him." Well, duh.
Joba Documents Life After Tommy John Surgery
If you follow Joba on Twitter, then you're already aware that he's been posting near-daily updates of his status following his Tommy John surgery, and Marc Carig asked him why. "I'll document good days and bad days when we really start getting after it," said Joba yesterday. "It's good. It obviously gives you a non-baseball outlet. A lot of people don't know really what Tommy John is, and the process. They're basically going through the process with me. I appreciate all the support that they have given me. I think it's fun for them to see what's happening."
Joba posted some gnarly photos of his scars after the surgery, and continues to write about how he's feeling and how the latest doctor appointment went. I've been following along and I think it's a pretty cool way for him to not only keep everyone updated about how he's doing, but also interact with readers. Rehab from TJS is no joke, but now we'll get a closer look at it then every before.
All-Star Game Voting Ends Tonight
Fan voting for the 2011 All-Star Game ends at midnight, so make sure you head over and stuff the ballots while you still can. Five Yankees are in line to start the game at the moment: Russell Martin, Robinson Cano, Derek Jeter, Alex Rodriguez, and Curtis Granderson. Mark Teixeira is about a million voted behind Adrian Gonzalez at first base, and both Nick Swisher and Brett Gardner are about a million and a half votes out of an outfield spot. I haven't voted yet myself, but if I do, here's my ballot…
AL: Alex Avila, Adrian, Howie Kendrick, Asdrubal Cabrera, A-Rod, Granderson, Bautista, Carlos Quentin, David Ortiz
NL: Brian McCann, Prince Fielder, Rickie Weeks, Jose Reyes, Placido Polanco, Matt Kemp, Andrew McCutchen, Ryan Braun