After a one week hiatus, I'm back with a new mailbag. This week we're going to talk about first pitch swinging, outfield arms, some DotF weirdness, prospects in the super-low minors, and my favorite announcers. Remember to use the Submit A Tip box in the sidebar to send in your questions throughout the week.
Alex asks: I have a few questions about first pitch swinging: Who swings at first pitches the most on the Yankees? And, as a team what are the situations where the team as a whole is the most likely to swing at the first pitch? While watching the game against the Orioles, Teixeira swung at the first pitch in a two out, no one on situation which seems to play into the pitcher's goal of having a quick inning. Very frustrating.
First pitch swinging can be very frustrating, but it's not always a bad strategy. A lot of time with the bases loaded or with men in scoring position, spots where the pitcher is in serious trouble, the first pitch is often the best to hit because the guy on the mound wants to make sure he gets strike one. That leads to a lot of first pitch fastballs in the zone, which are good hittin'. Those are good time to guess, and great things happen when you guess right.
Anyway, I have no idea how to find the situations in which the team (or even individual players) are most likely to swing at the first pitch, but what I can tell you is how often each player puts the first pitch of an at-bat in play. That's pretty much the best I can do since I'm not PitchFX savvy enough to dig through the data and pick it out swings regardless of outcome. Here's what I've got for first pitch balls in play…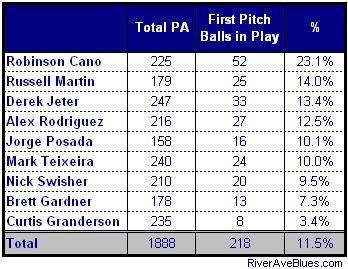 The data is for this year only, and I looked at players with more than 100 plate appearances. So sorry to all the bench guys. No one should be surprised that Robinson Cano tops the list or that Derek Jeter ranks pretty high, and frankly it looks like what I imagine a chart of first pitch swinging percentages would look like (based on just observation). As a group, the nine regulars put the first pitch in play 11.5% of the time, which is slightly higher than the MLB (11.2%) and AL (11.0%) averages. The Yankees also have a 118 OPS+ on the first pitch, so they're doing more damage that the league average on the first pitch as well. Swinging at the first pitch is most frustrating after the pitcher walks the previous batter, that's when it really bothers me.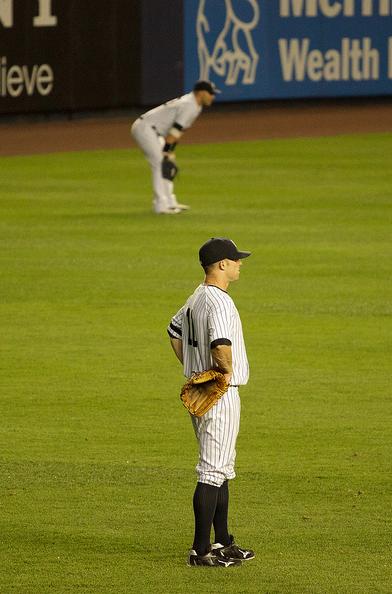 Shai asks: Is Granderson considered to have a good arm? From my untrained eye it seems he doesn't and he actually pushes the ball rather than throwing it. From the 3 OF Swisher seems to have the best mechanics (Gardner's % not withstanding) What do you think?
Yeah, all of the Yankees' outfield arms pretty much suck (for various reasons). Gardner has a tendency to throw ten-hoppers to the plate and Swisher is prone to airmailing stuff, and Grandy just isn't all that great at it. Throwing arm is the least important defensive tool for center and left fielders, so it's not a killer there, but it's very important in right. The numbers don't really agree though. Since the start of the 2009 season, Gardner has saved 6.4 runs with his arm, ninth most among the 62 qualified outfielders (and right behind the cannon armed Shin-Soo Choo). Granderson is at 1.4 runs saved (23rd), and Swish is way down at -7.8 runs saved (59th). Two of the three have actually been pretty good.
As for the actual throwing mechanics, Swisher looks like he has the best, but I'm not the best person to ask about these things. Frankly I don't care how it looks as long as it works, and it's clearly not for Nick.
John asks: In the down on the farm stats you always include GB-FB ratio. However, many times the outs don't match up. For instance, Nik Turley [the other day] has a game where he struck out 4 and had a 5-2 GB-FB ratio over 6 innings. What happened to those other 7 outs? Even if he got 5 DPs with his 5 ground balls, there are 2 outs missing, right?
There's a number of reasons why. Could be a double play like you mentioned, could also be baserunners getting thrown out trying to steal/getting picked off. The biggest culprit is line outs though, which MiLB.com doesn't keep track of in the box score. I'd have to go through the play-by-play recap and count them up manually, and there's no chance of me doing that on an every day basis. Sorry.
Nate asks: Which DSL Yankees players have received big bonuses?
The Dominican Summer League season started last weekend, and you can see the rosters for the Yankees' two affiliates here and here. I recommend looking at the stat pages (here and here) though, just to see who has actually played this year. Some guys on the roster are actually in Extended Spring Training and on their way to GCL later this month. Here's the bonus info I have, which is obviously far from complete (signing year in parenthesis)…
Wilmer Romero, OF – $656,500 (2010)
Christopher Tamarez, SS – $650,000 (2010)
Eladio Moronta, OF – $570,000 (2009)
Eduardo Rivera, RHP – $475,000 (2010)
Juan Matos, RHP -$400,000 (2010)
Mikeson Oliberto, OF – $12,000 (2010)
Fred asks: Besides Vin Scully, who is your favorite play-by-play announcer in baseball?
Scully is easily the best, and I also love Duane Kuiper and Mike Krukow, who call the Giants' games. I'm sure some people will disagree, but I also enjoy Dewayne Staats and Brian Anderson of the Rays. They're pretty entertaining, and Anderson's a young enough guy that his references aren't completely outdated. Dick Enberg with the Padres is also fantastic. Gary Cohen and Keith Hernandez have their moments on SNY; it's fun when Keith starts rambling on like he forgets he's on television or something. And, of course, David Cone is pretty awesome on YES. So is Ken Singleton and Al Leiter.