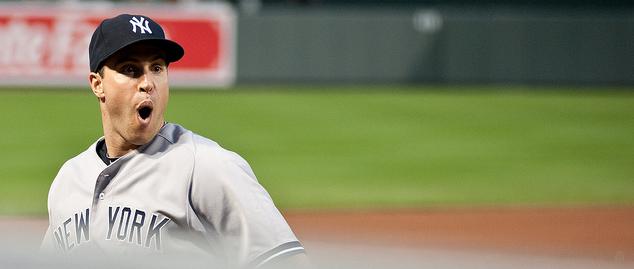 We've become numb to homerun records over the last decade or so, likely because of smaller ballparks, expansion, better advance scouting, PEDs … all of that and more likely contributed to the offensive explosion. Alex Rodriguez has chased 400, 500 and 600 career homers in recent years, plus Derek Jeter's recent pursuit of 3,000 hits has given us our fill of historic milestones. So when Mark Teixeira hit his 299th career homerun last night, it was barely a blip on the radar. It shouldn't be though, his (inevitable) 300th homer will be an impressive feat, especially when put into context.
Just 129 hitters in baseball history have hit 300 career long balls, a group that does not include plays like Roger Maris, Joe Morgan, Brooks Robinson, Will Clark, and Bernie Williams. Furthermore, just seven switch-hitters have hit three hundred homers: Mickey Mantle (536), Eddie Murray (504), Chipper Jones (443 and counting), Chili Davis (350), Lance Berkman (345 and counting), Reggie Smith (314), and Ruben Sierra (316). Only four players (Albert Pujols, Ralph Kiner, Eddie Matthews, and Adam Dunn) have hit more homeruns in their first nine seasons than Tex, and he still has half a season to go. That's pretty nuts.
I think part of the numbness to Teixeira's pursuit of 300 homers has to do with his age. We're not talking about a guy in his mid-30's limping to the milestone at the end of his career; there's no feel-good story here. He's only 31, so we expect expect him to hit many more homeruns over the final five and a half years of his contract. Four hundred homers seem like a lock barring injury, and Tex has a legit chance to get to 500 as well. He'd have to hit another 15 this year and average just over 37 homers per year over the rest of his contact. That's a lot of homers for a guy approaching his mid-30's, but he could certainly give himself a nice head start this year and next.
Teixeira has certainly benefited from the short porch at Yankee Stadium, hitting 15 of his league lead-tying 24 homers at home. At least ten of those 15 have come as a left-handed batter, so the Yankees first baseman is clearly playing to his ballpark. That's fine and that's what he should do, especially since he's strong enough to be successful with that kind of approach in road ballparks as well. His upcoming 300th homerun might just be a ho-hum moment, but he's in a rather exclusive group of switch-hitting power bats when it comes to career accomplishments.