When I looked at the three guys the Yankees have lined up to start this series against the Reds, I couldn't help but think that winning one of three games would be an acceptable outcome. Ivan Nova reminded us all why they don't play the games on paper Monday night, throwing the best game of his career against one of the NL's better offenses in a park that plays to the hitter.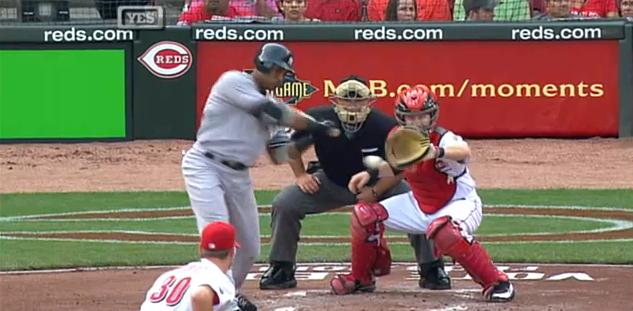 All They Needed
Whenever the Yankees faced a pitcher they haven't seen before, particularly a lefty, we all cringe. We're conditioned to do so by now, because the Yanks just don't ever seem to beat those guys. When the first pitch of the game was called a strike despite darting in just below Nick Swisher's knees, I figured it was going to be a really long day. It was hard not too.
But then, of course, the Yankees proved all us doubters wrong. They not only hung a four spot on Travis Wood in the first inning, but four of their five hits in the frame came with two strikes. They didn't flail at some little changeup off the plate or chase fastballs over their head, they took some borderline pitches for balls and attacked the pitches that missed their spots. Robinson Cano had the only extra base hit of the inning, an 0-2 double on a pitch that came it letter high but was supposed to be up at eye level. Wood flat out missed his spot, and Robbie drove it into the left field corner for a two-bagger. Even Andruw Jones singled in a run, an all too uncommon occurrence. The four first inning runs were all the Yankees would ultimately need because…
[insert Super Nova cliched title here]
I'm certain this was Nova's best start as a big leaguer. I'm not referring to the overall stat line (8 IP, 4 H, 1 R, 1 ER, 0 BB, 7 K, 15 GB, 3 GB) or anything like that (77 Game Score, his best ever), but just in terms of how he looked. Yes, I understand that's completely subjective, but it's okay to be subjective sometimes. It seemed like Ivan had all his pitches working, including his changeup, curveball, and that little cutter/slider we heard about earlier in the year (that he seemed to abandon). He was in total command.
The Reds did, however, threatened in the first when Drew Stubbs and Brandon Phillips singled to set up a first and third situation with Joey Votto and Jay Bruce due up. The game had a "here we go" feel to it at that point, like that big first inning lead was ready to disappear right before our eyes. Nova limited the damage though, he got Votto to roll over on a changeup (according to Martin anyway, PitchFX says it was an 87 mph fastball) and ground into a double play, then Bruce grounded out the end the inning. A run scored on the double play, but that's fine, Ivan limited the damage to just one run.
Nova went on the retire 13 of the next 14 batters (the one exception was a strikeout, but the batter reached on a wild pitch strike three) before Paul Janish singled with two outs in the fifth. That was pretty much it. He got the last out in the fifth, retired the side in order in the sixth and seventh, then surrendered a two out single to Fred Lewis in the eighth before ending the inning. The Reds simply couldn't lift any of his pitches or work any deep counts; Nova threw more than 15 pitches in an inning just once (18 in the third), more than 13 pitches in an inning just three times, and more than a dozen pitches just four times. That's pretty nutso. This was one of those starts where Ivan had it all working and he could put the ball anywhere he wanted. The Reds had no chance.
LOLpen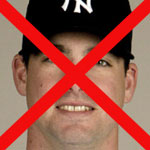 Seriously, how bad is Boone Logan? Luis Ayala allowed a single to Phillips to start the ninth inning, then Joe Girardi went to Logan for the lefties Votto and Bruce. So, naturally, Boone hit Votto on his first and only pitch of the night. With two men on and the tying run on deck, the skipper went to Mariano Rivera, who gave up some runs on ground balls but eventually got out of the inning to preserve the win.
Can Logan use rust an excuse? This was his first game action in eight days after all, though he did warm up several times in between appearances. Votto was the 18th left-handed batter he's allowed to reach base this year, which works out to a .383 OBP over 47 plate appearances. The only lefty relievers that have been in the bigs all year that have allowed a worse OBP to left-handed batters are Craig Breslow (.426) and David Purcey (.395). I guess it's not a secret why those three have played for eleven different organizations in 16 total seasons.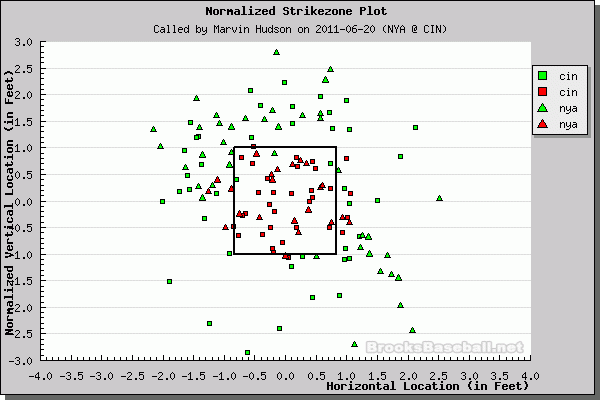 Leftovers
The strike zone in this game was … interesting, for both teams. I'll just leave it at the that. The plot above (via Brooks) tells the whole story.
Andruw Jones failed to run out an inning (and rally) ending double play in the third, and my immediate reaction was to yank him from the game. Phillips couldn't get the throw off at second because Martin slid in hard, but had enough time to recover to get Andruw anyway. It was embarrassingly bad, and for a platoon guy that plays once or maybe twice a week, he has to run every ball out. I don't care how stacked his resume is. The trainer did come out and both Jones and Joe Girardi said he rolled his ankle getting out of the box after the game, which sounds believable enough when watching the replay. Either way, it was ugly.
It'll be forgotten because Janish didn't bother to catch the throw, but Curtis Granderson was out trying to steal second in the seventh. I mean he was out by a good ten feet, the only way he would have been safe was if … Janish botched the play. It won't show up as a caught stealing in the stat sheet, but if we count it as one, Grandy has been successful in just two of his last seven steal attempts. Also, why exactly did they pinch-run for Alex Rodriguez that inning? The Yankees were up 5-1 with two innings to go, and as we saw in the ninth, the game was far from over.
Swisher reached base twice (a hit and a walk), and Yankees' leadoff hitters are now hitting .423/.559/.654 since Derek Jeter hit the disabled list. In a related stat, the Yankee went from averaging 5.16 runs per game before Jeter's injury to 6.71 runs per game since. The Cap'n is eligible to come off the disabled list next Wednesday, by the way.
Within the span of three pitches in the fourth, Eduardo Nunez missed a hit-and-run sign and got picked off first. Something about rookie mistakes and/or bad players goes here. Also frustrating: Wood threw 52 pitches in the first and second inning, and then just 55 over the next five innings. I can't believe he completed seven innings. I hate it when the offense lets these guys off the hook like that.
WPA Graph & Box Score
MLB.com has the box score and video, FanGraphs the nerd score.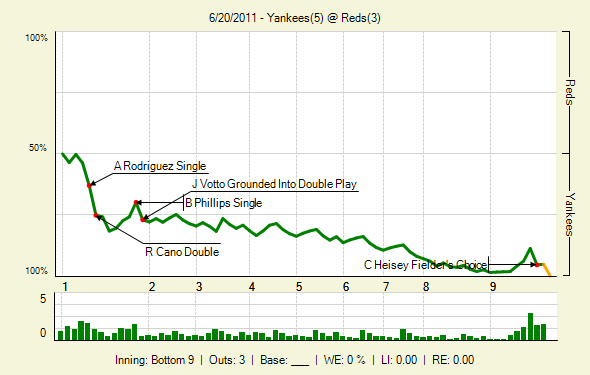 Up Next
Game two of this three-game set will be played Tuesday evening, when Brian Gordon makes his second start as a Yankee against Johnny Cueto. RAB Tickets can get you into the game dirt cheap, if you happen to be in or near Cincinnati.