Pitching's a crazy thing, isn't it? Seems like we haven't worried about anything besides it since day one aside from a few spots of sputtering offense. That, we know'll improve. But this whole pitching thing has been crazy since forever. Good for writers. Bad for the team. And for fans. I wish we could have ace pitching and a crappy backup catcher to complain about. Wait….
Anyway, it's looking like, for the first time in a while, the Yankees may eventually have more starters than they have rotation spots. This is a blissful change from the norm, where it usually seems like the question du jour is 'who the hell is going to pitch tomorrow?' On the bright side, it's nice to have so many alternatives. On the downside, the decision isn't an easy one. We're not choosing between Justin Verlander and Aaron Cook here. To put it lightly, there's going to be a pretty serious bottleneck if all the injured Yankees starters come back healthy. Which ones are more likely to stay in the rotation?
Phil Hughes – 90%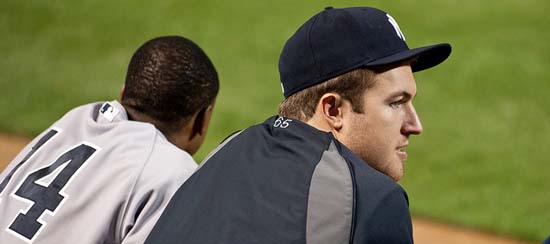 Since going down with mysterious arm weakness on April 16th, Hughes has been in and out of the public consciousness. While he's basically guaranteed to scoop back up his rotation spot when he returns from the DL, the concern should be that both fans have the team have no idea what kind of Phil Hughes is going to come back. Remember that Hughes didn't even start off the season right: his velocity never where it was supposed to be, even in Spring Training, and none of his three starts were passable. While It's nice to see that his fastball is above 90 in his first two rehab starts, no one's exactly sounded thrilled by what he's showing so far. Throwing seventy pitches in 3 innings is closer to the kind of stuff he showed in late 2010, with an inability get guys out and each batter hitting approximately 203984039 foul balls – and that not the best pitcher Phil can be. My personal concern is not if he will get his spot back, because that seems obvious, but rather how long he can keep it, and what he can do to maximize his own effectiveness. Everyone knows that Hughes has all-star stuff, it's just a matter of finding it again, and it's impossible to say whether he will. If Hughes' dead arm makes it hard for him to reacquire the stuff he had in early 2010, it's hard to say where he'll project long term. A 4/5 starter would be a possibility, or maybe even a disappointing move to the bullpen, continuing the Yankees' general weirdness (in lieu of other words) with developing pitching.
Bartolo Colon – 85%
Who can say enough about Big Bad Bartolo? Fans (and probably the team) came into the year expecting absolutely nothing from Colon, who'd had a mysterious stem cell treatment on his arm during 2010 and hadn't pitched all during the season. Here was a guy who the Indians wouldn't sign due to his, err, quite obviously poor conditioning routine. Said routine (or lack thereof) has done absolutely nothing to hinder the fact that Colon was, up until his hamstring injury, the second-most effective pitcher on the staff and probably the one the Yankees were getting the most bang for their buck from. He was even good enough to get the steroid whispers started, which seems to be a compliment nowadays. It's nice that the injury is in his leg and not his arm, and he seems to be on track for a relatively speedy return. His rehab has gone well and he's scheduled to throw a simulated game on Monday, which would line up him to be back in the rotation over Brian Gordon if they use the off day (also Monday) to skip him. His injury wasn't am related and he's, uh, surprisingly agile on the mound, so here's hoping we get the same Bartolo back that left. Because I don't think I need to say this, but that Bartolo was really, really good. I blame that two-seamer. Am I allowed to say that pitch is sexy? If there was such thing as a sexy pitch, Bartolo Colon's two-seamer would qualify.
Freddy Garcia – 50%
Here's where it gets tricky. Out of the three rotation spots, the only one truly in question is the fifth starter, and it probably comes down the chief or the supernova. Personally, I would prefer to see Ivan Nova (I've always been a Nova supporter), but honestly, my gut is that it will be Freddy. Why? First of all, his stats appear a bit better (3.30 ERA/4.14 FIP, vs Nova's 4.13 ERA/4.13 FIP), and second of all, the pitching plan has always seemed to be put the prospects in the bullpen first (Hughes, Noesi, Nova). While Freddy, like Colon, has exceeded most expectations of him, both his problem and his success can be very easily summarized: he is junkballing people to death. It's certainly entertaining to watch batters be frustrated by his slow (87 MPH fastball), slower (80 MPH splitter), and slowest (70 MPH curveball) routine, but two utter takedowns by the Boston offense has shown that it's not likely to work on a power team. That being said, Garcia's proved he's capable at least, and his veteran presence shoring up the back of the rotation may be the tipping point in the decision on the fifth starter.
Ivan Nova – 45%
Nova's results this year have been, to say the least, interesting. What usually happens is that someone on the internet writes a scathing report of how bad he is and how he needs to be kicked out of the rotation, and then he goes out there and just tears up whatever team in question he's facing. Nova's biggest weakness is his inability to miss bats: his swinging strike percentage last year was 6.4%, with this year's being a mere 4.8%, while he's on pace for only only about 5 strikeouts per nine innings, just below his average from last year. While both years are a pretty small sample, the evidence is clear pretty clear that he's no David Robertson. He makes up for this with decent ground ball rate (55%) that's improved from last year's few starts (51%). The reasons I think Nova should be in the rotation are as follows: first off, he's young, and has showed improvement from last year to this year and continues to improve, even against high-powered offenses such as the Rangers and the Reds, and secondly, he clearly has the stuff to start in the bigs, and stashing him in the pen or demoting him won't improve that stuff. The problem is, his stuff certainly would work better out of the pen than Garcia's, given his slick little fastball-curveball combination and the jump we'd see in his speed if he was only throwing 20 pitches a night. Like I said earlier, though, putting young pitchers in the bullpen is an extremely frustrating part of this team: don't do it to poor Nova.
Brian Gordon – 5%
Unless Brian Gordon goes out there and throws a perfect game, there's little possibility that we'll see him in the big league rotation after people start coming off the DL. While he was serviceable in his first start and has a really great story, there's an obvious reason why he spent so much time being a minor leaguer. While Gordon is decent filler material while the Yankees deal with their injuries, he doesn't appear to have the stuff he needs to keep his big league job with this team, at least. He'll most likely be the first one to go – probably cut, given the excess of pitchers in Scranton and Trenton, but possibly demoted. Either way, Gordon's been a placeholder for Colon until he gets back, and while he's fine for a couple of spot starts, there's really no way this guy is going to take a rotation spot over any of the options listed.
For the first time in what seems like a long time, the Yankees have too many pitchers fighting for a spot. What this comes down too, really, is Garcia vs. Nova, and it's not an easy one to pick when you take all the factors into the debate. That being said, I personally think this is still a better problem to have than worrying about who the heck is gonna pitch tomorrow. Go Nova!