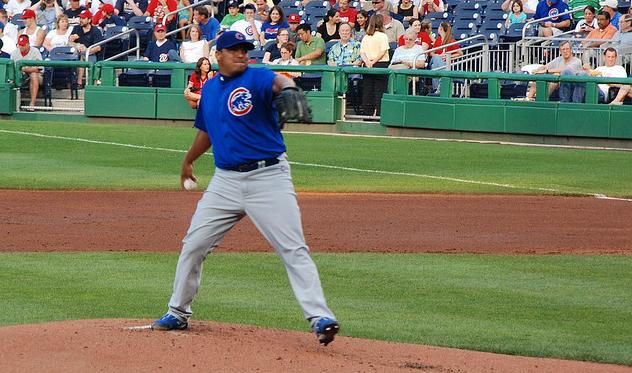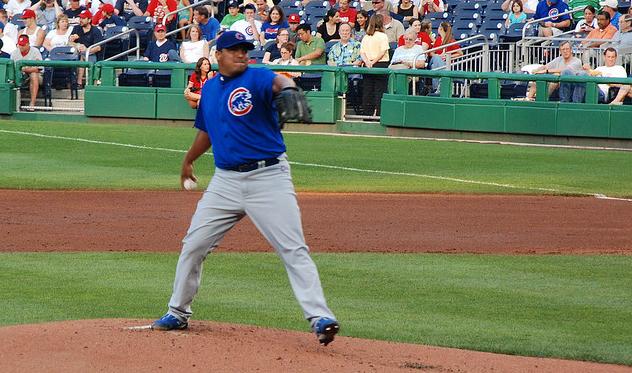 A bunch of small, rumor-style reports surfaced this weekend about the Yankees and some pitchers they may or may not target in midseason trades, so let's round them up chronologically …
Top Advisors Scouted The Cubs
Bruce Levine reported on Friday that the Yankees had some scouts watch Carlos Zambrano last weekend, and it wasn't just a routine check-up. Levine said it was some of Brian Cashman's top advisors, and a number of them unsurprisingly prefer Ryan Dempster. Zambrano is willing to waive his no-trade clause, by the way.
Preference: Lefties And Rentals
George King reported yesterday that in a perfect world, the Yankees would like to acquire a left-handed starter that is not under contract beyond this season. That's a limited (and unappealing) demographic since the only southpaws scheduled to become free agents after the season are Bruce Chen, Zach Duke, Jeff Francis, Paul Maholm, and C.J. Wilson. I can't imagine Texas would be willing to trade their ace while in contention, and the others … yuck. Mark Buehrle has a clause in his contract that automatically locks in a $15M salary for next season if traded, so we can't consider him a rental has a full no-trade clause but fits the bill as well.
I do suppose, however, that we could include players in their arbitration-eligible years (since they could be non-tendered, the same thing as a rental), in which case guys like Francisco Liriano, Clayton Kershaw, John Danks, Jonathan Sanchez, and Joe Saunders come into play. That's better, but how many are realistically available? I can see Liriano, Saunders, and maybe Danks. Maybe. How sold are you on Liriano's turn around?
Oh, Wait … Yankees Have "Zero Interest" In Zambrano
Wally Matthews reported late yesterday that despite the recent scouting trip, the Yankees have "no interest" in Zambrano. Perhaps they were turned off by his 6 IP, 9 H, 5 R stinker against the Brewers last week or his 6.1 IP, 7 H, 7 R, 7 BB gem against the Phillies nine days ago. This latest report makes me happy because I wasn't a Zambrano fan even before his velocity dropped (again) or his ground ball rate declined (again).
I don't know where a high-end pitcher is supposed to come from, but it's pretty obvious the Yankees need someone like that. They can't assume Bartolo Colon will come back from the disabled list throwing grenades like he was before, and with one more injury we could be looking at Ivan Nova, Brian Gordon, and David Phelps in the rotation all at the same time. Now that is scary.