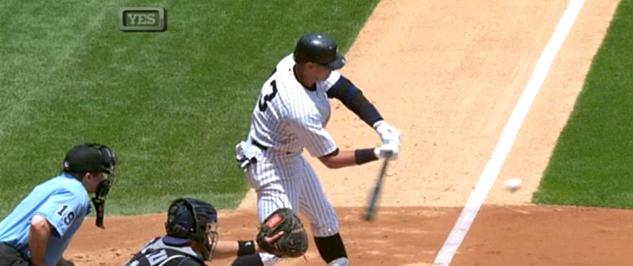 Saturday afternoon's game was as close to flawless as victories come these days. Great pitching, a prolonged and diverse offensive attack that featured small ball and power, plus some fine defense. To the bullet points…
As far as I'm concerned, the star of the game was CC Sabathia. The big lefty struck out a season high nine in eight innings, throwing just 103 pitches and going to a three-ball count on only two of the 31 batters he faced. He whiffed five guys on sliders, two on changeups, and two on fastballs. Colorado didn't get a man to second base until the fifth inning, and just three runners made it that far in Sabathia's eight innings.
Aaron Cook really had no chance given his inability to miss bats. Brett Gardner started the game with a perfect bunt single, then stole second before scoring on Curtis Granderson's hustle double. Alex Rodriguez drove in Grandy with a single for the second run, and before you knew it the Yankees were up five-zip in the third inning following an A-Rod double and a Nick Swisher sacrifice fly. Another run came in the sixth, then two more in the eighth. Relentless.
Gardner, Robinson Cano, and Eduardo Nunez were the only players not to have multiple hits, though Gardner did augment his bunt single with two walks. Robbie grounded into two double plays, which were rather ugly. Mark Teixiera hit a garbage time two-run homer, Jorge Posada had a booming double to dead center, and even Frankie Cervelli slapped two singles. Fifteen hits and four walks are a good way to score eight runs.
How awful is Buddy Carlyle? He comes into the ninth inning with a seven run lead and immediately walks the leadoff man before giving up a homer to Ty Wigginton. Because that wasn't good enough, Carlyle then walked the next guy, forcing Mariano Rivera to warm up in the bullpen. Thankfully the nonsense ended there and he retired the next three batters in a row, but good grief. Your roster spot is hardly set in stone, the least you could do is throw strikes.
The rubber game is Sunday afternoon but first we've got Old Timers' Day. The festivities will begin at 11:30am ET and the full roster of attendees is right here. If you want to head up to the big ballpark in the Bronx, RAB Tickets can get you there on the cheap.