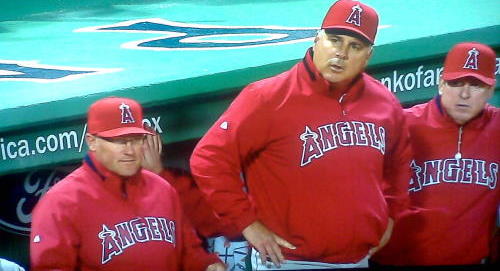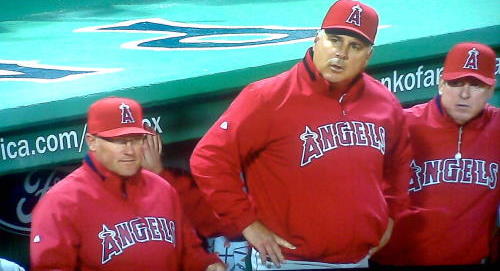 There once was a time when the Yankees simply could not beat the Angels. They were just 28-36 against the Halos from 2002 through 2008, but then things changed in 2009. After getting swept in Anaheim right before the 2009 All-Star break, the Yankees went on a big second half run that includes three wins in four regular season games against the Angels, and of course the four games to two series win in the ALDS. It's been smooth sailing against Mike Scioscia's fading club ever since.
What Have The Angels Done Lately?
Coming off two straight losses to the Royals, the Angels have won just lost eight of their last 13 games to push their record to 29-29. They do have a positive run different at +3, but for all intents and purposes it indicates that they are exactly what their record suggests they are: a .500 club.
Angels On Offense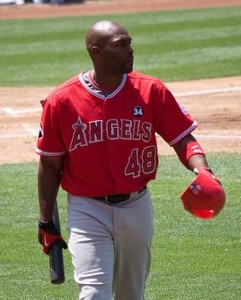 There's one thing the Angels really lack on offense, and it's power. As a team, they have just a .133 ISO and 49 homers, both good for tenth place in the American League. The lack of pop is even more noticeable with both Kendrys Morales and Vernon Wells on the disabled list. When Scioscia fills out his lineup card tonight, he's going to have just two players with more than three long balls at his disposal: Torii Hunter (eight) and Mark Trumbo (ten). The Yankees, on the the other hand, have just one regular (Derek Jeter) with fewer than three homers.
In addition to Morales and Wells, the Halos are also without second baseman Howie Kendrick, who a) kills the Yankees (.371/.441/.481), and b) has been one of the best hitters in baseball this season (.322/.388/.520). It sounds like they might be able to activate him off the disabled list in time for Saturday's game, however. Their best hitter aside from Kendrick has been Erik Aybar, who sports a .315/.356/.444 line with 14 steals out of the leadoff spot. Maicer Izturis (.285/.354/.414) is the only other regular with both a .310+ OBP and a .400+ SLG. Yep.
Old buddy Bobby Abreu is still doing the on base thing (.388 OBP) and stealing bases (eight), but his power is completely gone (.097 ISO). Hunter's season line sits at .242/.325/.397, and Alberto Callaspo's line is a lot like Abreu's (.299/.371/.388). Trumbo, the rookie first baseman filling Morales' shoes, is at .255/.305/.467 on the year but .320/.346/.680 over the last two weeks or so. He'll get himself out on stuff off the plate, but don't miss in the zone. Another rookie, Hank Conger, has done a decent job of taking playing time away from the certifiably awful Jeff Mathis, but he's still at .234/.287/.364. The Angels recently picked up Russell Branyan to add some pop, but he wasn't hitting with the Diamondbacks (.284 wOBA) and has done next to nothing (.095 wOBA) in seven games with Anaheim.
Like Justin Turner a few weeks ago, my pick to annoy the everliving hell out of the Yankees with weekend is Peter Bourjos. The rookie center fielder might be the best defensive outfielder in the game right now, and if you don't believe me just check out his video highlights on MLB.com. Bourjos is only hitting .236/.292/.382 on the year, but don't let that fool you. He has some pop and can run, and will do all the little things to annoy the crap out of you in this series. I guarantee he'll hit at least one triple in these three games. It's inevitable.
Angels On The Mound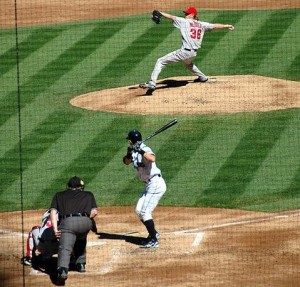 Friday, RHP Jered Weaver: The Yankees have been facing great pitchers all road trip, so there's no point in stopping now. Jeff's younger brother is sporting a 2.48 FIP through a dozen starts this year, striking out more than eight men while walking just over two for every nine innings pitched. He is a fly ball pitcher (37.3% grounders) but he has pretty considerable reverse split over the last two years because his changeup is really good. All those lefty bats – Curtis Granderson, Robinson Cano, and switch hitters Mark Teixeira and Nick Swisher – are going to have to watch out for it. Weaver also throws four and two-seam fastballs right around 90 mph, and his out pitch is a slider in the upper-70's. He'll also bust out a curveball from time to time. I suppose the good news is that he's cooled off after a scorching start, but he still sports at 3.18 ERA in his last five outings. Don't hate on him for being a Weaver, Jered's as good as it gets. But this is the third series in a row we're writing this.
Saturday, RHP Dan Haren: As of this writing, it's unclear if Haren will even make this start. He had to cut Thursday's regular bullpen short because of back pain, and the Angels have yet to provide an update. I assume he's still starting in that case. Anyway, Haren is in the middle of the best year in his career, rocking a 2.54 FIP on the strength of his always stingy walk rate (1.46 BB/9) and a strong homerun rate (0.52 HR/9) that comes from his best ground ball rate (44.6%) in years. He pounds the zone with two and four-seamers around 90 mph, a cutter in the mid-80's, and then finishes batters off with a splitter around 90 and the occasional changeup or curveball. Only twice this year has he allowed more than three earned runs in a start, and only four times has he allowed more than two earned runs.
Sunday, RHP Ervin Santana: I have this weird disconnect between what I think Santana is and what he really is. He has a 5.55 ERA and a 5.94 FIP in ten career starts against the Yankees, but for whatever reason it's stuck in my head that he always pitches well against them. It's probably just me. Anyway, Santana has a respectable 3.81 ERA in 12 starts this season, and he's actually sporting his best peripherals (7.75 K/9 and 2.47 BB/9) since 2008. The good news is that he's allowed no fewer than four runs in six of his last nine starts, including four games of five or more runs. Looking at the PitchFX data, Santana's just a two pitch pitcher these days. He throws his low-90's fastball more than 60% of the time and his low-80's slider more than 36% of the time. The other four percent or so is a changeup, but the usage of that pitch has continually decreased over the last few seasons. If Ervin's going to come after the Yankees with just a fastball and a slider, well that's just not a fight he's going to win.
If Haren does not start on Saturday, the Angels will likely just move Santana up a day. He'd make that on regular rest because they had Thursday off. That would then put Joel Pineiro in line for Sunday's start. The sinkerball extraordinaire missed the start of the season with a shoulder issue, but he's posted a 3.55 ERA in seven starts since coming back, relying on his usual combination of no free baserunners (1.57 BB/9) and a healthy amount of grounders (52.3%).
Bullpen: Long gone are the days of Scot Shields crushing souls for two innings in front of Francisco Rodriguez, these Angels certainly feature a good ol' fashioned lolpen. Their 4.28 FIP is fifth worst in all of baseball, and their 3.67 ERA would be a lot worse if not for a 77.4% strand rate. A 6.85 K/9 and 4.45 BB/9 are both bottom six marks in baseball.
Rookie closer Jordan Walden is legit, with an upper-90's fastball and wipeout breaking ball, but he also walks 4.62 batters for every nine innings. Fernando Rodney walks two guys for every three innings pitched, and Scott Downs has suddenly forgotten how to strike people out (3.71 K/9). At least he has a 60% ground ball rate to get by with. Kevin Jepsen has walked seven and struck out four in ten innings, and Hisanori Takahashi is amazingly homer prone (1.62 HR/9). Long man Trevor Bell is another sub-4.00 K/9 guy (3.86, to be exact), but the secret weapon is Rich Thompson. The right-hander has struck out 9.99 batters per nine innings while keeping the walks down below three per nine. He's legit, as is Walden, but everyone else is pretty sketchy.
Recommended Angels Reading: True Grich