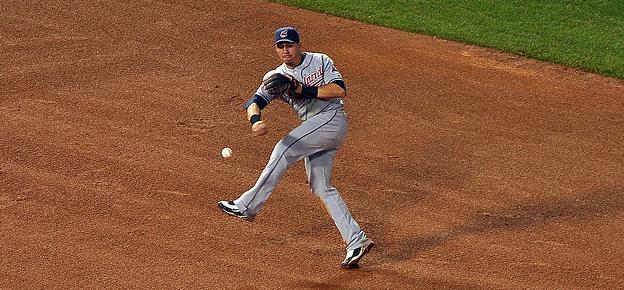 The Yankees and Indians have some ties, namely CC Sabathia and the 2007 ALDS, but otherwise these are two very different teams. It's the whole David vs. Goliath deal, the small market club vs. the big bad Yankees, the speedy club vs. the Bronx Bombers, all that jazz. The Yankees and Indians do have one thing in common right now though: they're both playing terrible baseball at the moment.
What Have The Indians Done Lately?
The Tribe was the surprise, fell-good story of the year early on, jumping out to a ridiculously hot 20-8 start through the first month of the season. The good times didn't last though. The Indians are just 14-18 since then and they've been outscored 153-125 in the process. Imagine if they hadn't scored 14 runs in two innings off Vin Mazzaro that one game. Cleveland has won just four of its last 15 games, and they've scored a total of nine runs in their last six games. Yep, the Indians are who we thought they were. Regression is a bitch.
Indians On Offense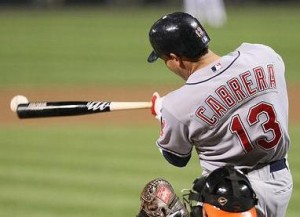 Like I said, they're struggling to score runs of late, in part because the resurgent Travis Hafner (.409 wOBA) is on the disabled list. That said, the top five spots of their lineup are very, very dangerous. Lead-off man Michael Brantley (acquired in the Sabathia trade) owns a .349 wOBA for the year and a .354/.426/.521 batting line over the last two weeks. Number two hitter Asdrubal Cabrera has been the best shortstop in the AL this year, combining a .395 wOBA over the full season with a .343/.361/.629 batting line this month. Grady Sizemore is now hitting third following his long knee-injury related layoff, and a .366 season wOBA with a .290/.353/.506 line over the last two weeks is reminiscent of the old Grady.
Carlos Santana holds down the cleanup spot and hasn't been great overall (.336wOBA), but he's come alive over the last three weeks or so (.317/.434/.463). Shin-Soo Choo has not been himself (.300 wOBA) in part because of his DUI (according to him), though he's still dangerous and left-handed power in Yankee Stadium plays well. The rest of Cleveland's lineup is a little hit or miss. Matt LaPorta (.332 wOBA) is the best of the rest (he was another piece in the Sabathia trade), but old pal Shelley Duncan (.270 wOBA), Jack Hannahan (.309), Lou Marson (.248), Austin Kearns (.252), and Travis Buck (.308) aren't scaring anyone. Prospect Cord Phelps was just called up to take over second base from the punchless Orlando Cabrera (.263 wOBA), and he went hitless in his first and only game on Wednesday.
The big thing to watch with the Indians is that they will run, which will be a problem if Russell Martin's still not healthy enough catch and Frankie Cervelli plans on throwing some more balls into center field. Choo, Brantley, and Cabrera all have seven steals or more, and they're aggressive going first to third and what not. As a whole, the Tribe's offense is right about league average at a .324 wOBA, but the lineup is very top heavy.
Indians On The Mound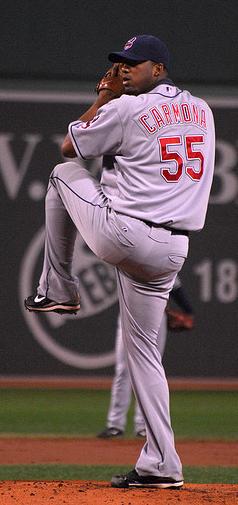 Friday, RHP Fausto Carmona: Fausto is like the sinkerballing version of A.J. Burnett, dude's just crazy inconsistent. Here's his runs allowed in his last five starts: 4, 8, 4, 9, 4. He's also allowed ten runs in a game this year (Opening Day, actually), and also has six starts of two earned runs or less. Good luck figuring him out. Carmona will throw that hellacious low-90's sinker most of the time, but he can also mix in quality sliders and changeups. They aren't strikeout pitches, but enough to keep both righties and lefties off balance. A 58.1% ground ball rate with a very good infield defense are the recipes for his success.
Saturday, RHP Mitch Talbot: An elbow injury has cut Talbot's season in half, but his last two starts have been pretty good (12.2 IP, 3 R) following a disastrous return (3 IP, 8 R). His main weapons are a two-seamer and cutter, both of which sit in the high-80's. He'll also throw the occasional changeup and slider, though Talbot doesn't miss bats (6.11 K/9) and he does walk guys (4.18 BB/9). His saving grace is a fine ground ball rate (50.5%).
Sunday, RHP Josh Tomlin: Oh the nightmare of Josh Tomlin. You probably remember that he made his Major League debut against the Yankees last year, when he held them to one run and three hits in seven innings. He was rocking a sub-2.50 ERA as recently as three starts ago, but it's now closer to 4.00 after allowing six runs in six innings in both of his previous two outings. Tomlin is a pretty generic right-hander, throwing three high-80's fastballs (cutters, two-seamers, four-seamers), a changeup, and a curveball. He doesn't walk anyone at all (1.27 BB/9), but he also doesn't miss any bats (5.10 K/9) and is a big time fly ball guy (37.4%). Unsurprisingly, he's homer prone (1.27 HR/9).
Monday, RHP Carlos Carrasco: The prize of the first Cliff Lee trade, Carrasco fits the mold of Talbot and Tomlin (low walks and low strikeouts), just with better stuff. He'll sit in the low-90's with his heat and back it up with a changeup and curveball, getting a solid amount of ground balls (49%). It's worth noting that the scouting report on Carrasco has long been that he struggles with men on base for whatever reason (diminished stuff from the stretch? overly worried about holding runners? who knows), so the Yankees need to make him sweat when guys get on. He followed up a six run, six inning outing against the Rangers with 8.2 shutout innings against the Twins in his last two starts.
Bullpen: The Indians have a really good bullpen, owning a 3.60 FIP and 3.25 ERA as a unit. Closer Chris Perez is flirting with the dreaded 1.00 K/BB ratio (5.01 K/9, 4.63 BB/9), and with a 31.4% ground ball rate, you wonder how long until he blows up. Setup man and great name Vinny Pestano has been fantastic, striking out 11.57 batters per nine while walking just 3.43 per nine. Lefties Rafael Perez and Tony Sipp are holding same-sided batters to .209/.222/.256 and .063/.147/.156 batting lines, respectively. Both hold their own against righties too.
The rest of the relief corps consists of middle man Chad Durbin (3.97 FIP but a 5.47 ERA), mop-up man Frank Herrmann (5.51 FIP and a 7.71 ERA), and righty specialist Joe freakin' Smith, who naturally has a reverse platoon split (.311/.392/.356 vs. RHB, .100/.174/.150 vs. LHB). The Tribe can certainly protect a lead in the late innings with a lot of guys that have a lot of different looks, but there are some soft spots in the middle innings that can be exploited.
Recommended Indians Reading: The DiaTribe and Let's Go Tribe