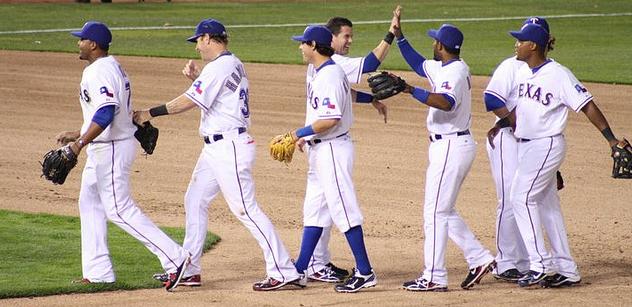 For the third and final time this season, the Yankees will get a chance to exact some revenge against the team that ended their season last October. Sure, a bunch of regular season wins won't ever make up for an ALCS loss, but it's all we have right now. The Yankees have already won four of six games against the Rangers this year, taking two of three at home in April before doing the same in Texas in May. What does the June series have in store?
What Have The Rangers Done Lately?
The first time these two teams met, the Rangers were arguably the hottest team in baseball. The second time they met, the Rangers were stuck in a crazy tailspin. This time around, Texas is sort of in between a hot streak and a slump, winning just two of their last seven games but also winning ten of their last 16. Their lead in the division is just 1.5 games over the Mariners, but their run differential is third best in the league and 38 runs better than anyone else in the AL West.
Rangers On Offense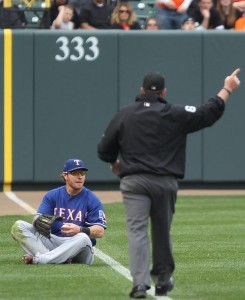 The Yankees got lucky the first two times they played Texas this year because Josh Hamilton was on the disabled list for both series, but now he's not. His .363 wOBA is nothing special and he's hitting a 2011 Robinson Cano-esque .268/.307/.512 since coming off the DL last month, but you know what? I don't care. Hamilton is still one of the best players in the world and can absolutely mash anything no matter how poorly he's performed over the last month. He's a game changer on the same level as Miggy Cabrera or Adrian Gonzalez or Jose Bautista; he impacts the game just by standing in the on-deck circle.
Nelson Cruz was also on the shelf the last time these two clubs met, and he's hit just .241/.259/.590 since coming back. He's also struck out a dozen times in his last 30 at-bats, a rate that would make Mark Reynolds blush. Michael Young is actually batting cleanup these days, and he destroyed the Yankees in their six games this season (.435/.480/.696). He's cooled off considerably of late (.241/.288/.315 in his last 118 PA), but I can't imagine he'll be an easy out. Hamilton, Young, and Cruz occupy the three, four, and six lineup spots, respectively, while Adrian Beltre slots in at the five-hole. He's hit a gaudy .293/.353/.496 since the last time these two teams met, so that's one lefty and three dangerous right-handed batters right in the middle of the lineup. I guess that's better than four lefties given Yankee Stadium's dimensions.
Atop the order is Ian Kinsler, who has one hit in eight at-bats since coming back from paternity leave on Saturday. His .349 OBP and .166 ISO are fine numbers, but he doesn't hit for average at all (just .231). Elvis Andrus is coming into the series pretty hot (.327/.364/.442 in his last 13 games), but manager Ron Washington pulled him off the field on Sunday for a lack of effort. Mitch Moreland (.396/.433/.566 in his last 15 games) and Yorvit Torrealba (.367/.375/.467 this month) are coming into the series hot while David Murphy (.211/.269/.284 in his last 30 games) most certainly isn't. The new center field platoon of Endy Chavez and Craig Gentry has been hot (.286/.435/.596 in 64 PA) and cold (.235/.361/.294) in limited playing time, respectively. The Rangers' .334 team wOBA is a distant third to the Red Sox (.352) and Yankees (.349) in the AL.
Rangers On The Mound
Tuesday, RHP Alexi Ogando: We're all waiting for this two pitch (fastball, slider) reliever turned starter to regress, but it just hasn't happened yet. Ogando's 3.57 FIP (2.10 ERA) is propped up by a stellar walk rate (1.99 BB/9) and decent strikeout (6.64 K/9) and homer rates (0.89 HR/9). Of course a .210 BABIP and a 8.1% HR/FB ratio (just 36.5% grounders too) help matters, as does an 88.2% strand rate. Don't get me wrong, Ogando's been very good for Texas this year, just not as good as his ERA suggests. The Yankees hung five runs off him in 6.1 IP back in April, though a blister kept him out of the May series.
Wednesday, LHP Derek Holland: A personal fave, Holland is the opposite of Ogando in that he's been better (4.05 FIP) than his ERA (4.41) would lead you to believe. He gave up five runs in 7.1 IP against New York back in April, then four runs in three innings (five walks) in May, so I'm sure he's hoping the third time is a charm. Holland is a fastball-changeup guy with two usable breaking balls (both curve and slider), and he gets a good amount of strikeouts (7.71 K/9) and ground balls (46.9%) while limiting walks (3.20 BB/9). He's just inconsistent like most young starters.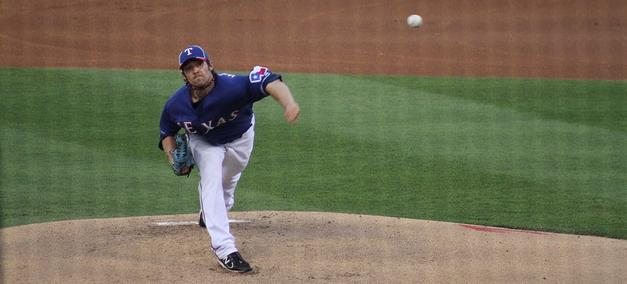 Thursday, LHP C.J. Wilson: As good as Wilson was last season, he's been even better this year. His upped his strikeout rate a bit (7.78 K/9) while shaving a full walk off his walk rate (3.09 BB/9), though he's paying for a decreased ground ball rate (46.4%) with more homers (0.75 HR/9). Still, a 3.47 FIP (3.04 ERA) is excellent. Wilson is a (rare) legitimate six pitch pitcher, using three low-90's fastballs (two-seamer, four-seamer, cutter), a changeup, a curveball, and a slider at least 10.0% of the time each. The Yankees haven't seen Wilson yet this year, though they did put 18 men on base and score nine runs off him in a dozen ALCS innings last autumn.
Bullpen: With some help from yesterday's off day, the Rangers' bullpen is pretty well rested. Neftali Feliz has seemingly gotten over his control problems to post six straight walk-free outings, though he's still been touched for five hits and two runs in 6.1 IP during that time while striking out four. Feliz is righting the ship, but a guy with his stuff really should miss more bats (8.3% whiff rate). Darren Oliver (3.12 FIP), Mark Lowe (3.60), and Arthur Rhodes (5.96) handle the majority of the setup duties.
Derek Jeter punching bag Dave Bush (4.81 FIP) handles the majority of the long relief work, and southpaw Michael Kirkman (5.10) fills in the gaps. The new addition since the last time the Yankees saw Texas is Japanese import Yoshinori Tateyama, a 35-year-old righty with the traditional Japanese hesitation in his delivery even though he's more of a sidearmer. He's struck out eight and walked none in 10.2 IP since being called up, using his fastball-curveball combination in low-leverage situations. The Rangers' bullpen has an MLB worst 4.90 FIP, more than a quarter of a run higher than anyone else. With any luck, the Yankees will see lots of these guys these next three days.
Recommend Rangers Reading: Baseball Time In Arlington and Lone Star Ball