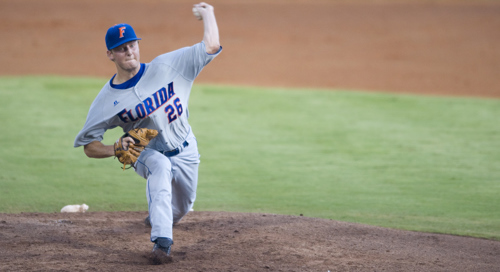 Every year, right before the draft, John Sickels over at Minor League Ball holds a community mock draft where his readers act as scouting directors and made picks for the 30 teams. I acted as the Yankees' scouting director way back in 2007, and although it was fun it was also extremely time consuming. No way will I do that again. Instead I'll continue to do what I've been doing in the three years since, reviewing the picks made for the Yankees and saying who I would have taken. Best of both worlds.
They did four rounds this year (first, sandwich, second, third), so the Yankees made three picks. They didn't have one in the first round, but here's what happened afterwards…
First Pick, Sandwich Round, #51 Overall
Mock Draft: Derek Fisher, OF, Pennsylvania HS
My Pick: Tyler Goeddel, 3B/OF, California HS
Fisher's a fine pick here, I just prefer Goeddel. I'm a big Hudson Boyd fan (and a fan of high school pitchers in general), so it was tough to leave him on the board (he went the very next pick). Goeddel has the whole hitting thing figured out (at least as much as a high school kid reasonably could), you're just projecting on the power. Fisher has the power and you're counting on him learning how to hit breaking balls, which is very tough to do. I would be happy if the Yankees landed either player later tonight, it's just personal preference here. Everything you need to know about Fisher and Goeddel can be found here and here, respectively.
Second Pick, Second Round, #88 Overall
Mock Draft: Nick Burdi, RHP, Illinois HS
Mike's Pick: Carl Thomore, OF, New Jersey HS
After missing out on Fisher's power in the first round, Thomore more than makes up for it here. Pure homerun hitters are in short supply these days, so I wanted to get at least one early, and I mean a legitimate prospect and not a Kyle Roller type (no offense to him). Pitches that break aren't a huge concern with Thomore either, so I'm very pleased to get two high school bats with upside (and different skill sets) early on. Here's my write-up.
Burdi is a risky but potentially high reward pick. He showed huge velocity in showcases last summer (like, 95-97 consistently), but he missed some time this spring and hasn't been the same since. He spent most of his senior year pitching anywhere from 83-93 mph, and his slider varied from unhittable to unusable. Given the declining stuff plus a commitment to Louisville and reports of first round bonus demands, I would have waited a while before pulling the trigger on a guy like Burdi.
Third Pick, Third Round, #118 Overall
Mock Draft: Rookie Davis, RHP, North Carolina HS
Mike's Pick: Nick Maronde, LHP, Florida
The Davis pick is interesting in that he doesn't really appear to be much of a prospect. I had never heard of him before and he's not on any of the top draft prospect lists from the regular publications (Baseball America, Keith Law, etc.). Google led me to this year-old article that may or may not still be valid. Maybe everyone completely missed Davis and he's some kind of hidden gem, maybe he's just a friend of whoever acted as the Yankees' scouting director in the mock draft, maybe he's something else.
Anyway … I don't like that the first pitcher I took is a reliever, but Maronde is a prime candidate to be transitioned back into the rotation. His fastball sits 93-96 in relief but a tick lower when he starts, and he backs it up with both a quality slider and a changeup. Those three pitches are why he's a candidate to start. Maronde's command came apart a bit when started for the Gators, but I think it's worth another shot (since my neck isn't on the line). Worst case scenario, he goes back to being a shutdown lefty reliever. Around these parts, that'll get you $4M a year without even having to pitch!