It had a been a while since the Yankees visited the Cubs and it'll be a while before they go back, but Sunday night's game capped off an eventful but ultimately successful three game series in the Windy City, a series the Yankees won thanks to Sunday's come-from-behind win.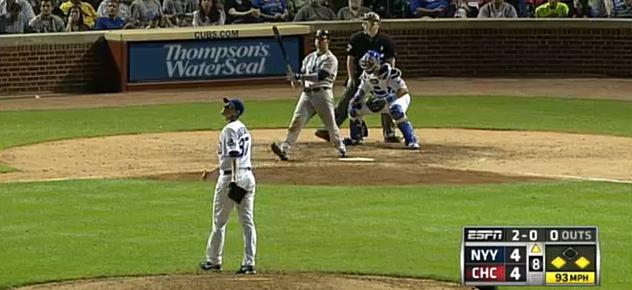 Nick Swisher, Rally Killer
I think it's fair to call Swisher the most disappointing regular this season, particularly when you consider his performance from the left side of the plate. He came into this game hitting just .173/.321/.280 in 187 plate appearances against righties this year, a big problem when you consider that roughly seven out of ten pitchers in the big leagues are right-handed. With men on the corners and none out in the eighth inning, I would have been happy if Nick grounded into a double play against the righty Chris Carpenter (not this one, this one) as long as it got the run in. He did managed to kill the rally, but not by grounding into a double play.
Alex Rodriguez and Robinson Cano led off the inning with singles against Sean Marshall, then the Cubs went to the rookie Carpenter in the biggest spot of the game. We saw him be wild and walk a guy on Saturday, and he looked the same on Sunday. The first two pitches to Swisher were mid-90's fastballs high and away, but the third was a cookie, a 93 mph heater down the middle and over the plate. A classic get-me-over fastball in a 2-0 count. A tee wouldn't have been any better. Swish jumped all over the pitch and did what he was supposed to do with that, he crushed it deep to right for a three run homer. It was gone off the bat, everyone knew it. Rally killed, three runs scored.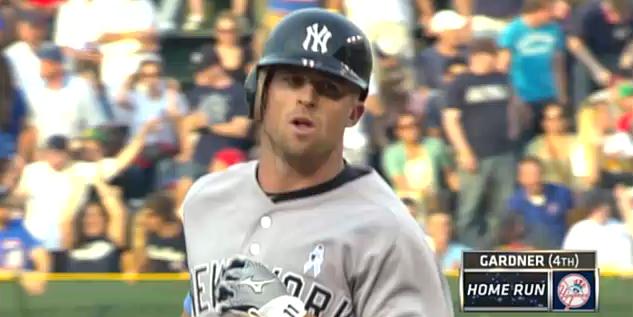 Brett Gardner, Leadoff Hitter
Gardner came into this game having gotten on base in 70 of his last 163 plate appearances (43.8%), premium production regardless of batting order position. Randy Wells got him in a quick 0-2 hole to start the game, but after fouling off two pitches, Gardner yanked a knee high sinker into the right field seats for his first career leadoff homerun and fourth of the season. He also hit a two strike single next time up and helped create an insurance run in the ninth with a leadoff hustle double, and his season batting average is up to .294. Remember where he was in April? Yeah. If someone, anyone had a legitimate reason why this man shouldn't be the Yankees full-time leadoff hitter when Derek Jeter comes off the disabled list, I'd love to hear it.
Right Where He Wanted Them
New Eighth Inning Guy™ David Robertson has a well-documented history of wiggling out of jams, so you didn't really expect the eighth inning go smoothly, did you? Aramis Ramirez quickly struck out for the first out, but then Robertson walked Alfonso Soriano (on four pitches!) before walking Geovany Soto on six pitches. Just like that, the tying run was at the plate, and up came pinch-hitter and certified Yankee killer Carlos Pena. Robertson dropped a curve in for a ball before inducing a weak grounder to second for the second out, though the runners moves up. Pinch-hitter Blake DeWitt fouled off some tough cutters and curves, but eventually popped one up rather harmlessly to end the inning. Business as usual in the Robertson household.
Where's The Pinch-Hitter?
Russell Martin had just tied the game at four with a sacrifice fly in the sixth, and a semi-intentional walk to Eduardo Nunez put men at first and second with one out. For some reason, CC Sabathia was allowed to bat for himself. Yes, he had thrown just 69 pitches up to that point, but he also wasn't fooling anyone. The Cubs had eight hits (four for extra bases) and a walk in his five innings to that point. Of course, the second guessing seems rather stupid given the outcome of the game and the fact that Sabathia added two more scoreless innings, but at the time it was a huge moment in the game and having a real hitter at the plate could have changed things dramatically.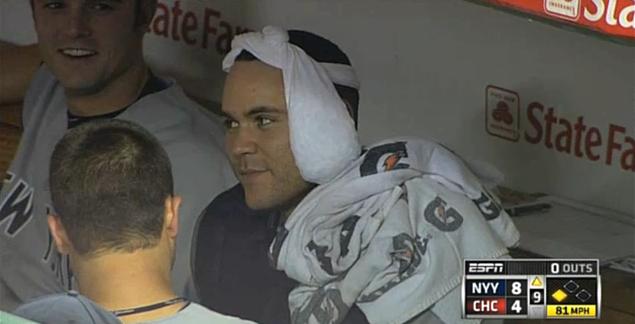 Leftovers
Speaking of Sabathia, he was not very good in this game, especially early on. The Cubs made a ton of hard contact in the first, even the outs, en route to taking a one run lead, and then CC made a huge mistake pitch to Soriano that he clobbered for a three run homer in the third. He pitched around a leadoff double in the fourth, but then he settled down and retired 12 of the final 13 batters he faced. If you go back to that ugly seventh inning against the Red Sox two starts ago, Sabathia has allowed 14 runs in his last 14.2 IP. Not worried, he'll get through it, but yuck.
Once they were behind 4-1, the Yankees really did a good job of scratching their way back into it. Swish plated a run in the fourth on a seeing through the right side, Nunez beat out a relay throw on a fielder's choice that allowed the second run to score later that inning, and then Martin tied things at four with the aforementioned sac fly in the sixth. Three insurance runs scored in the ninth when Gardner (hustle double), Curtis Granderson (triple into the corner), Mark Teixeira (lol bloop double into the corner), and Alex Rodriguez (double into the ivy) started the inning with four straight extra base hits.
Martin took an Aramis back swing to the helmet in the middle of the game and was seen with an icepack on his head in the dugout. He was laughing and stayed in the game, but between that and the collision at the plate on Saturday, it was a rough two days for Russ. Since everyone was okay, we can also laugh at Ramiro Pena for catching a bad hop on a grounder in the ninth, taking it up high around the chest. The ball ricocheted to Nunez at short and he threw it straight into the ground, like a quarterback spiking the ball to stop the clock. Hilarious.
A total of 126,283 fans took in these three games this week, a record for a three-game series at Wrigley Field. That's pretty nuts considering the park has been around since the dawn of time. But, you know, the Yankees are bad for baseball. They've now won 20 of their last 30 games, by the way.
WPA Graph & Box Score
MLB.com has the box score and video highlights, FanGraphs the other stuff no one cares about.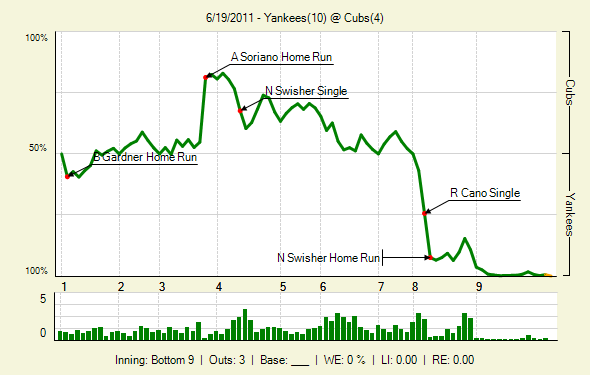 Up Next
It's off to Cincinnati for another interleague series in an NL park. Ivan Nova will kick things off against Johnny Cueto on Monday night. If you're in the area, RAB Tickets can get you into the game for dirt cheap.