It took until the first day of June, but the Yankees finally have their first four game winning streak of the season. They again struck early on Wednesday, taking a lead in the very first inning, but this one was a little less blowout-y than the previous two wins.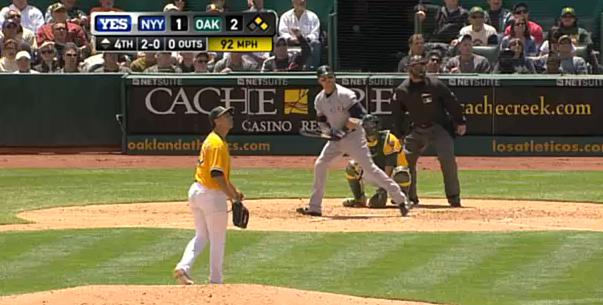 The Big Blow
Joe will have more on Nick Swisher's recent hot streak on Thursday, but all you need to know is that he kept it up in this game. Alex Rodriguez led of the fourth inning with an infield single off the glove of the defensively challenged Conor Jackson, after which Robinson Cano drew a four pitch walk. Crazy, I know. Gio Gonzalez was wild as he tends to be, but Swisher squared around to bunt on the first pitch of his at-bat. The pitch was down below the zone, so he took it for a ball. The same thing happened on the second pitch to put him into a comfy 2-0 count.
Swish said after the game that he missed a sign, and that he was supposed to go up there and swing away. That's exactly what he did on that third pitch, a get-me-over fastball right over the plate. Swish yanked it deep to left field and comfortably over the fence for a three-run homer, turning a one-run deficit into a two-run lead. Neither team would score the rest of the way even if it didn't feel that way after Swisher's homer, and I'm sure he enjoyed it a little more than usual since it came off the team that traded him away.
Burnett Settles Down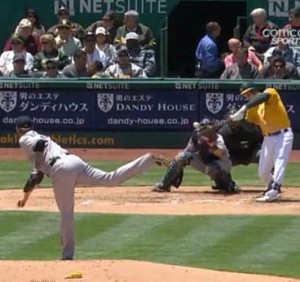 A-Rod gave the Yankees the lead in the top of the first by driving in Derek Jeter with an opposite field double after the Cap'n doubled to leadoff the game. A.J. Burnett gave it right back and then some in the bottom half though, surrendering a two-run homer to Josh Willingham after David DeJesus doubled two batters earlier. It had the makings of a Bad A.J. outing, but to his credit, Burnett settled down.
Following the homer, A.J. walked three of the next nine men he faced, but that was it. Following the third walk, he retired a dozen of the final 13 batters he faced, the lone exception being a two-out triple in Coco Crisp in the fifth. Obviously, he did not come around to score and neither did any of those three walks. Burnett put six men on base in seven innings, striking out five and getting 11 other outs on the ground. Ten of his 103 pitches were changeups, quite a few for him, and another 28 were curveballs,  so A.J. went a little more offspeed than usual. Either way, give him credit for righting the ship mid-game and putting forth a solid effort against an admittedly bad offense.
Leftovers
Curtis Granderson went 0-for-5 with two strikeouts, but he's allowed to do that every so often. In fact, the Yankees only had six hits all game, two by A-Rod  and the rest scattered around. The bottom three hitters in the order went hitless in ten at-bats, though Andruw Jones and Russell Martin each drew a walk. The 3-4-5 hitters saw just 30 pitches in eleven at-bats, with Cano doing most of the heavy lifting (12 pitches for him, nine each for the other two). Not a banner day for the game's most productive offense, but there will be games like this every once in a while. Just gotta find a way to score anyway. Good thing they can hit some evil homeruns from time to time.
Speaking of Martin, he stole his sixth base (in six tries), and he managed to tweet a thank you for all the All-Star Game support while on base. Ah publicists. The tweet has since been deleted, by the way. For shame, people should have a greater sense of humor with stuff like this. It's harmless.
Both Joba Chamberlain and Mariano Rivera pitched for the first time in three days, so that was good. Joba allowed a pair of hits but got out of it after turning a line drive comebacker into a double play. David Robertson warmed up as well, which is good because he hasn't pitched in three days either. You don't want to run these guys into the ground, but you don't want them to rust either.
The Yankees have now beaten the Athletics the last ten times they've played, and in 24 of their last 28 meetings overall. They're like the west coast version of the Twins or something. New York has also won four in a row, six of eight, eight of 11, and 11 of 15 since that ugly six game losing streak. Good stuff. It's still too early to obsess over standings, at least in my book, but they have a nice little three game lead over the Rays and Red Sox in the loss column.
WPA Graph & Box Score
MLB.com has the box score and video highlights, FanGraphs the nerd score.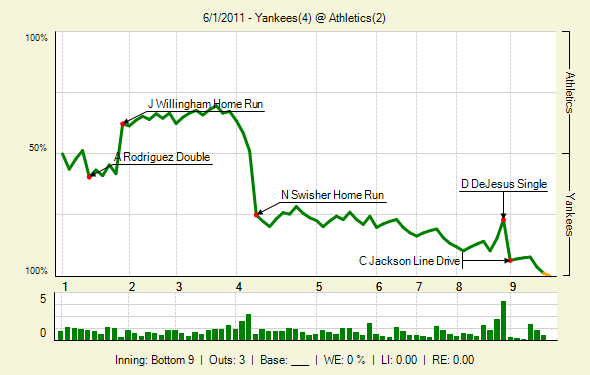 Up Next
The Yankees are heading to Anaheim, but not before taking Thursday off. Ivan Nova will start against Jered Weaver in the series opener on Friday. Fun fun fun.