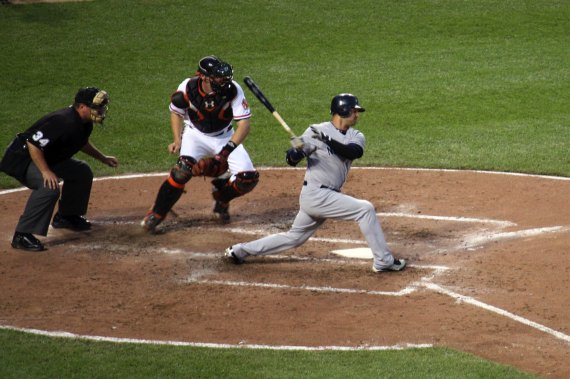 Things were looking pretty grim for Nick Swisher. After slumping through April and most of May, his numbers started to resemble the ones that got him traded after the 2008 season. That earned him a seat for two straight games, but that didn't seem to trigger positive results. In the two games that followed he went 0 for 7 with a walk, lowering his season numbers to .204/.321/.289 in 184 PA.
By that point the emails had become regular. What will the Yanks do in right field in 2011? Would the Mets trade Carlos Beltran to the Yankees? What happens after the season when the Yankees decline Swisher's option? A large population of Yankees fans had lost faith in Swisher, despite his two straight career years in 2009 and 2010. In a way it was hard to blame them. The offense had struggled for brief stints, and Swisher's troubles came to the fore during those periods. But in another way, it was a relatively small sampling of plate appearances. There was, and still is, plenty of time for Swisher to turn his season into a productive one.
That process just might have begun with the in-progress West Coast trip. Swisher has exactly one hit in each of the six games, but he has also averaged one walk per game, too. All in all he went 6 for 20 (.300) with six walks (.462 OBP) and three extra base hits (.650 SLG). Those numbers, even in a six-game stretch, are impressive by themselves. They become more impressive when we consider the pitching staffs he faced. The Mariners and the A's have allowed the fewest runs of any AL team. Their pitchers rank near the bottom of the league in BA and OBP against, and they're 13th and 14th in SLG against. Against teams that typically suppress offense, Swisher went on a tear.
As with any numbers that involve arbitrary end points, we have to be careful with what we make of Swisher's hot week. After all, it could be just that. Yet we know what he's capable of; we've seen it in the past two seasons. As Mike and I said in yesterday's podcast, Swisher doens't have to end the season with numbers that resemble 2009 and 2010. All he has to do is hit those marks for the rest of the season. If he does that, he'll turn a weakness into a strength and further solidify the league's best offense. This week might not mark a full recovery, but it sure is a good start.