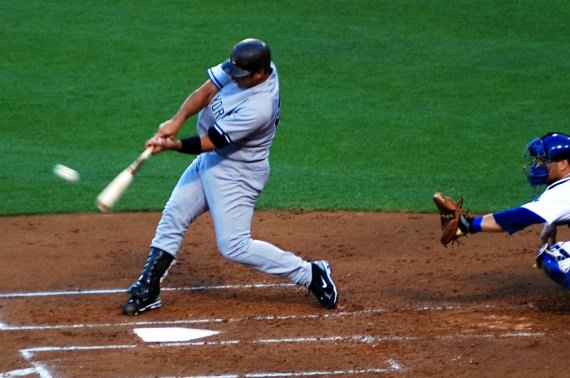 Earlier this month Nick Swisher started his surge. Using the West Coast trip as a springboard he brought his numbers back up to league average and then kept on going. Since hopping on the plane to Seattle he's hit .312/.437/.613 in 119 PA, raising his season line to .245/.366/.412. That's still not up to the standard he set in 2009 and 2010, but it is right in line with the MLB average right fielder. Swisher has come a long way, and the offense has benefitted from his turnaround.
The next player on the list of Yankees to turn around his season is Jorge Posada. At around the same time that Swisher began his comeback, I complained that Jorge's lack of production was killing the Yanks. Indeed, they had the worst production in the league at DH, and by no small margin. While they still reside in the bottom half of the AL, they've climbed the ranks a bit and now rank 11th in DH production with a .689 OPS. If Posada continues his improvement they should reach the middle of the league in short order.
While Jorge's numbers look good since the incident against Boston — .325/.400/.494 in 95 PA — the real turnaround started on the same West Coast trip that spurred Swisher's season. Since the start of the LA series he has gone 22 for 56, which adds up to a .393/.435/.589 line. It has brought his season line up to .234/.327/.411, which amounts to a 99 OPS+. That makes him just about average, but slightly on the below side. But, since I greatly prefer wRC+ to OPS+, since it more fairly values each type of on-field event, we can look to that. He's at 101 wRC+ (.324 wOBA), or just slightly above league average.
Jorge doesn't even have very far to go before he reaches league average DH status. The AL average DH hits .263/.343/.412. If he somehow goes 0 for 0 with 5 walks in his next game, he'll be right there. Even with a more normal batting line, one that includes some outs, he should be about a week away from reaching the AL average DH level. That's quite remarkable given the way his season started, and how for a few months it didn't seem to get any better.
When I think of how Jorge has turned it around after an unimaginably slow start, I immediately turn to David Ortiz's 2009 season. On June 5 he hit a low point, hitting .188/.281/.288 through 221 PA (as many as Jorge has currently). From that point on he hit .266/.360/.557 in 406 PA. It's easy to see Jorge pull something similar, especially given the way he's hit lately. Earlier in the season it was more difficult to envision an Ortiz-like turnaround, because almost nothing was going right for Jorge. But that's entirely the point. When a player is going as poorly as Ortiz in 2009 and Jorge this year, it looks like they have absolutely nothing left. Only a measure of faith from management can keep that player afloat.
While things looked bleak early in the season, the outlook for Jorge Posada's season has turned around. He's put up big numbers in June and has regained some faith along the way. If he can continue some semblance of this performance for the rest of the season it will help the Yankees not only in the runs column, but also on the trade deadline to-do list. It's one potential need crossed off the list. His turnaround also has the benefit of shutting up people like me, who count him out when he's at his worst.