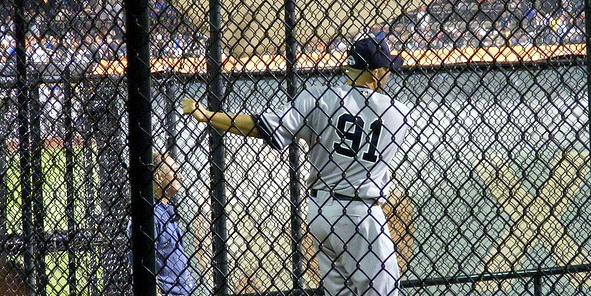 Last night's loss to the Red Sox sucked for a million different reasons, and Al Aceves recording the final eleven outs was just salt on the wounds. He wasn't great by any means, serving up singles to the first two men he faced before Derek Jeter* took the wind out of the Yankees' sails with the bases loaded double play to end the sixth inning, but he was effective. We're used to seeing that from Aceves following his stint in New York, and now ten weeks into the 2011 season, it's pretty obvious the Yankees completely screwed up by letting him walk.
As you probably remember, Aceves' final game as a Yankee came against the team he pitches for now, the Red Sox. The Yankees were in Fenway Park when he threw both a pitch and his back out all in one motion last May, an injury that kept him on the shelf the rest of the season. It was eventually diagnosed as a herniated disc, and two different attempts at rest and rehab resulted in setbacks. Then after the season, Aceves fractured his clavicle when he fell off his bike, an activity that may or may not have been against his back rehab regime. We have no idea and it's unfair to speculate one way or the other.
That broken clavicle was supposed to keep Aceves on the sidelines for three months, meaning he would be a few weeks behind the other pitchers in Spring Training. The right-hander was non-tendered the very next day (relative to when we found out about the injury, not when it actually happened), and Brian Cashman explained the decision like so…
"Because of the back issue, we could not give him [a major league contract]. He was throwing off the mound for us and he always hit a wall," Cashman said. "So we ultimately continued to fail throughout the entire process to get him off the DL and active. He had a lot of success for a period of time, but then ultimately we'd had to take steps back and we'd have to shut him down and re-do the treatment.

"We decided to non-tender him and offer him a non-guaranteed deal. But obviously when healthy you certainly know what he can do."
Aceves sat in the free agent pool for a while, reportedly drawing interest from the Rockies, but it wasn't until early-February that he signed a big league deal with Boston worth $650,000. He reportedly to camp completely healthy on the first day, showing that he was well ahead of schedule with the clavicle rehab, and he's been healthy ever since. In 41 big league innings this year, he owns a 3.29 ERA and a 4.25 FIP. He also threw another eight innings in Triple-A.
I don't know who it was and we probably won't ever know for sure, but someone on the Yankees' made a big mistake here. Maybe it was the medical staff that evaluated Aceves, maybe it was Cashman, maybe it was someone else we don't even know exists or maybe it was all of them. Whoever it was, Aceves' condition was misevaluated and the Yankees foolishly let an asset walk away. That he joined their biggest rival, both historically and with regards to the 2011 AL East title, just adds insult to injury.
The facts of the matter are this: Aceves was still in his pre-arbitration years (so the Yankees could have renewed his salary for something close to the league minimum), he had four years of team control left, he had two minor league options remaining, and he also had (has, really) a history of back trouble. Remember it kept him on the shelf a few times in both 2008 and 2009 as well. At that point of the non-tendering, the Yankees were still unsure about Andy Pettitte's status for 2011 and they still appeared to be the front-runner for Cliff Lee. But still, Aceves' experience working both as a starter and as a reliever is nothing but a plus. I don't put much stock into the whole "he can pitch in New York" thing, but we all knew he could do that as well.
The risk was minimal. We're talking about a 40-man roster spot (and there were seven or eight open at the time of the non-tendering) and a six-figure salary, which is peanuts to pretty much every club, especially the Yankees. It's not like they had to keep him in the show no matter either; he has options and could go down if he was performing poorly or something. That flexibility is something you usually something you don't get from free agents. Instead of assuming that little bit of risk, they got cute and tried to bring him back on a minor league deal when they would have been able to sent him to the minor leagues anyway. It essentially boils down to the 40-man spot and the salary, which is a little ridiculous.
It's not a massive, franchise crippling blunder or anything like that, but the Yankees absolutely screwed up by non-tendering Aceves. That he went to the Red Sox only makes it worse, but it would have been bad even if he joined those Rockies or another team. Even if he blows his back out tomorrow, the evaluation of his condition was obviously wrong and a potentially valuable piece was let go for nothing. With $19.15M worth of relievers on the disabled list and the likes of Amaury Sanit, Jeff Marquez, and Lance Pendleton in the bullpen, the Yankees really could use a multi-inning option with experience in the late-innings right now.  There's no other way to put it, they straight up screwed the pooch by non-tendering Aceves.
* Brett Gardner gets an assist.