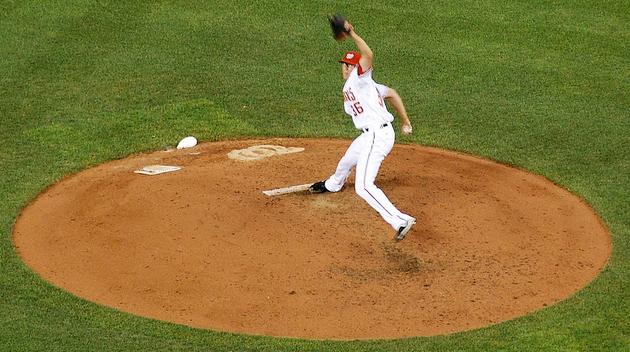 For the longest time, it seemed like the Yankees were completely unable to build a solid bullpen. The relief corps fell apart following the departure of Jeff Nelson and later Mike Stanton and Ramiro Mendoza. The merry-go-round of high priced free agent relievers and AAAA-type arms ran from 2003 through about 2008, when the team finally wised up and started growing their own relievers while seeking low-cost options capable of missing bats from the outside. The more the merrier.
As a result from this reliever hoarding, the Yankees ended up with some bullpen depth in recent years and were able to move a number of these guys in trades. They went from having a shallow and ineffective relief corps to actually being able to trade away effective arms to shore up other parts of the team. Crazy, I know. Anyway, let's look at a bullpen of pitchers built entire of guys the Yankees have traded away in recent years, starting with someone that wore pinstripes a little more than two months ago…
The Long Man: Sergio Mitre
It wasn't that long ago that our standard for pitching acquisitions was "better than Mitre," but The Experience moved on to Milwaukee in the Chris Dickerson swap and has done fine work in low-leverage spots for the Brewers. His almost non-existent strikeout rate (3.24 K/9) is buoyed by his typically gaudy ground ball rate (53.0%), and of course he has the ability to go multiple innings if needed.
The Middle Reliever: Dan McCutchen
After spending a few years bouncing back and forth between Triple-A and the big leagues as a spot starter, McCutchen has carved out as a nice niche for himself in Pittsburgh's bullpen this year. The former DotF superstar isn't striking out many batters (4.73 K/9), but he's made up for it by limiting walks (1.69 uIBB/9) and getting a healthy amount of ground balls (45.1%). McCutchen was the fourth guy in the Xavier Nady-Damaso Marte trade.
The Lefty: Mike Dunn
I'm sure most of you remember Dunn's big league debut with the Yankees in September of 2009, when he came out of the bullpen in Toronto only to walk three of the first five men he faced on 13 total pitches (not counting the other two batters). He went to the Braves in the ill-fated Javy Vazquez trade last offseason, walked 17 men in 19 IP for Atlanta before being traded to the Marlins for Dan Uggla this offseason. Dunn has emerged as Florida's top setup man this year, striking out 33 and allowing just 14 hits in 27 IP. He has walked 15, though. Still, can't argue with that strikeout rate from the left side.
The Setup Man: Tyler Clippard
Long-time readers of RAB are well-aware that I was never much of a Clippard fan. His six start cameo in the Bronx in 2007 was completely forgettable (6.68 FIP), then he was shipped to the nation's capitol for Jon Albaladejo after the season. Clippard struggled as a starter in 2008 and for the early part of 2009, but a shift to the bullpen late that year changed everything. He's turned into one of the most dominant relievers in the game, throwing multiple innings pretty much every time out with an 11.01 K/9 and a 3.23 FIP in a MLB-high 126.2 relief innings (105 appearances) since the start of 2010. I think it's safe to say the Yankees would love to have a do-over on this trade.
The Closer: Mark Melancon
Melancon received four different call-ups with the Yankees in 2009 and 2010, striking out 13 and walking ten in 20.1 IP. He was sent to Houston in the Lance Berkman trade and almost immediately settled into their bullpen. Melancon finished last year with a 3.19 FIP in 20 appearances for the Astros, and this year he's sporting an impressive 2.46 FIP on the strength of 8.28 K/9 and 2.76 BB/9 in 29.1 IP. He has since moved into the closer's role with Brandon Lyon on the disabled list with a case of the awfuls, and he's 5-for-6 in save opportunities so far.
* * *
If you're going to give away good players in trades, relievers are good guys to do it with. They typically have short shelf lives and their impact is much smaller than what you can get from position players or starting pitchers. Of course, trading good players is always a bad thing either, it helps build a solid reputation and ups the chances of making good deals down the road. Of course, it helps when you get good players back as well.