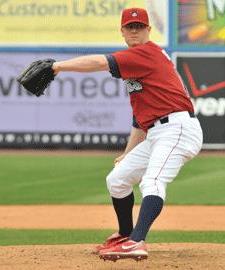 Word got out last night that the Yankees not only agreed to sign some 32-year-old right-hander named Brian Gordon, but they agreed to sign him to a big league contract and have put him in the mix to start against the Rangers on Thursday. Yeah, this move came completely out of nowhere, so let's take some time to introduce you to the newest member of the Yankees' rotation, or potential member anyway.
Originally selected in the seventh round of the 1997 draft by the Diamondbacks, Gordon was an outfielder when he came out of Round Rock High School in Texas. He steadily climbed the minor league ladder with Arizona, making it all the way to Triple-A before becoming a minor league free agent after the 2003 season. In over 2,900 plate appearances in the D'Backs system, Gordon hit a very respectable .280/.323/.446 with 63 homers and a 22.8% strikeout rate. He hooked on with the Astros the next year, hitting a serviceable .241/.310/.488 with 16 homers in just 340 plate appearances for their Triple-A team. That was the end of Gordon's career as a position player; he went to Houston and suggested he give pitching a whirl rather than retire. He's been doing that ever since.
Gordon, 28 at the time, made his pitching debut with the Astros' Double-A affiliate in 2007. He struck out 51 and walked just 14 unintentionally in 61 IP (39 appearances) in his pitching debut, posting a fine 3.25 ERA. He made one appearance with Houston's Double-A affiliate in 2008 before they released him in early-April. Gordon caught on with the Rangers, pitched to a 3.51 ERA in 95 relief innings for their Double-A and Triple-A affiliates, then earned his first and only big league call-up that September. He gave up a single to the first batter he faced as a Major Leaguer (Dusty Ryan), retired the second (Curtis Granderson), and then finished the season with four scoreless innings for Texas.
Another solid season for the Rangers' Triple-A affiliate in 2009 (3.49 ERA in 77.1 IP) was following by a fine season for the Phillies' Triple-A affiliate in 2010 (3.46 ERA in 78 IP), but not another taste of the big leagues. Gordon returned to Philadelphia's top farm team in his usual relief role this season, but when injuries to the big league rotation sent Vance Worley to the show, Gordon told the Triple-A Lehigh Valley coaching staff that he wanted the opportunity to work as a starter. Since moving into the rotation in April, he's struck out 53 against just five walks in 51.1 IP with a 1.23 ERA. Over his last three starts, Gordon has whiffed 31 of 72 batters he's faced (43.1%) with no fewer than nine strikeouts each time out. He had an opt-out clause in his contract that was contingent on him finding a big league job elsewhere, which is what the Yankees are giving him. Since he made his last start on Saturday, the newest Yankee lines up perfectly for Thursday's game.
As for the scouting report, Gordon told Jack Curry lasts night that he's a six pitch pitcher that relies on command more than overpowering stuff. PitchFX data from 2008 says that his three fastballs (four-seamer, two-seamer, cutter) sit in the high-80's and occasionally touch the low-90's while his slider will run in low-80's, his curve in the low-70's, and his splitter in low-80's. His swing and miss rate has climbed from 9.3% in 2009 to 10.1% in 2010 to 11.6% in 2011, though his ground ball rate has sat below 40% for the last few years. That could be problematic in Yankee Stadium, although he hasn't demonstrated much of a platoon split in his relatively brief career as a pitcher.
The Yankees have had some luck with scrap heap pickups like this over the last few years, and I get why they made this move. Gordon's having a fine year and he adds depth, plus starting him on Thursday will allow them to keep one of the kids (Hector Noesi, David Phelps, whoever) away from a powerhouse Texas Rangers' offense. Given his bullpen experience, he could easily slide back into that role if Noesi steps up or if Bartolo Colon and/or Phil Hughes start getting healthy. They could certainly use the help there, if nothing else. And heck, with interleague play coming up, his position player experience might allow him to serve as an extra pinch hitter in NL parks (.275/.321/.460 career in more than 4,100 minor league plate appearances). Gordon's not going to save the Yankees' pitching staff, not by any means, but he's an upgrade over Lance Pendleton and Jeff Marquez on the margins of the roster, and every little bit helps.
Note: Mark Feinsand is reporting that the Gordon signing can not become official until 6pm ET time today. If one of the Phillies' starters gets hurt between now and then, they could still call him up and the deal with the Yankees is off. Since Cole Hamels' back tightened up last night, there's a non-zero chance I may have written this post prematurely.