The afternoon started with some greatest players in Yankees history coming together on Old Timers' Day, and it ended with a current Yankees great striking out the side in the ninth to close out the win. In between we got to see Tino Martinez go deep off David Cone (video!), Gene Monahan be honored (and receive a Price Is Right showcase), and a whole lot more.
Too Many Homers (A Comeback Story)
The scouting report on Rockies' starter Juan Nicasio says that he throws a ton of fastballs, enough that John Flaherty could say he was proud of it (repeatedly). Nicasio used that great fastball, which around 94 and topped out at 97, to retire the first 13 batters he faced. Five of those first 13 batters saw a three-ball count and only five saw a non-fastball (six total offspeed pitches in that time), and as Alexi Ogando can attest, that approach won't work against the Yankees multiple times through the order.
Robinson Cano ripped a solid single to left with one out in the fifth for New York's first baserunner, and apparently pitching from the stretch didn't agree with Mr. Nicasio. He fell behind Nick Swisher 3-0 before getting away with a fastball over the plate (fouled off), but Swish didn't miss the next one. The 3-1 heater caught too much of the plate before landing in the right field seats for a two run homer, Swisher's sixth homer of the month and ninth of the season. That brought the Yankees to within one, but Jorge Posada fixed that with a solo homer into the bullpen to complete the back-to-back jacks. That was another fastball (1-2 count) in a bad spot, and it was Jorge's second homer in the last five games. After four-plus innings of nothing for the Yankees, the two teams were right back to where they started.
Nova Gives It Back
Well, the tie didn't last long, because Ivan Nova served up Ty Wigginton's second homer of the day in the top of the sixth. The most annoying thing about the homer (besides the fact that it was Ty freaking Wigginton) was that this one came in a two strike count. Nova's full count fastball was just in a bad spot, and Wigginton did was he was supposed to. His first homer was a solo shot in the second off another poorly located heater.
The final line for Nova is not good (6 IP, 6 H, 4 R, 4 ER, 3 BB, 4 K), but that's not surprising since he couldn't seem to locate much of anything. I think it's just the normal ups and downs of pitching more than anything else, sometimes it's all working (like it did for Nova against the Reds), sometimes it's not working on all. This game was kind of in between. Nova gave up three homers in the game, all solo shots, which is not really what you expect from a ground ball guy. He had allowed six homers total in his first 14 starts, then this.

Deficit Erased, Lead Taken
The Yankees were not down long after Wigginton took back the lead for Colorado. Brett Gardner started the sixth with his second bunt single in as many games, this one a drag job down towards first base. He then stole second ahead of a Curtis Granderson walk, ending Nicasio's day. Alex Rodriguez, who had six hits in his previous six at-bats with runners in scoring position, came up after Mark Teixeira grounding into a fielder's choice to set up a first and third, one out situation. Matt Belisle started Alex off with a fastball before a ball before going with a slider, a pitch the Yankees third baseman clunked through the 5.5 hole to score Gardner and tie the game. It wasn't picture perfect, certainly a ground ball with eyes, but it was all they needed at the time. Tie the game, then worry about everything else.
An inning later Belisle found himself with men on first and second with one out following a Troy Tulowitzki error on what looked like a douple play ball off the bat of Russell Martin. Chris Dickerson was sent in to pinch-run for Posada at second, which turned out to be rather important. Belisle went with two sliders against Eduardo Nunez, who did exactly what A-Rod did in the previous inning and grounded it through the 5.5 hole for a single. Dickerson raced around third and slid into home (Slip 'n Slide style) well before the throw. The Yankees had the lead for the first time all game, and this one they didn't give back.
No LOLpen This Time
After Nova's six serviceable innings, the bullpen went to work. Luis Ayala was brought in to face the righty Chris Iannetta, who worked a seven pitch at-bat before singling to left. Boone Logan came in to face some lefties, and he promptly struck out Carlos Gonzalez (the guy that doubled off him Friday) on four pitches before getting the switch-hitting Jonathan Herrera to fly out harmlessly to center. David Robertson was up in the bullpen, but Logan was going to get a chance to face the left-handed Todd Helton. He started him off with a slider for a strike, but Iannetta stole second and went to third on what was dubbed a throwing error by Martin (I think it was a ball Nunez had to at least knock down though). The margin for error was gone, but Logan stuck to the plan and fed Helton slider after slider. Five pitches and four sliders into the at-bat, Helton rolled over on a ball and grounded it to second weakly to end the inning.
Robertson started the eight and had quite a battle with Tulowitzki, who fouled off seven pitches in a ten pitch at-bat before whiffing on a fastball at his eyes. Jason Giambi grounded out on the first pitch, and Seth Smith swung through a fastball for strike three and the third out. Mariano Rivera struck out all three guys he faced in the ninth, and that was that. Five of the last six Colorado batters didn't even put the ball in play, and none of the last seven hit it out of the infield.

Leftovers
Tex gave the Yankees an insurance run in the eighth with a solo homer off Matt Reynolds, and it wasn't even a bad pitch. It was a slider down below the knees that he just golfed out. It was his 23rd of the season, tied with Jose Bautista for the league lead.
Every Yankees starter had exactly one hit except for Grandy (who walked) and Martin (who reached on Tulo's error in the seventh). With the homer and a walk, Posada was the only Yankee to reach base safely twice in the game. The homers by Tex, Jorge, and Swisher were their only extra base hits. Colorado pitchers threw 137 pitches in the game, which doesn't seem like a whole lot when you mix in nine baserunners and six runs allowed.
Nunez let a routine double play ball go right through his legs in the first inning, making Nova have to work that much more to escape the inning unscathed. I'm not the world's biggest Nunez fan, but even his biggest backers have to admit that's a play he absolutely has to make. Period, end of story.
Michael Kay was talking to Tino in the booth during the game and mistakenly said "All Timers' Day" instead of "Old Timers' Day." It sounded dangerously close to "Alzheimer's Day." I dunno, I figured that was noteworthy.
WPA Graph & Box Score
That's it. MLB.com has a box score and video highlights, FanGraphs has everything else.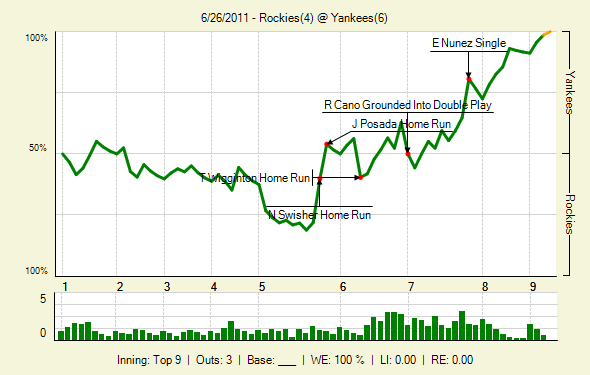 Up Next
For the third time in the last week, the Yankees will have the day off on Monday. They're going to take that opportunity to skip Brian Gordon's next start and instead roll with Freddy Garcia against the Brewers on Tuesday. He'll be opposed by Zack Greinke, who should lose because he can't handle New York, or something like that.