Well, it's always tough to sweep a doubleheader, but we all wanted the Yankees to get greedy on Wednesday night after taking the afternoon game. It was a game for about six and a half innings, but then the Reds blew it open late and that was that. Ugly end to an otherwise great road trip.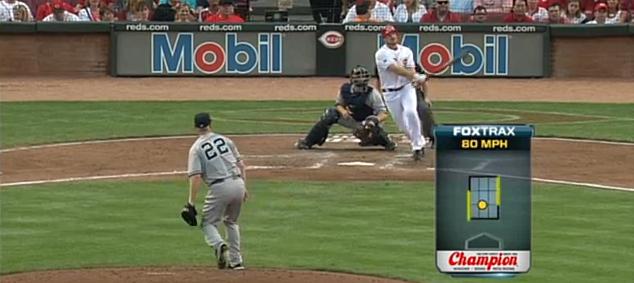 Homerun Gordon
It was ominous right from the start. Chris Heisey worked the count full before launching a leadoff homerun in the very first winning, then Jonny Gomes welcomed Joe Brian Gordon to the big leagues with a homer to leadoff the second. Three innings later, Heisey hit another homerun, this one a two-run shot to give the Reds a three run lead. It was obvious Gordon wasn't fooling anyone because even the outs were hard hit. He had nothing to put batters away with two strikes, which is why he only struck out one of the 20 men he faced. The end result: five hits, no walks, and four runs in five innings on just 74 pitches (49 strikes). Reds' batters swung and missed just twice.
I'll stick with what I said after Gordon's first start: he's got middle reliever written all over him as a fastball-curveball guy. Yeah, he throws a cutter and a changeup and whatever else as well, but the heater and curve seem to be his only two big league caliber pitches, if you can call them that. He's got to locate perfectly to be effective, otherwise games like this happen.
Their Last Chance
Johnny Cueto was absolutely cruising when the seventh inning started; he had retired a dozen men in a row coming into the inning and had struck out the last four he faced. Alex Rodriguez broke the streak with a leadoff single, and before you knew it they had first and second with none out following a Nick Swisher walk. Russell Martin struck out after a seven pitch at-bat for the first out, leaving the rally in the hands of Eduardo Nunez and Ramiro Pena.
But Joe Girardi wasn't having any of that, so he sent up Robinson Cano to pinch-hit for Nunez. I loved the move, that was the biggest at-bat of the game and leaving it in the hands of Nunez's .290 OBP is asking for trouble. Cano reached on an error, loading the bases. The problem was that Pena grounded out on the first pitch (Joey Votto got the force out at home), then pinch-hitter Jorge Posada did the same thing. Bases loaded man, force the pitcher to throw a strike there. That was the end of the rally, which resulted in zero runs. Not like it would have mattered anyway.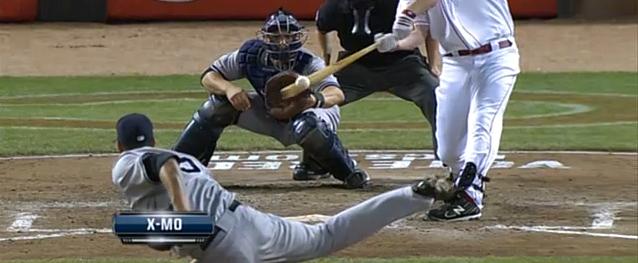 Hector Bleeds
It took a while, but Hector Noesi finally had his first real disaster inning as a big leaguer. He gave up five hits and hit a batter with the bases loaded in the seventh, allowing the Reds to score three insurance runs while throwing 21 pitches. It happens and it will happen against at some point, but it's good to get that first one out of the way in a game like this. Welcome to the club, kid.
OH BUT WAIT!
For some reason, Noesi was sent back out for the eighth. Maybe Buddy Carlyle hadn't gotten to the park yet. He gave up three more hits (including Heisey's third homer of the game) and a walk while recording just two outs, putting his pitching line at 1.2 IP, 8 H, 6 R, 6 ER, 1 BB, 1 K. Ug-ly. That second inning of work was really unnecessary. Oh well, hopefully he shakes it off, learns something from this outing, and moves on. All you can do.
Leftovers
Nick Swisher got the Yankees on the board in the second inning with a solo homer, a shot to left that hit the fan in the front row in a bad spot (right in the hands) and bounced back into the field of play. Those are my favorite kind of homers, opposite field jobs on pitches away. Takes a combination of strength and a good approach, plus they're fun to watch. The Yankees scored their other run in garbage time, when Alex Rodriguez doubled in Curtis Granderson. Looked gone off the bat, but it hit off the base off the wall instead. Oh well.
Boone Logan retired both Joey Votto and Jay Bruce and the Yankees lost?!? What a waste. He lives to pitch another day, I suppose. Cory Wade finally allowed a baserunner, a ground ball with eyes just beyond Nunez's reach. I was truly expecting him to be perfect forever.
The Yankees ended with a winning road trip, sandwiching four wins between two losses. They're now 10-3 in their last 13 games, which works for me. They're also done traveling to NL parks in the sense that the remaining series at CitiField isn't really travel. Hooray for only three more DH-less games.
WPA Graph & Box Score
MLB.com has the box score and video highlights, FanGraphs the other stuff.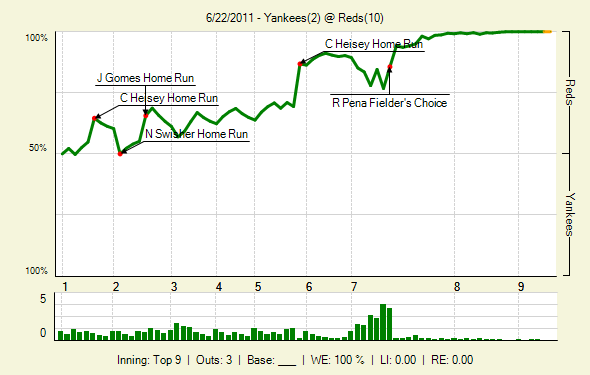 Up Next
The Yankees will take Thursday off then reconvene at Yankee Stadium on Friday night to play the Rockies. A.J. Burnett will kick that series off against Ubaldo Jimenez in a matchup that almost guarantees both teams will finish the game with 10+ walks and 10+ strikeouts. If you want to go to the game, RAB Tickets can get you there dirt cheap.