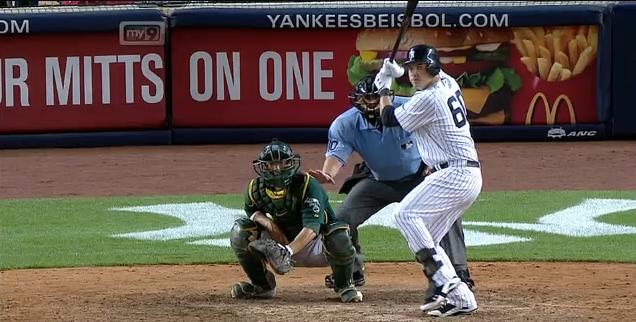 Trevor Cahill is a good young starter, but the poor kid just doesn't seem to stand a chance against the Yankees. New York blew the doors off this one early, knocking Cahill from the game in the third inning. It's Friday and it's hot, so let's quickly recap…
Everyone contributed offensively, even the guys off the bench. The Yankees scored five runs in the second with a barrage of singles plus a walk and a sacrifice fly. They didn't bat around, but they came close. Most of the damage was done in the third inning, which featured both a three-run homer and a grand slam. You don't see that happen in the same inning very often, not by one team anyway. Six straight batters reached to leadoff the inning, and one batter even had two hits in the frame. Add in some garbage time runs later, and you've got a season-high 17 runs and the most they've scored in one game since hanging 20 on the Red Sox in August of 2009.
Phil Hughes was pretty terrible, allowing seven runs in just 4.1 IP, walking four and striking out three. He also hit a batter. Blame the weather or the long layoffs between innings if you want, but the bottom line is that a starter has to get through at least five innings when staked to a 12 run lead. That's the bare minimum. Hector Noesi was strong yet again in long relief, striking out three and walking nine in 3.2 scoreless innings. He needed 53 pitches to get 11 outs, Hughes 98 to get 13 outs. Phil has to be better next time out (against the Mariners), just has to be.
There's a lot of offense to cover, so let's run through it. Brett Gardner struck out three times but also had an infield hit in that second inning. Derek Jeter had two hits and a walk, Curtis Granderson two walks and a hit-by pitch, Mark Teixeira two walks and the grand slam, Robinson Cano two hits, Nick Swisher three hits (including the three-run homer) and a walk, Jorge Posada one hit, Eduardo Nunez two hits, and Frankie Cervelli was a perfect 3-for-3 with two walks. Granderson and Jeter each stole bases as well. Chris Dickerson came off the bench and singled.
If the Yankees have any trade interest in Oakland relievers, they sure got a good look at all of them in this game. Six different relievers appeared in the game for the A's, none worse than Joey Devine. Check out his strike zone plot, and make sure you notice the pitches literally off the chart and in the margins. His first pitch of the night was the first pitch Brandon Laird saw as a big leaguer, a fastball behind his back. Laird drew a walk his first time up (his first since June 25th) then singled the next time, so he's rocking a 1.000 AVG and 1.000 OBP at the moment. Congrats to him.
It's been more than a dozen years since the Yankees played a home game in this kind of weather; July of 1999 was the last time the temperature exceeded triple digits at first pitch at Yankee Stadium. Yuck. Here's the box score, here's the WPA graph, and here's the standings.
Saturday's going to be another scorcher, but if you want to brave the heat and head up to the Bronx for the game, RAB Tickets can get you in dirt cheap. Rich Harden will give it a go against A.J. Burnett in the matinee.