This is a guest post from RAB Shop extraordinaire Tyler Wilkinson. So read it, then go buy something.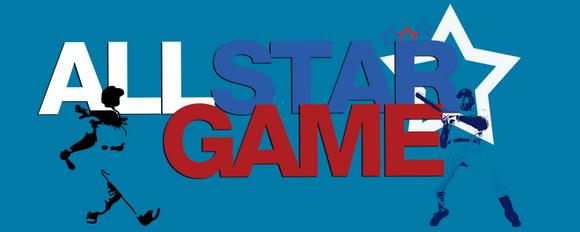 Baseball's mid-summer classic, once an avenue for die-hard fans to catch a glimpse of cross-country superstars, has descended into a watered down exhibition featuring all of the players we watch every night on MLB.tv and every morning on Sportscenter. With the appeal fading, several years ago Commissioner Bud Selig took the radical step of turning this meaningless event into the deciding factor for home-field advantage in the World Series. Yes, crazy. Believe it or not, the possibility of Aaron Crow influencing home-field advantage hasn't yielded the results Selig was looking for. With that in mind, I have an unrealistic crackpot idea to drive up interest.
A battle for of the ages.
Problem 1, the rosters are too damn big. Peace out Aaron Crow. Royals, you want an All-Star, trade Hosmer and Moose Tacos to the Yankees for A-Rod. Picking on Aaron Crow is fun. Kidding aside, trying to include a member of every squad is diluting the talent pool and lessening the experience. Solution: 25 man rosters. Done.
Problem 2, Joe Buck & Tim McCarver. Do the right thing, Fox.
Problem 3, people aren't tuning in to watch AL vs. NL anymore. We need a twist. How about a battle of old vs. new? Jeter vs. Cano? Lester vs. Gonzalez? Good vs. Good? Evil vs. Evil? Taking this year's injury-riddled lineups and splitting them into the 25 youngest players I find interesting and the 25 oldest players I find interesting, let's see how the rosters fill out.
Young Punks
C:  McCann
1B: Fielder
2B: Cano
3B: Sandoval
SS: Reyes (we'll roll with the fan vote)
OF: Braun
OF: Kemp
OF: Upton
DH: Votto
SP: Lincecum
SP: Hernandez (F-Her, don't forget to spread the nickname)
SP: Lester
SP: Price
SP: Hamels
RP: Weaver
RP: Cain
RP: Kershaw
RP: Pineda
RP: Jurrjens
CL: Robertson (shut up, it's my list!)
BN: Avila
BN: McCutchen
BN: Tulowitzki
BN: Martin (3 catchers to swap out in the ASG seems reasonable)
BN: Bruce
Thoughts: Relievers not named Mo probably don't belong in the ASG, apologies to Aaron Crow. That is a ridiculous pitching staff. I hope Lester hits Youkilis in his ugly ribs.
Old Geezers
C: Molina (I double checked. It's not Gustavo)
1B: Gonzalez, Ad.
2B: Phillips
3B: Rodriguez
SS: Jeter
OF: Bautista
OF: Granderson
OF: Hamilton
DH: Holliday
SP: Halladay
SP: Sabathia
SP: Lee
SP: Verlander (the youngest of the old geezers & the exact middle point)
SP: Beckett
RP: Shields
RP: Wilson, Brian (have to break the no relievers rule)
RP: Valverde (and again, gross)
RP: Bell  (and again)
RP: Wilson, CJ
CL:  Rivera (forever and ever)
BN: Montero, Mig.
BN: Beltran
BN: Berkman
BN: Kendrick (someone's gotta backup the middle infield)
BN: Youkilis (gross)
Thoughts: While the youngsters have a ridiculous pitching staff, the old folks have some big guns of their own up front with a familiar face closing it down. There's a lot of pop in the old guys' lineup.
While not perfect (Valverde survived the cut), I still believe the new format would increase interest. Baseball would have an avenue to market their phenomenal young stars to a national audience and the fat of the current system would be trimmed right off.  Plus, the novelty of seeing a Reyes/Cano double play combo is probably more appealing than the standard AL/NL lineups that people have grown accustomed to.  The one thing I think we can all agree on is that home-field advantage being decided in an exhibition game three months before the World Series is ridiculous and unnecessary.  While a radical alteration like the one I proposed is unrealistic, correcting home-field advantage is a simple step that needs to be fixed yesterday. That and Joe Buck.