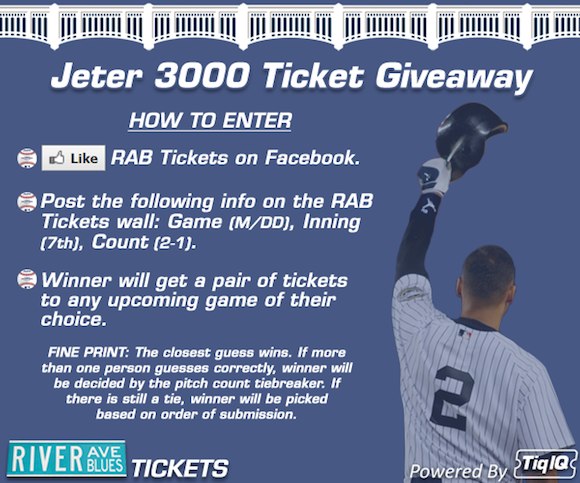 As Derek Jeter slowly inches his way toward his inevitable 3000th hit, River Ave. Blues and our partner TiqIQ are hosting a contest to celebrate the milestone. The winner will get two tickets to a sporting event of their choice courtesy of TiqIQ.
So how to enter: First, readers will have to head on over to Facebook and "like" RAB Tickets. Then, post on the RAB Tickets Facebook wall a guess for Jeter's 3000th hit that includes the date, the inning and the count of the at-bat on which Jeter will reach that milestone. If more than one person guesses correctly, winner will be decided by a pitch count tiebreaker. If there is still a tie, winner will be picked based on order of submission.
If you'd like to get a sense of how the secondary ticket market is responding to Jeter's quest, take a look at this graphic. It looks like most buyers think Jeter will reach 3000 at home this weekend on either Friday or Saturday. Personally, I'm betting on Friday, but that's because Joe, Mike and I are all going to be at the stadium that evening.