Over at The Process Report, Chris St. John recently examined a few select offensive statistics for the Tampa Bay Rays. In particular St. John keyed in on strikeout rate, line drive rate, and pitches per plate appearance. He contrasted each player's current 2011 numbers with their career numbers (and didn't include the 2011 numbers in the career numbers). This is a worthy exercise as we're at a point in the season where plenty of statistics find a large enough sample size to stabilize. I've followed his lead using two basic plate approach statistics: walk rate and strikeout rate. Like St. John, I've excluded the 2011 numbers from career totals. I've also calculated strikeout rate using plate appearances, rather than at-bats, as the denominator. Fangraphs uses at-bats, but plate appearances is a more helpful and logical choice. Data is current through Friday morning, and we'll kick it off with walk rate.
Walk rate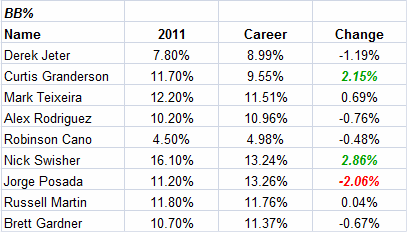 The two big movers up are Granderson and Swisher. Swisher in particular is notable given his slow start. Despite a low BABIP and poor power numbers, particularly from the left side, Swisher is currently posting the best walk rate and on-base percentage of his entire career. As a result, he's assembled offensive numbers well above league average, albeit in a depressed offensive environment league-wide. This is good to see. Swisher has had a rough go of it this year, a year which in essence represents a contract year, and even though he's found himself on the short end of the stick luck-wise he's still been able to maintain his patience at the plate. Plate discipline is both talent and skill, and Nick Swisher has both.
On the down side is Jorge Posada. It's not terribly hard to read the between the lines on this one. As he gets older and his bat slows down it would seem logical that Posada would find more pitchers challenging him in the zone. His slow start, no matter how much it was founded on ill-fortune, likely did nothing to discourage this. Despite the dip, it's worthy to note that his walk rate is still above league average.
Strikeout rate
Don't be confused by the color scheme change. Green is still good, and red is still bad. Here we see Jeter, Teixeira and Swisher lopping off a decent amount of strikeouts against their historical averages. The cynic would argue that Jeter is striking out less because he's grounding out to second on the first pitch more. Jeter is actually seeing more pitches per plate appearance this year than in years past, but perhaps more work in this area is required to draw conclusions. It's also nice to see Swisher reduce his strikeout rate. Peripherals-wise he's having a very respectable year. It'll be easier to believe it as the results continue to follow.
On the other side, Martin and Cano are striking out more than they have in the past. Granderson is also striking out more, but no one's complaining about his year whatsoever. Ultimately, these guys are only halfway through their season and have plenty of time to sort things out at the plate. There's nothing extremely problematic here, aside from the burr in the saddle that is Robinson Cano's plate discipline, and in one respect (Nick Swisher) this data is tremendously encouraging. Will this data hold, or regress to career norms? Time will tell.