It started with an hour-and-a-half rain delay (exacerbated by Freddy Garcia's slow trot from the bullpen to the dugout), and it ended with a disappointing walk-off loss. It's tough to complain after seven straight wins, so I'll try not too.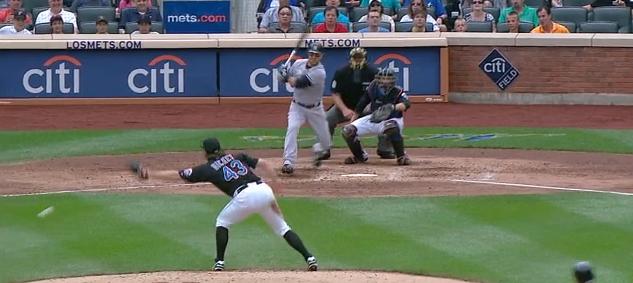 Rally To Tie
R.A. Dickey handcuffed the Yankees already once this year, and he carried that performance into Sunday. The first ten Yanks were retired in order and just one of them (Robinson Cano) managed to hit the ball out of the infield. Curtis Granderson gave them their first baserunner with a one out walk in the fourth, but the next two batters made outs (with a Grandy stole base mixed in), so Dickey's no-hit bid was still alive.
Then something changed, and Dickey's control started to betray him. Not that it's easy to control a knuckleball, but he suddenly got a little more wild than usual.  Cano drove a hanging knuckler to the opposite field to lead off the fifth, then Nick Swisher jumped on a 3-1 fastball (84 mph) for a game-tying, RBI single. Russell Martin flew out and Ramiro Pena tried to end the inning with a ground ball double play, but Justin Turner over-shot Ruben Tejeda with the flip and everyone was safe. A four-pitch walk to Brett Gardner loaded the bases and brought Granderson to the dish.
At the time, Granderson's at-bat was the biggest of the game, a ridiculously high Leverage Index of 3.99. He fouled off three pitches as part of an eight pitch at-bat before grounding to second, ending the inning and the threat. The Yankees had a chance to blow it open and didn't, and we later learned that Dickey was battling a sore left glute. Apparently he originally hurt himself in batting practice a few days ago, then re-aggravated it when he slipped while delivering a pitch in the fourth inning. That would explain the sudden control issues, and gutting it out for another inning cost him the lead.
The Chief
Garcia was basically the opposite of Dickey in this game. He allowed four consecutive hard hit balls to open the game (the first two were caught by Granderson on the run), resulting in a quick one-zip lead for the Mets. That was it though. He retired seven of the next eight and 16 of the next 20 men he faced, and not a single Met advanced past first base against him the rest of the way.
It's games like this that ensured Garcia remained in the rotation instead of the now demoted Ivan Nova. He allowed just the one run in seven innings, and only one of the 24 batters he faced saw a three-ball count. Daniel Murphy went 3-for-3 off Freddy but the rest of the Mets' lineup went 3-for-21, making as many outs on the bases (three) as times on base. To say Garcia has exceeded expectations would be selling him short. He's basically hit on the best case scenario, agreed?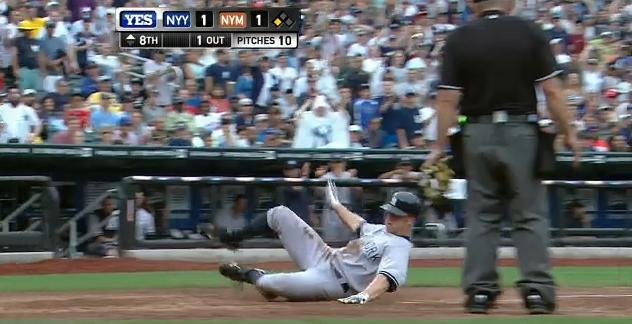 A Temporary Lead
The two New York teams played to a one-all tie until the top of the eighth inning, which started with a Gardner triple into the right field corner off Jason Isringhausen. Granderson drove in the run with a sacrifice fly after falling behind0-2 in the count, though the odds of the run coming in were pretty good since Grandy and Mark Teixeira are two extreme fly ball hitters (just 29.5% and 36.4% grounders, respectively). A fly ball seemed inevitable. The one run lead seemed like enough with David Robertson and Mariano Rivera ready to pitch the next two innings, so it wasn't the end of the world when Tex's double was wasted. Little did we know.
Blown Save
It doesn't happen often, so it's always a surprise when it does. Mariano Rivera didn't just blow the save, he retired the first two batters then allowed the rally to happen with two outs. That's rare. First he walked Jason Bay, almost pitching around him, then Lucas Duda singled into shallow right on a pitch in on his hands to put men on the corners. Mo got ahead of pinch-hitter Ronny Paulino 0-2, but the Mets righty backstop reached out and punched an outside cutter through the right side to drive in Bay from third, tying the game. The lead was gone, but that's not even the crazy part.
Runners were now at first and second with two outs, and the usually punchless Tejeda grounded a pitch towards short. Ramiro Pena rushed to the spot and let it get through his legs, and right there it looked like the game was over. Duda was rounding third with a full head of steam, but Gardner charged the ball well and uncorked a one hop throw to the plate, beating Dude by a few steps and allowing Martin to apply the tag for the inning-ending out. It was very similar to that play in Chicago against the Cubs a few weeks ago, though the stakes were much higher this time. Pena goofed, big time, but the Yankees got away with it anyway.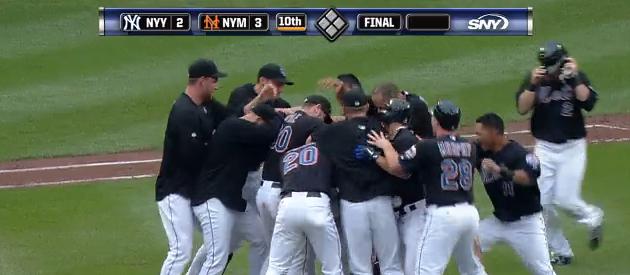 And The Loss
With Robertson and Rivera gone from the game, it was time to the second tier relievers, and that's usually a problem. Luis Ayala started the tenth inning off by walking Scott Hairston, a cardinal sin. Angel Pagan gave up an out with a bunt to move the runner to second, but Ayala went ahead and hit Turner with a pitch. He faced three batters and two reached without swinging the bat, which is straight up awful. Boone Logan came in to face the switch-hitting Carlos Beltran and the left-handed hitter Daniel Murphy.
For all this talk about Alex Rodriguez's conversation with Logan about having a plan on the mound, I don't think a hanging slider was part of the discussion. Boone got away with the pitch as Beltran hacked at it for strike three, which was a total gift. That shouldn't happen. Logan then jumped out ahead of Murphy with two quick strikes, and he tapped a ball to Pena at short. This one apparently jumped up and hit off the heel of his glove, so everyone was safe and the bases were loaded. Out came Logan, in came Hector Noesi.
What happened next was fairly predictable. Noesi had zero margin for error and Bay made him pay with an 0-1 single into center, plating the winning run. The kid was not put into a position to succeed, and he's pretty much the last guy I blame for the loss. Ayala is the primary culprit in my eyes, just because he gift-wrapped the Mets the rally with the walk and hit-by-pitch. Make them earn their way on base, if they hit a walk-off homer, fine. At least they earned it. That was a free rally. Sigh.
Leftovers
Granderson's stolen base was hit 15th, and I'm kinda hoping he can get to 20-20 before the All-Star break. He's got the 22 homers already, and now he needs five steals in the next seven games. That won't be easy, but I'd love to see him go for it. Cano had a double and a triple, his third triple in five games. I love me some homers, but it would be fun to see guys like Gardner and Granderson play 81 games in CitiField. Think of all the three-baggers.
Martin led off the seventh with a double but got caught in a run down between second and third one play later. Not his fault, Pena hit a bullet back up the middle that Pedro Beato unexpectedly fielded. He broke for third, as he should have. Just a bad break, that's all. Too bad it likely cost them a run, and who knows what happens after that. Certainly a noteworthy play late in a tie game.
No record breaking attendance on Sunday, but the three game series drew 125,575 fans. That's a three-game series record for CitiField. You're welcome, Fred and Jeff. The loss was the Yankees first since the opening game of the Rockies' series, when Jason Giambi hit that monster homerun. It was only their fourth loss in the last 22 days. I'll take it.
WPA Graph & Box Score
Eventful, but for all the wrong reasons. MLB.com has the box score and video score, FanGraphs the other stuff.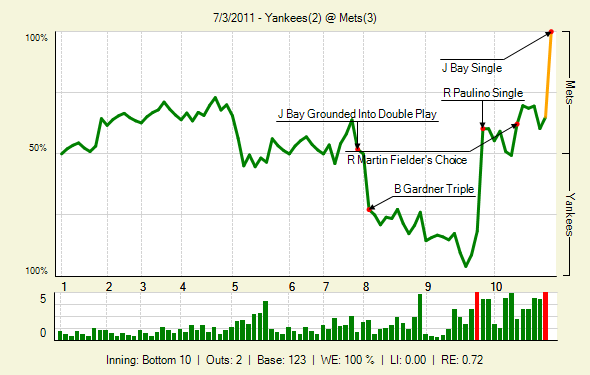 Up Next
Time to get back to the American League. The Yankees are off to Cleveland for a three game set starting Monday, when A.J. Burnett faces Josh Tomlin. If you're in the area, RAB Tickets can get you into the game.