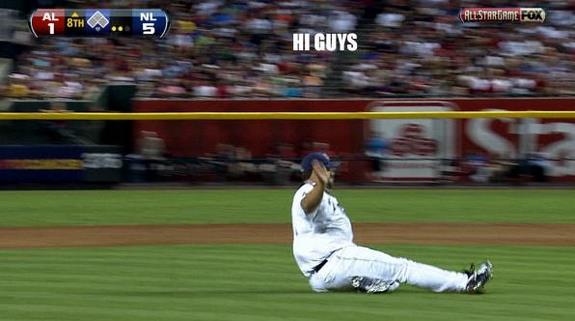 The final score was 5-1 and I blame the AL West. The AL jumped out to a one-zip lead thanks to an Adrian Gonzalez solo homer, but the NL answered right back when eventual MVP Prince Fielder hit a three-run oppo bomb off C.J. Wilson. They tacked on another run at the expense of Jordan Walden, and another off Brandon League. When you look through the box score, it's pretty obvious the AL just didn't have the pitching to keep pace. I still blame the AL West though. Stupid useless division, thanks for nothing.
Four Yankees were at the game but only three played. Curtis Granderson and Robinson Cano started the game but didn't hit the ball out of the infield in two at-bats each. David Robertson pitched the second inning after Josh Beckett shut himself down with soreness in his knee during warm ups, striking out one (Matt Holliday) and allowing a single up the middle (Lance Berkman). He and Chris Perez were the only non-AL West pitchers to appear in the game for the good guys. Russell Martin did not play at all, which I'm pretty cool with, actually. Let him rest.
The best part of the game: Tyler Clippard getting the win. He's been phenomenal since the Yankees traded him away, but anyone that watches him regularly will tell you about his penchant for vulturing wins. He does it so often that it's officially referred to as "clipping" a win. This game was a perfect example. Clippard entered the game with men on first and second with two outs in the fourth, then gave up a single to Adrian Beltre. The only reason he got out of the inning was because the third base coach inexplicably sent Jose Bautista home*, where he was thrown out by a mile by Hunter Pence. One batter, one hit, win. Clipped.
Bruce Bochy used Philadelphia and Atlanta pitchers for six of the nine innings and one of his own pitchers for just two outs. That was Brian Wilson, who didn't come into the game until the AL threatened in the bottom of the ninth. Tim Lincecum, Matt Cain, and Ryan Vogelsong didn't even leave the dugout. The Phillies and Braves will be right there with the Giants come the playoffs, and Bochy used his managerial perk to use their pitchers and spare his own. Anyway, it's the NL's second straight win and they now have home field advantage in the World Series. After a day off on Wednesday, the Yankees will be back at it against the Blue Jays on Thursday.
* Seriously, what the hell was that about? Pence had the ball before Bautista even got to third.