The story coming into Wednesday night's game was Phil Hughes' return to the rotation, and the story at the end of the night was the Yankees' third loss in their last four games. Hughes was adequate at best, but the offense couldn't muster a damn thing until it was too late.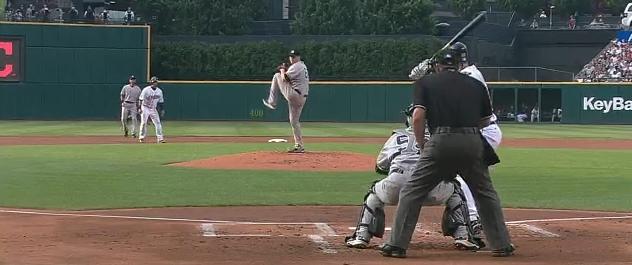 Hughes' Return
For the most part, Hughes looked like 2010 second half version of himself. He had no trouble getting strike one or even strike two, but strike three proved rather elusive. The Indians fouled off 25 of his 87 pitches, and only twice did they swing and miss. Phil's fastball velocity was fine (mostly 91-93 mph) and held it pretty well throughout the start, but his location was awful (seemed like everything was in the middle of the plate) and his curveball had more tumble than bite. Again, basically the same thing we saw after the All-Star break last year.
The first inning was pretty messy, especially when you include Russell Martin throwing the ball into left field on a steal attempt of third, and Hughes allowed the leadoff man to reach in four of five innings. He didn't have a single 1-2-3 inning but did a fine job of pitching around trouble after that first inning, when the two runs scored. Five innings and two runs probably would have been five innings and four or five runs against a better team, but at least Hughes settled down after that ugly first and can build on those last four innings. He really needs to improve that location though, that was the ginormous red flag.
Mastered, Son
Of course, what Hughes did was of little consequence to the outcome of the game because the Yankees had no answer for Justin Masterson. They wouldn't have score a run off him if the had five outs per inning. Masterson's sinker was running all over the plate and touching at high as 97, harder than I ever remember him throwing before. The Yankees had men on first and second with no outs in the second but didn't get another runner past first base until the eighth inning. He dominated them, no other way to put it.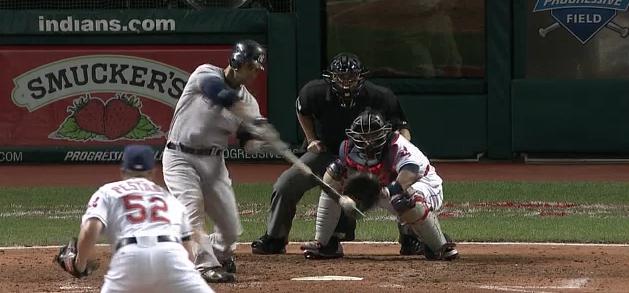 Too Little, Too Late
The Yankees did manage to push three runs across in the ninth inning, but it was just a little too late. The low-leverage dream team of Boone Logan (gave up a solo homer to a lefty) and Sergio Mitre (walked the bases loaded, then walked in a run) allowed Cleveland to score a pair of insurance runs in the seventh and eighth innings, which were ultimately the deciding runs. Nick Swisher was the only player to consistently hit the ball hard, falling victim to great plays by Matt LaPorta (diving on a ball down the line) and Grady Sizemore (jumping at the wall) before his ninth inning double dropped in over Michael Brantley's head. The three runs will help the Pythag. record, but that's pretty much it.
Leftovers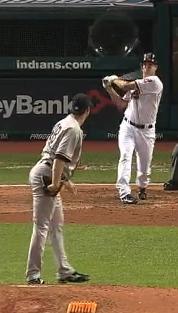 Derek Jeter doubled to right in the ninth eighth, his 2,997th career hit. Hopefully the milestone hit comes Friday, when I'll be in the stands. If he doesn't do it then, then just get it during the homestand so we can all move on.
Mark Teixeira went hitless in four at-bats and is down to a .243 batting average with a .347 OBP. That's not exactly $180M contract, three-hole hitter on a World Series contender production. Alex Rodriguez had two hits and fantastic diving stop to help Logan escape a jam in the sixth inning. Robinson Cano and Martin also had hits, but that's pretty much it offensively.
The trio of Logan, Mitre, and Luis Ayala combined to put eight men on base in three innings, all while Hector Noesi warmed up and twiddling his thumbs in the bullpen. The kid needs to go down and pitch regularly as a starter, because his role on the team is undefined and his usage is completely erratic. That whole situation is moronic, it's like they're going out of their way to devalue an asset. Then they'll trade him and he'll perform well, and they'll wonder why he didn't pitch like that in pinstripes.
The microphones in the booth picked up no fewer than three cans of (presumably) soda being opened, by my count. One for each run, I guess. The Yankees lost their first series since being swept by Boston seven series ago. Seven out of eight ain't bad.
WPA Graph & Box Score
MLB.com has the box score and video, FanGraphs everything else.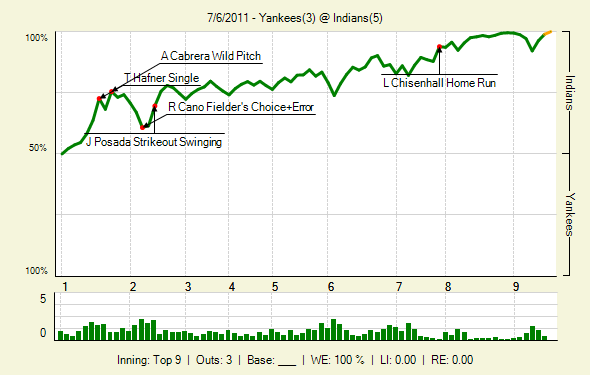 Up Next
One more series before the All-Star break, and it's a four gamer against the Rays at home. Bartolo Colon will start things off against Jeff Niemann on Thursday night. Jeter's chase for 3,000 has ticket prices through the roof, but RAB Tickets can get you there (relatively) cheap.