You know things aren't going well when Bartday sucks. The Yankees lost their series opener to the Rays because the couldn't hit or pitch, and that pretty much tells you everything you need to know. Thursday's game was about as uninteresting as losses get.

Bad Bartolo
For the first time all year, Bartolo Colon got absolutely rocked. Just about every ball in play was hard hit, so it's not a surprise that he gave up ten hits in 5.2 IP. After walking just 18 men all year, Colon walked four in this game, including John Jaso and his sub-.300 OBP twice. His velocity was fine but his command wasn't, and he wasn't getting any help with pitches at the corner. It was the first time we've seen Bartolo be really helpless on the mound, when he had absolutely nothing working and the hitters were all over him. Considering it's July, that's not too bad. Shake it off and do better the next time, Bart.
LOLffense
We've seen this game before, right? Do I really have to recap it? The Yankees had men on the corners with one out in the first, but didn't score. Then they had men at second and third with one out in the second, but didn't score. Jeff Niemann then retired ten of the next eleven men he faced before Robinson Cano hit a solo homer with two outs in the sixth. The Yankees were down by five at that point, so it didn't matter. Niemann escaped those first two innings unscathed, then completely shut the Yankees down through the next five-plus innings. Stop me if you're heard that before.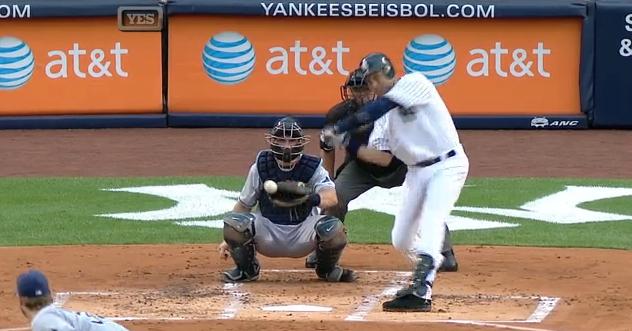 Two Away
Derek Jeter wasted no time continuing his pursuit of 3,000 career hits, doubling to center on Niemann's first pitch of the game. It was his third straight game with a double, the first time he's had an extra base hit in three consecutive games since late-May of last season. Jeter didn't hit the ball out of the infield in any of his other four at-bats, but he is hardly the only one to blame for the lack of offense. The Cap'n is two hits away from the milestone, and he better do it tomorrow, when I'll be at the game.
Leftovers
It's good to know the Yankees have Hector Noesi around for important situations like this game. Those 3.1 scoreless innings were really, really important, and winning takes priority, right? Seriously, please just send the kind to the minors so he can start while some veteran schmuck sits in the bullpen for two weeks between low-leverage relief appearances. This is ridiculous.
Mark Teixeira drew two walks but he's one hitless at-bat away from a sub-.240 batting average. Russell Martin, Brett Gardner, and Jorge Posada each had a hit, and Cano had two. That's pretty much it, the trio of Curtis Granderson, Alex Rodriguez, and Nick Swisher went a combined 0-for-12 with five strikeouts.
The Yankees have now lost two in a row and four of their last five since that seven-game winning streak. They've scored three or fewer runs in each of those losses.
WPA Graph & Box Score
MLB.com has the box score and video, FanGraphs the nerd score.
Up Next
The second game of this four-game series will be played Friday night, when Freddy Garcia gives it a go against rookie Jeremy Hellickson.