Another night, another rain delay (two, actually), another win for the Yankees. They followed a very generic but proven effective formula to win Tuesday's game: get great starting pitching for your ace, hit some homers, hand the ball off to Mariano Rivera, go home. It's that simple. For Seattle, that meant a 17th consecutive loss.
King CC
We'll never know. We'll never know what could have been if it wasn't for the rain. CC Sabathia wasn't just dominating the Mariners, he was perfect through the first 5.1 innings, retiring the first 16 men he faced before the skies opened up for a 30 or so minute rain delay. Sabathia had struck out the last seven men he faced before the delay and eleven overall to that point, getting swings and misses with every pitch in his arsenal. Only one Mariner had hit the ball out of the infield to that point, and that was Ichiro's line out to center on the very first pitch of the game.
That first delay didn't seem to phase CC, who came back out and retired the next two men to end the sixth. He struck out Ichiro on a hanging slider to kick off the seventh, but he fell behind to Brendan Ryan and gave him a 2-0 fastball. Ryan put a good swing on the ball and ended the perfect game bid with a legitimate single to left. Did the delay throw Sabathia's command off a bit? Maybe, but again, we'll never really know. Two more strikeouts and the end of the inning followed.
It started to rain again, and there was a short little delay in the middle of the seventh. The official word was a 14 minute delay, then the Yankees went down quickly against Doug Fister, so the total downtime for CC was maybe 20-22 minutes. At 84 pitches, Sabathia went back out for the eighth and I had no issue with it. Twenty minutes is nothing, it's like sitting in the dugout while the Yankees score a run or three on offense. Joe Girardi will get torn to shreds because CC walked the first three batters of the inning but whatever, complainers gonna complain.
Sabathia's 14 strikeouts are a new career high, the third time in his last three starts he's whiffed ten-plus batters. He raised his season K/9 from 7.9 to 8.3 in this game alone, and my calculations have his already league-leading 5.2 WAR climbing to 5.7, the fourth highest single-season WAR of his career. We're still in July. The Mariners had no chance in this game, none. Sabathia could have shut them down right-handed. The big guy was brilliant, absolutely brilliant.
Oh, Hey, Yeah They Scored Some Runs Too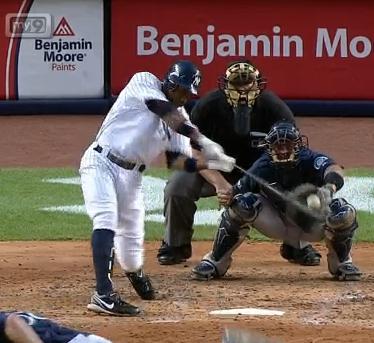 Through all of 2009, all of 2010, and the first 100 games of the 2011 season, Curtis Granderson hit exactly zero homeruns to the opposite field. The last time he hit one out to left was in September of 2008, but not anymore. The Grandyman sat back on a 2-2 curveball and clobbered a big fly to left in the fourth, a solo shot that just cleared the left field wall near the foul pole. That's some serious strength, and was his team leading 28th bomb. It gave New York a 1-0 lead.
The Yankees tacked on two runs in the very next inning, an inning that started with three straight singles and four singles by the first five batters. Nick Swisher, Eric Chavez (more on him in a bit), Jorge Posada, and Brett Gardner all got involved, and Derek Jeter plated a run with an RBI groundout. I have to say, I was impressed by Fister, a former Yankees draft pick who works quickly with a no-nonsense, four-pitch mix and pounds the zone. That fifth inning was the only time all game he labored, but he was otherwise plenty good enough to win. Unfortunately giving up three runs with that offense backing him is an auto-loss.
Escape
There was a mess to clean up in that eighth inning after Sabathia walked the bases loaded, and of course the man brought in to take care of business was David Robertson. He was a little wild, but struck out Adam Kennedy in a full count for the first out before running the count full to the corpse of Chone Figgins. Figgins grounded the ball to third where Chavez bobbled it before stepping on the base for the second out. He probably didn't have enough time to get the runner at the plate or throw to first for the double play anyway. Ichiro struck out looking to end the threat. Robertson allowed a run to score, but that's almost unavoidable in the situation he inherited. He did his job and limited the damaging, keeping Sabathia's line nice and beautiful.
Leftovers
Welcome back Mr. Chavez. He made his presence know with two nice stops – one to his left and one to his right – to end the second and third innings before singling in that two-run fifth inning. Chavy did bobble that ball in the eighth, but that's not the end of the world. It's good to have him back though, he put together some solid at-bats and reminded us all that he's still a really, really good glove guy despite all the injuries. With all due respect to Brandon Laird, the Yankees got a nice boost with Chavez's return.
Granderson's team lead in homers didn't last long, Mark Teixeira tied him with his eighth inning solo shot, his third of the homestand and 100th as a Yankee. He also singled earlier in the game. Pretty much all the offense has already been mentioned; Gardner had a single, Jeter an RBI ground out, Grandy the homer, Tex the homer and single, Swisher a single and a walk, Chavez a hit, and Posada two hits. Robinson Cano and Frankie Cervelli took 0-fers. Like I said, Fister ws pretty impressive, I'm a fan. He's not a star, but a very solid pitcher.
Mariano Rivera closed things out with two strikeouts in a perfect ninth, so all told Yankees pitchers' struck out 18 and allowed just the one hit to Ryan. Only one other team has thrown an 18-strikeout one-hitter in a nine-inning game since 1920, and that was Kerry Wood's 20-strikeout game in 1998. Pretty neat. The Yankees are a season-high 21 games over .500, and have won three in a row plus eight of 13 since the All-Star break. They're fattening up that win total just like they should be.
Box Score, WPA Graph & Standings
MLB.com has the box score and video highlights, FanGraphs some other fun stuff, and ESPN the up to date standings.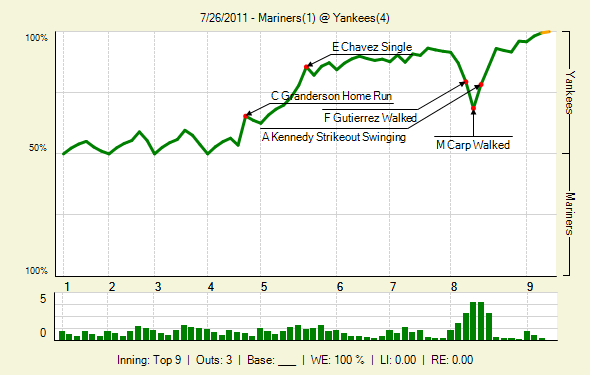 Up Next
The Yankees will go for the sweep Wednesday afternoon at 1pm ET, when Phil Hughes gets the ball against Felix Hernandez. If the Mariners can't win that one, they may never win again.