It's amazing how quickly a dominant pitching performance can make you forget about two disappointing losses. Add in a tremendous individual offensive effort, and those losses get even further away in the rear-view mirror. That's what happened on Tuesday night, when the Yankees bludgeoned the Indians and put a quick end to their two-game losing streak.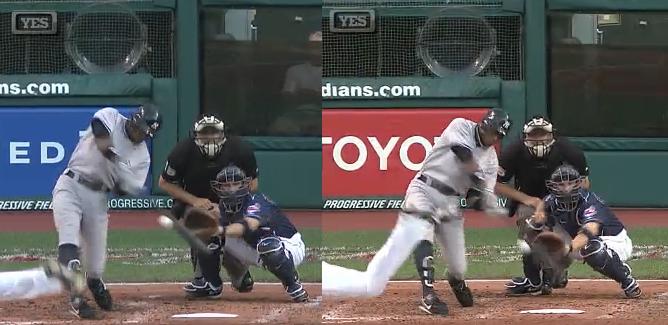 Turning The Tables
The last time the Yankees faced Carlos Carrasco, he wiggled out of a bases loaded jam and some other trouble early on, but settled down and fired seven shutout innings in a Cleveland win. This time around the Yankees made him pay in the second inning, jumping all over the young righty for five runs. The big blows were Derek Jeter's two-run double (a legit shot into the left-center field gap) and Curtis Granderson's two-run homer (just inside the right foul pole). Those were the big hits, but the rally was set up by something the Indians did not do rather than something the Yankees did do.
Just like Monday night, when the Yankees let a foul-pop drop in to extend the seventh inning, Cleveland failed to record the third out of the second inning on a defensive play that should have been made. Nick Swisher (single), Jorge Posada (walk), and Brett Gardner (walk) were all on base for Frankie Cervelli with one out, who grounded what should have been an inning-ending double play ball to short. The out was made at second, but Cord Phelps' relay to first took one hop and handcuffed catcher-turned-first baseman Carlos Santana, who dropped the ball and allowed Cervelli to reach. Swisher scored on the play for the game's first run.
It's a play that has to be made, and the blame probably goes to Santana's inexperience at the position. This was just his 28th career appearance at first base and his 26th of the season. It's not the most difficult of positions, but hops like that are tough to handle with so little practice. A regular, full-time first baseman would be expected to make that play, and I don't even mean a stud defender like Mark Teixeira. Jason Giambi scoops that ball (don't laugh, Giambi had no trouble scooping, he just had no range and couldn't throw). It's not an error because of the stupid "can't assume the double play rule," but the bottom line is that it was a play that had to be made. It wasn't and it resulted in the inning staying alive and five runs scoring.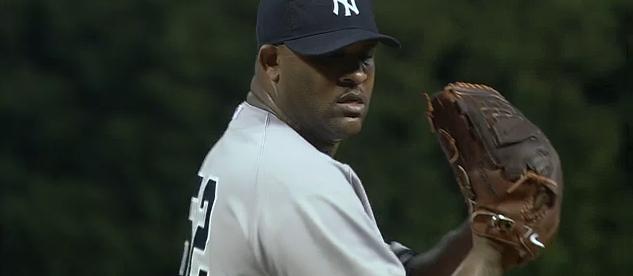 CC Sabathia, Not An All-Star
This guy is on some kind of roll right now, probably his best as a Yankee. Sabathia fired seven shutout innings against his former team, striking out eleven and walking just two with 100 pitches on the nose. He struck out the side in three different innings, and in their seven at-bats with men in scoring position against CC, the Indians struck out … seven times. It's the second time in his career he's had back-to-back double digit strikeout games, and he's the first Yankee to do it since Roger Clemens in 2002. Two words: Beast Mode.
Over his last three starts, the Yankees' ace has struck out 33 and walked just five in 22.2 IP, raising his season strikeout rate from 6.64 K/9 to 7.70 K/9. By my calculation, his WAR has climbed from 3.0 to 4.5, which is simply ridiculous. And you know what? I'm perfectly fine with Sabathia not going to the All-Star Game next week. He's obviously very deserving, but let him go home or on vacation and rest up for the second half. He's earned it.
Cured
The season is just 84 games old, and Curtis Granderson has already hit the second most homers of his career. He hit numbers 24 and 25 in this game, eclipsing last year's total (24) and bringing him to within five of his career high set in 2009. Did I mention the season is only 84 games old? The Grandyman's season line sits at a gaudy .278/.370/.597 following the three-hit effort, and he's just nine walks behind last year's total in 161 fewer plate appearances.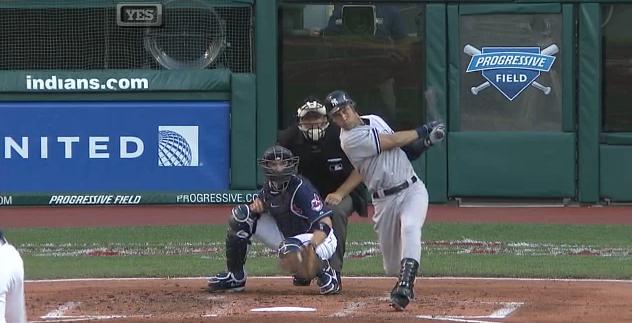 Leftovers
Jeter picked up his first two hits since coming off the disabled list, the first a dinky little infield single that the third baseman was unable to make a play on, the second that booming double into the gap. He's now four hits away from 3,000, and for selfish reasons I hope he gets it Friday night, when I'll be at the game. Either way, seems like a pretty safe bet that he'll get the milestone hit at home during the Rays series.
Every single member of the lineup had multiple hits … except Cervelli, who went 0-for-5. Grandy, Swisher (two hits and a walk), Posada (two hits and a walk), and Gardner (also two hits and a walk) all reached base three times while Jeter, Teixiera, Alex Rodriguez, and Robinson Cano all had two hits. Gardner stole two bases, and he's been successful in 17 of his last 21 attempts dating back to mid-May. His season success rate (22-for-32, 68.8%) is slowing inching back towards the break-even point.
As if there was any doubt, Lance Pendleton assured us that he'll be going down to Triple-A Scranton to make room on the roster for Phil Hughes tomorrow. He allowed two runs on two hits and two walks in his two innings of mop-up duty, throwing 44 pitches. It's been real, Pants Lendleton. See you in September and hopefully no sooner. Nothing personal.
The Indians have a very nickname-able pitching staff, I'm pretty jealous. We saw Frank "Pee Wee" Herrmann and Josh "The Judge" Judy in this game alone. Then again, I like good pitching staffs, so I'll trade lame nicknames for pitching ability any day of the week.
Apparently David Cone's mother texted him during the game to say that he and Michael Kay were talking about too much nonsense and not focusing on the game enough. Love it.
WPA Graph & Box Score
MLB.com has the box score and video, FanGraphs the other stuff.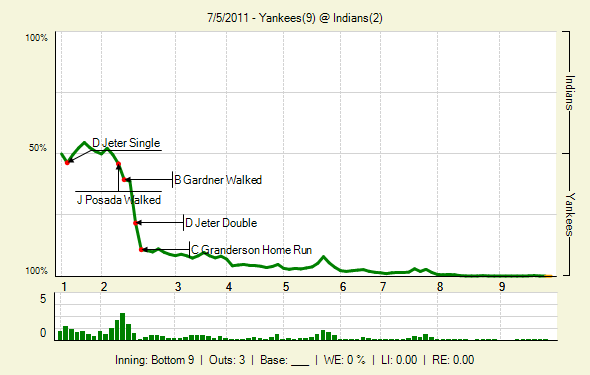 Up Next
The finale and rubber game of this three-game series will be played Wednesday night, when Hughes makes his (hopefully triumphant) return to the rotation against Justin Masterson. RAB Tickets can get you in the park if you happen to be in Cleveland.