There are times in this game when you don't have to do anything more than sit back and enjoy it No stress, no concern about who is and who isn't hitting, no looking ahead to bullpen machinations, nothing like that. Thursday afternoon's series finale against the Brewers was one of those games, and all because of the guy on the bump.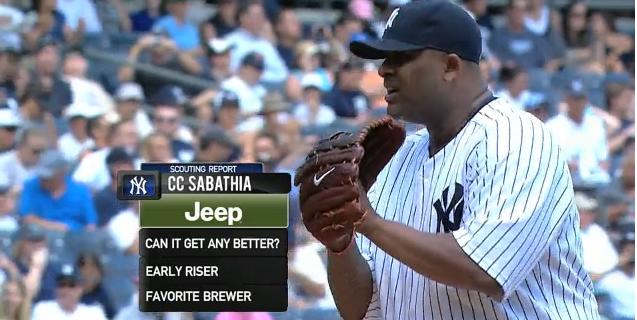 The Big Man's Big Day
We've seen CC Sabathia do some great things on the mound over the last two and half years, but we've never seen him do what he did in this game. Sabathia tied a career high with 13 strikeouts, topping his previous high in pinstripes by three. It was the first time a Yankees' pitcher struck out 13 batters in a game since Roger Clemens in 2002, and it was the most strikeouts by a Yankees' lefty since David Wells in 1998. All 13 strike threes were swinging, part of a season high 22 swings and misses generated by Sabathia. Seven of those strikeouts came on sliders. Over his last two starts, CC has struck out 22 and walked just three in 15.2 IP.
Only one Brewer managed to make it as far as third base against the Yankees ace, who retired 16 of the last 19 batters he faced. Carlos Gomez, Prince Fielder, Corey Hart, Mat Gamel, and George Kottaras each whiffed twice while Rickie Weeks wore the sombrero with three strikeouts. Sabathia raised his season strikeout rate from 6.6 to 7.4 K/9 in his last two starts and from 6.9 to 7.4 in this game alone. By my calculation, he went from a 2.81 FIP and 3.4 WAR to 2.66 and 4.0 with this start, respectively. Bravo CC, bravo.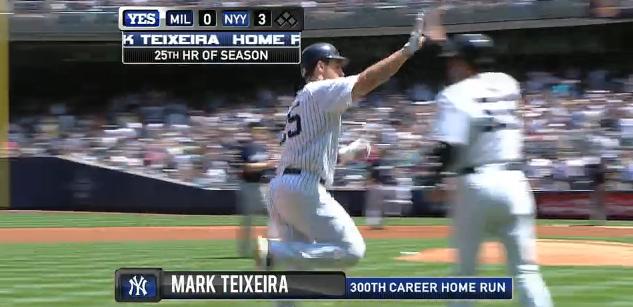 Number 300
Oh by the way, Mark Teixeira hit his 300th career homerun in this game, a quiet milestone. Easy to overlook that given Sabathia's effort. The milestone blast came in the third inning, a leadoff shot off a Randy Wolf fastball in a 2-1 count. Security retrieved the ball, and in exchange Tex will have to give the guy who caught it a signed bat, a signed ball, and take a picture with him during batting practice at some point in the future. Not a bad haul.
The homer gave the Yankees a cushy three run lead, and just about a third of those 300 homers have come in pinstripes (97 to be exact). Teixeira currently leads the majors with 25 homers, and he's just the eighth switch-hitter to go deep 300 times in his career. That's not a bad group to be in, with guys like Mickey Mantle, Lance Berkman, and Chipper Jones.

Leftovers
The Yankees took the lead right in the very first inning, when Robinson Cano laced an opposite field double to drive in both Brett Gardner and Nick Swisher. Those two had walked to lead off the inning. Frankie Cervelli drove in a run with a bloop single in the third to make it four-zip, then they tacked on a garbage time run in the eighth. Frankie had three hits on the day, the only Yankee with more than one. Swisher and Andruw Jones each had a single and walk, Gardner just a walk. The Yankees stole three bases before Wolf recorded an out (Gardner stole second after the walk, then he and Swisher pulled off a double steal). Overall, it was a fine day for the offense.
Back when John Axford was bouncing between four levels in the Yankees farm system back in 2007, we (ahem) all knew that he'd one day pitch in Yankee Stadium. Today was that day. Milwaukee had to bring their closer into the game in the eighth inning just to get him some work in, which is one of my favorite things to watch. It's always good when the other team can't use their ninth inning guy until garbage time in the final game of a series. Axford allowed a run in his inning of work.
Boone Logan struck out Prince to end the eighth, though it wasn't the prettiest at-bat. Fielder crushed several balls foul before Logan tied him up with a fastball inside. Luis Ayala got three ground balls on eight pitches in a flawless ninth inning.
The win gave the Yankees the sweep over the Brewers, their sixth consecutive series win and ninth in their last ten series. It was also their fifth win a row, a new season high. They've won nine of their last 11 games, 12 of their last 15, and 15 of their last 19. Since that six game losing streak in mid-May, the Yankees are 27-12, the best record in baseball. Yippee.
WPA Graph & Box Score
MLB.com has the box score and video highlights, FanGraphs the other stuff.
Up Next
Wooo Subway Series! The Yankees and Mets get together for the second and (thankfully) final engagement of the 2011 Subway Series on Friday night at CitiField. Ivan Nova will get the party started against Jonathan Niese. RAB Tickets can get you there dirt cheap.