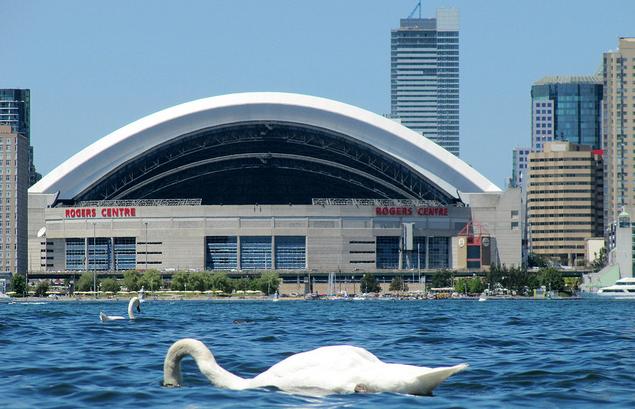 Fun's over, time to get back to work. The Yankees enjoyed their three days off for the All-Star break and now head to Toronto for a four-game weekend series against a team that always seems to play them tough. Will they be fresh, energized, and ready to go after the rest? Or slow and lethargic because of the downtime? One of those two will be your narrative for the weekend.
What Have The Blue Jays Done Lately?
Toronto went into the break with a 45-47 record, good for fourth in the AL East. Their +10 run differential is sixth best in the league, behind the three division powers, the Rangers, and the Angels. The Jays won their final three games before the break, clinching a four-game series win over the Indians. They've been hovering right around .500 all season, which reflects their true talent level.
Blue Jays On Offense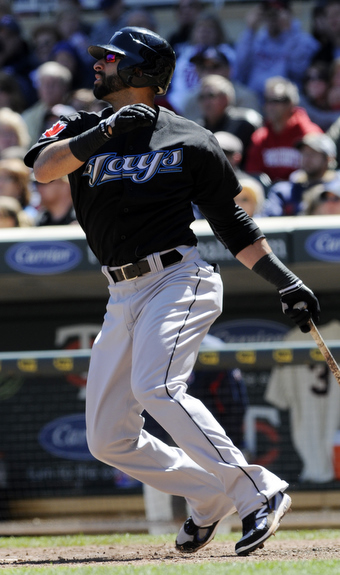 It's all about Jose Bautista (who's playing third base now), the world's best player. He's at .334/.468/.702 with an MLB leading 31 homers and 74 walks, and in ten July games he's hit .395/.455/1.000. If he failed to reach base in his next 48 plate appearances, Bautista would still have a higher OBP and SLG than Adrian Gonzalez does right now. Dude is on a completely different level. This is a four-game series in his home park, so he's going to hit two or three or four homeruns. Just accept it and move on, nothing anyone can do.
Bautista's season has overshadowed his teammates and rightfully so, but Adam Lind might be baseball's best kept secret right now. He's at .300/.349/.515 with 16 homers right now, but since the end of April he's hit .331/.383/.606. He's legit protection behind Joey Bats. Yunel Escobar has been one of the game's best leadoff hitters at .291/.365/.438, and he's been molten hot since early-May: .317/.397/.490 with seven homers, 26 walks, and 22 strikeouts. Rookie Eric Thames (no relation to Marcus) allowed them to cut ties with Juan Rivera thanks to his .308/.357/.519 batting line (just 28 games though), and Travis Snider has seven extra base hits (six doubles and a homer) in seven games since coming back up from Triple-A. Those last two fill in the blanks around Bautista, Lind, and Yunel.
The rest of the lineup consists of a bunch of low-OBP guys that may or may not run into a fastball. Aaron Hill (.234/.279/.328) just keeps on getting worse and worse. J.P. Arencibia (.222/.287/.427) is doing exactly what everyone expected him to do, low OBP and some pop. Edwin Encarnacion (.255/.283/.405) and Rajai Davis (.240/.264/.357) pretty much suck. Corey Patterson is somehow keeping the dream alive at .258/.292/.393. The top four guys are legit, but the rest of the lineup can definitely be pitched too.
Blue Jays On The Mound
Thursday, LHP Jo-Jo Reyes (vs. Bartolo Colon): Joey Jo-Jo has been decidedly mediocre this season, with a low strikeout rate (5.29 K/9) and a low ground ball rate (39.4%). He does limit walks (2.96 B/9), so all those homers (0.99 HR/9) don't sting as much. Reyes lives off his low-90's four and two-seamers, and he'll mix in a wide array of offspeed stuff (changeup, slider, and curve). The Yankees saw him in May and hammered him (five runs in three innings), so that was one of those rare instances in which they didn't falter against a pitcher they haven't seen before.
Friday, RHP Brandon Morrow (vs. Freddy Garcia): My breakout pick started the season on the disabled list, but he's been back for 15 starts and his crazy ERA-FIP split has carried over from last year. He's got a 2.70 FIP and a 4.60 ERA this year after 3.16 and 4.49 last season, respectively. Morrow's strikeouts are again sky high (10.64 K/9), but the walk rate is nothing special (3.58 BB/9) and the ground ball rate is kind scary (34.2%). He's been primarily a two-pitch pitcher this year, but they're two very good pitches: a legit mid-90's fastball and a high-80's slider. Last year he threw a low-80's curveball and a high-80's changeup regularly (combined 20.2%), but not to much this year (3.5%). The Yankees tear two-pitch, non-changeup pitchers to shreds (eventually, might not be until the third time through the order though). If Morrow comes out with just the fastball and slider, that's good news.

Saturday, LHP Ricky Romero (vs. CC Sabathia): This will be a fun matchup, because these two pitchers are very similar aside from the obvious physical differences. Their strikeout (7.78 vs. 7.43 K/9) and ground ball (48.4% vs. 52.6%) rates are close, but Sabathia separates himself by limiting ball four (2.16 vs. 3.31 BB/9) and also with some homerun luck (3.9 vs. 11.4% HR/FB). We've seen Romero enough over the two-plus years to know that he's fastball-changeup heavy with the occasional curveball, and he's done a nice job of keeping the Yankees in check this year (three runs in 14 IP) after they roughed him up last year.
Sunday, RHP Carlos Villanueva (vs. Phil Hughes): The transition to the rotation has gone swimmingly for Villaneuva, who has a 3.67 ERA (~3.40 FIP) in nine starts (54 IP). The first of those starts came against the Yankees, when he stymied them for five innings (one run). Hopefully that won't happen again the second time around. Villanueva is very offspeed heavy, throwing his high-80's fastball justs 45.7% of the time. Low-80's sliders and changeups are his go-to offspeed offerings, though he'll also use a low-70's curve. Dude's very unpredictable, he's throw anything in any count.
Bullpen: Toronto has some major problems at the end-game, because Frank Francisco (4.44 FIP) and Jon Rauch (4.67) are both pretty bad. They've been having a blown save contest for the last six weeks or so and are two of the three sub-replacement relievers in the Jays' bullpen. Kinda funny, actually. No lead is safe with that tandem. The other sub-replacement level guy is Octavio Dotel (4.44 FIP), but righties Shawn Camp (3.84) and Jason Frasor (3.90) plus lefties Luis Perez (4.32) and Marc Rzepczynski (3.49) have been anywhere from good to okay. Lots of different looks, got some fastball-slider guys, some fastball-changeup guys, fastball-curveball as well.
Recommended Blue Jays Reading: Drunk Jays Fan and Tao of Stieb.