Joe has been/will be reviewing the big league roster at the observed midpoint of the season, so let's do the same thing with the farm system. Three familiar categories (and a fourth for good measure) will be our measuring sticks…
Exceeding Expectations
This section is really all about three guys: J.R. Murphy, Corban Joseph, and Nik Turley. We all knew that Murphy could hit and he's done nothing to disappoint offensively (.293/.333/.453 with just 43 strikeouts in 336 plate appearances), but the major improvement has come on defense, improvement that has been reported by several outlets. The Yankees had him playing primarily third base and outfield as recently as Instructional League last fall, but Murphy's looking more like a long-term catcher than ever before, improving his stock dramatically.
All CoJo does is hit, and this year he's walking more than ever before (11.7 BB%) and hitting for the most power of his career (.160 ISO). His defense at second will continue to be a question going forward, but the bat is real and the reason he has a chance to contribute to the big league team in the future. It took Turley more than two seasons to get to a full season league, but he's taken a big step forward this year. The southpaw posted a 3.90 K/BB with almost exactly a strikeout an inning in 82.1 IP with Low-A Charleston before being bumped up to High-A Tampa a few weeks ago. Turley's a big kid (6-foot-6, 230 lbs.) but he's all about the secondary stuff.
A few others worth mentioning: Rob Lyerly, Kyle Roller, Zoilo Almonte, and Tyler Austin. Lyerly crushed the High-A Florida State League (.373 wOBA) and is almost like a poor man's Eric Hinske, he's just missing the plate discipline. Roller is a college guy beating up on Single-A pitching, but it's above-average power from the left side, and that always has value. Almonte's been kicking around the system for a while but he's still only 22, and his recent performance is off the charts good. The switch-hitter is probably due for a promotion to Double-A. It's tough to get excited about 70-something rookie ball plate appearances, but Austin was one of the organization's biggest sleepers coming into the year and has overwhelmed the league (.377/.434/.623). Long-term position is the question there.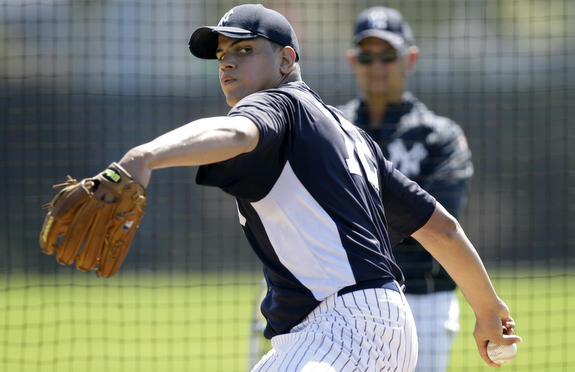 Meeting Expectations
The bulk of the farm system sits here this year, and I guess the natural place to start is with the top prospects. Dellin Betances is consistently inconsistent, showing high-90's stuff and blowing hitters away one start, walking the farm the next. His walk rate (4.76 BB/9) is right back in line with his 2006-2009 mark (4.74), up from last year's (possibly fluke) 2.32 BB/9. The good news is that aside from a measly little blister in April, he's been healthy and hasn't missed a start, which has been a problem in the past. Betances is still striking out more than ten men per nine innings and it's still frontline stuff, but he hasn't made much progress in the control department over the last few years. The guy he is this year is the guy he's been pretty much his entire career.
Austin Romine is having the best season of his career in many ways (walks and strikeouts, mostly), but he's also repeating Double-A and you'd expect his performance to improve. He's basically doing what was expected of him coming into the year, and he really needs to get to Triple-A. Adam Warren and D.J. Mitchell are pitching well in Triple-A (3.91 FIP and 3.64 FIP, respectively), and Brett Marshall (3.70 FIP) has come back strong in his first full year off Tommy John surgery. Ramon Flores went from sleeper to legit, showing off his trademark plate discipline (13.5 BB%, 17.6% K%) and gap power (.147 ISO) from the last side. Still just 19, Flores has star potential if he has a growth spurt (just 5-foot-10, 150 lbs. at the moment) and develops some over-the-fence power in his early-20's, but right now he projects as more of a gap-to-gap doubles hitters that gets on base a decent amount and holds his own defensively in an outfield corner. Lots and lots of other players fall into this category as well, like Josh Romanski, Chase Whitley, Brandon Laird, Tommy Kahnle, and Rob Segedin.
Falling Short of Expectations
No one wants to be here, and certainly no one wants to headline the disappointments, but unfortunately that's where Andrew Brackman finds himself. The big right-hander was so unfathomably bad as a starter (52 IP, 40 R, 40 BB, 39 K) that the team moved him into the bullpen in early June, and the results haven't been any better: 13.1 IP, 17 R, 12 BB, 14 K. The worst part is that his stuff has reportedly regressing, with his fastball sitting in the high-80's on some nights and the curveball being the only pitch he can consistently throw for strikes. The Yankees have just one more option year remaining for the now 25-year-old Brackman, so something has to give and soon.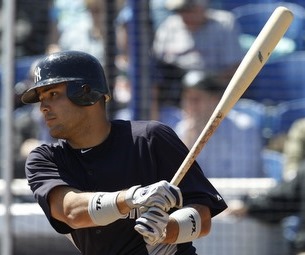 Jesus Montero certainly hasn't been the kind of disappointment that Brackman has been, but we were all expecting something better than a .129 ISO and a 7.0% walk rate his second time through Triple-A. At least he has age on his side; Montero's always been young for his league and at 21 years old, he's the third youngest player in the International League. He'd been performing much better of late before a minor back injury sent him to the disabled list as a precaution.
Further down the ladder, another slugging catcher hasn't lived up to admittedly ridiculous preseason expectations. The Gary Sanchez hype machine got out of control this offseason, which is why we all think a 18-year-old kid (who had heart surgery in the offseason) with a .345 wOBA in an extremely pitcher friendly park has been a letdown this year. In reality, Sanchez's performance is not the issue, it's that he had to be sent back down to Extended Spring Training earlier this year because refused to pinch-hit and catch a bullpen session. Eighteen-year-old kids make stupid mistakes, that's what they do, but that's still disappointing.
On much smaller scales, we have the re-emergence of Melky Mesa's inability to hit breaking balls (32.6 K%, .283 wOBA), Jose Ramirez's demotion (8.14 ERA and 4.23 FIP with High-A Tampa), Manny Banuelos' sudden walk problems (4.56 BB/9 this year, 2.76 from 2008-2010), and Kelvin DeLeon's lack of pretty much everything (plate discipline, namely). Slade Heathcott's brawl was pretty uncool too.
Incomplete
Some players just don't fit into any of the above categories because of injuries. Heathcott started out absurdly hot, slowed down, then hurt his shoulder and could miss the rest of the season. Graham Stoneburner apparently had the neck strain from hell, because it kept him on the shelf from late-April through late-June. David Phelps was having a fine season (3.75 FIP) before a shoulder injury sent him to the sidelines. Tim Norton was a god amongst men (46 K and eight walks in 30 IP), then got hurt with what was initially reported as a career-threatening shoulder injury. Apparently it was much less serious and he'll be back in a week or so.
Overall, it's been a decidedly average year for the farm system, though compared to last year it looks like a total disaster. I assure you it hasn't been, this is a pretty normal year. Some breakouts, some flops, most guys right in the middle. Injuries did hit a little hard, but that's life. The Yankees still have a number of big league ready (or close to it) arms in Triple-A to use in the second half for whatever it may be (fill a rotation spot, bullpen role, trade, whatever), and Montero looked to be on his annual second half tear before the back issue. Other than Brackman, none of my preseason top ten prospects have taken a major step back, and that right there is a win.