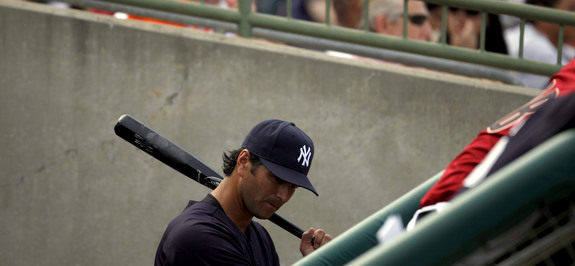 We're all getting anxious as the non-waiver trade deadline approaches, but the Yankees are going to make a pair of pretty significant acquisitions before Sunday's deadline. Later today they're (likely) going to reinstate Eric Chavez to the active roster after 81 days on the disabled list with a bone bruise in his foot (and various setbacks). A day or two later, Rafael Soriano will join the bullpen after 73+ days on the shelf with an inflamed elbow ligament. No, neither fills the team's biggest need (a legit #2 starter), but they're definite upgrades to the roster.
Chavez tore the cover off the ball (.333/.391/.571) in six minor league rehab games last week (not that it means anything), and will presumably replace Brandon Laird on the roster. Expecting him to hit like he did before the injury (.303/.410/.424 with six walks and just three strikeouts) is probably unrealistic, but he gives the team a legit left-handed bat off the bench (sorry, Chris Dickerson) and if nothing else, figures to put together better at-bats than Laird or Ramiro Pena or even Eduardo Nunez. With Alex Rodriguez on the shelf for the next few weeks, Chavez's presence will be even more helpful, though I wouldn't recommend playing him everyday. Even just splitting time with Nunez improves the offense.
The bullpen has been surprisingly solid during Soriano's (and Joba Chamberlain's) absence, but it's not just because David Robertson has been the best reliever in the American League. Cory Wade has emerged as a legit seventh inning option and Hector Noesi has quietly morphed into a 2011 version of 2009 Al Aceves. Soriano will inevitably assume eighth inning duties once activated, and that's probably what's best for the team. That will allow Joe Girardi to be a bit more liberal with Robertson, using him to wiggle out of the jams in the seventh (or even sixth) inning while Soriano gets the easy job of starting an inning clean. That leaves Wade to fill in the gaps with Noesi and Luis Ayala around for whatever else has to be done. Bullpen chaining is great, Soriano's not replacing Robertson, he's replacing the last guy on the staff (Steve Garrison, I assume) and adding depth to the relief corps.
Now don't get me wrong, Soriano was pretty bad before getting hurt. He walked eleven and struck out ten in 15 IP, giving up 15 hits and nine runs. Yesterday's rehab game was the first time since Opening Day that he had a 1-2-3 inning. His velocity was reportedly back to 93-94 mph over the last two days, which we didn't see much of earlier this season. I'm pretty confident in saying that his early season performance is not his true talent level. Soriano's been performing at a high level for a number of years, the problem has just been staying on the field. Pitching to his career averages (3.29 FIP and 3.72 xFIP) is all I'm hoping for. That's a damn valuable reliever.
Of course, the whole "staying on the field" thing is far from certain with these two. Chavez has been on the DL every year since 2006 and Soriano has still never gone three straight years without getting hurt. That's life though, just because they aren't guaranteed to stay healthy over the final 62 games of the season doesn't mean they can't be valuable. There is no bench help on the trade market that comes with a reasonable price (Ty Wigginton? hah), and you're not going to find a potential shutdown reliever for anything less than a pretty good prospect. The Yankees are getting those two pieces back at zero cost* this week, and that's two fewer things they have to worry about before 4pm ET on Sunday.
* That's not 100% true, the Yankees will need to clear one 40-man roster to accommodate these two coming off the 60-day DL. I have to think Jeff Marquez is the first guy on the chopping block.