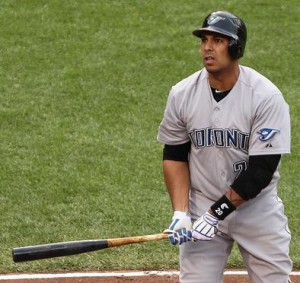 It's hard to believe it's been ten years since Juan Rivera made his big league debut with the Yankees, when he earned a September call-up in 2001. Baseball America considered him one of the game's top 100 best prospects before the 2002 and 2003 seasons, and Rivera hit a respectable .262/.302/.427 with eight homers and one golf cart-related injury in 280 plate appearances for the Yankees before being traded to the Expos as part of the Javy Vazquez package.
Rivera bounced from the Expos to the Angels to the Blue Jays in the eight years since the trade, hitting .278/.329/.445 (105 OPS+) during that time. The Blue Jays designated the now 33-year-old for assignment over the weekend, so let's look to see if he could potentially fill a need for the Yankees…
The Pros
Rivera's value comes almost entirely from his ability to hit left-handed pitching. He tagged southpaws for a .327/.400/.509 batting line in just 65 plate appearances for Toronto this year, but from 2008-2010 he hit .282/.334/.515 in over 400 plate appearances against lefties.
Rivera has some serious contact skills, swinging and missing just 7.4% of the time in his career with a 12.9% strikeout rate. Even his 2011 marks of 8.4% and 16.6%, respectively, are better than league average despite been career worsts (min. 200 PA). He's walked more than he's struck out against lefties this year (eight to six), and from 2008-2010 it's 30 walks to 34 strikeouts. Anything remotely close to 1:1 is spectacular.
All of the advanced metrics (UZR, DRS, Total Zone) consider his defense to be about average (but no better) in the outfield corners. That's a win when you consider what his role would be. He's also dabbled at first base throughout the years.
The Cons
Rivera should be considered nothing more than a platoon player. He's hit just .219/.276/.318 against righties this year (210 PA) and .246/304/.403 last year (293 PA). Last season's performance isn't terrible, but he's clearly at his best when facing pitchers of the opposite hand.
He's not a patient hitter, walking in just 6.7% of his career plate appearances and seeing only 3.51 pitches per plate appearances. It's worth noting that his 8.0% walk rate this year is a career best.
Rivera does not project as a Type-A or B free agent at the moment, and he's far enough from the cutoff that he probably can't play his way into compensation pick territory in the second half.
With a $5.25M salary this season, it's pretty safe to say that Rivera will clear waivers. The Blue Jays figure to find a decent number of teams interested in acquiring him via trade if they're willing to get some of that money, though in recent years we've seen GM Alex Anthopoulos be pretty hesitant to trade within the division. Perhaps that wouldn't be such a big issue for a spare part like Rivera.
Andruw Jones is hitting .234/.310/.453 in 71 plate appearances against lefties this year, and his numbers over the last few seasons (.219/.352/.428 vs. LHP from 2008-2010) suggest that Rivera is the better platoon option at the plate. Andruw's not the defender he once was, but he's probably still better than Rivera, even if it's just marginally. His $2M salary is not going away, but I think there are legitimate reasons to eat the rest of that salary and bring Rivera aboard if he winds up in the open market. I wouldn't give up anything of value to acquire him in a trade, nor would I absorb that salary on waivers, but as a free agent for the pro-rated portion of the league minimum? Then go for it. I'll be surprised if he makes it that far though.