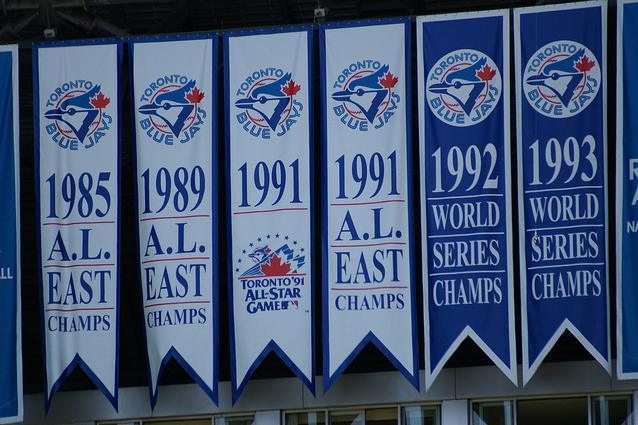 For the last decade or so, the AL East has been a two-horse race between the Yankees and Red Sox. The Rays have gotten involved in recent years by alternating good and great seasons, and the Orioles were definitely a factor back in the late-90's.The Blue Jays, on the other hand, have always just kind of been there. Only three times did they fail to win at least 80 games from 1998-2010, but never once did they win more than 87. They actually finished second in the AL East in 2006, but they spent the bulk of those years in third place behind the Yanks and Sox. Given the events of the last two years, their days buried behind New York and Boston may be coming to an end.
You've probably heard by now, but Toronto pulled off a pair of trades yesterday that might as well be considered one three-team trade. First they shipped reliever Jason Frasor and prospect Zach Stewart to the White Sox for Edwin Jackson and Mark Teahen, then they flipped Jackson to the Cardinals along with Octavio Dotel, Marc Rzepczynski, Corey Patterson, and either cash or three players to be named for Colby Rasmus, minor leaguer P.J. Walters, and relievers Trever Miller and Brian Tallet. GM Alex Anthopoulos identified two clubs with different needs and connected the dots. The White Sox needed to unload some cash, the Cardinals needed pitching depth, and the Blue Jays earned something on the side as the middle man.
The Rasmus trade is very similar to last year's Yunel Escobar trade. Toronto had the veteran player (Alex Gonzalez) the Braves sought, set their price, and expanded the deal to include some lesser pieces to make it work. These aren't spare parts either. Escobar and Rasmus are two legitimate up-the-middle players that were acquired before their 28th birthday and with several years of contractual control left. Escobar has been a four-win player this year, and Rasmus is a lefty power bat moving from a park with an 82 LHB HR park factor to one with a 114 LHB HR park factor. There's a common denominator here: Anthopoulos bought low on both players because of attitude problems. Yunel had tons of trouble with Bobby Cox and the coaching staff in Atlanta while Rasmus managed to get on Tony LaRussa's bad side. Maybe jerks are the new market inefficiency.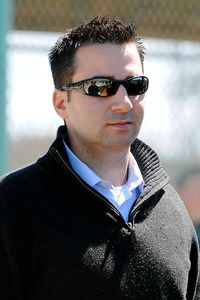 Anthopoulos took over for J.P. Ricciardi the day before the final game of the 2009 season, but it's JPR that gets credit for letting Alex Rios and his contract go to the ChiSox on a waiver claim. Rios has been below replacement level this year and still has another three years and $38M left on his deal. Anthopoulos managed to unload $100M worth of Vernon Wells on the Angels last winter, a win even though the return was negligible. That's $140M+ worth of bad players taken completely off the books within 18 months of each other. Some of that money was redistributed and used to lock up young cornerstones like Ricky Romero (five years, $30.1M) and Adam Lind (four years, $18M), not to mention the world's greatest player, Jose Bautista (five years, $75M).
The Roy Halladay trade was one that had to be made because Toronto was going to lose him to free agency after the 2010 season. Anthopoulos acquired a prospect with frontline starter potential (Kyle Drabek) and one of the game's top catching prospects (Travis d'Arnaud) in exchange for Halladay, turning what seemed like an unwinnable situation into one that could pay big dividends. You can't ask for much more given that tough spot, everyone knew Halladay had to go. Brandon League for Brandon Morrow gave them another high-strikeout power arm for the AL East. Shaun Marcum turned into Brett Lawrie, one of the top offensive prospects in the game. Carlos Villanueva has a 3.25 FIP and was acquired for a relatively insignificant amount of cash. Anthopoulos' obsession with draft picks (15 top 100 and 20 top 150 picks over the last two drafts combined) have helped create what is now considered to be one of the game's three best farm systems.
All the young, cost-controlled players are nice, but remember that Toronto is not a small market. The team is owned by Rogers Communication, which is like Verizon, Sprint, AT&T, Time Warner, and Cablevision combined up in Canada. The city itself has about 2.5M people within the city limits plus another 5.5M or so in the surrounding areas. The ballpark holds close to 50,000 people, and as we saw in the early-90's, the seats will be packed if the team is competitive. The Jays had a $98M payroll as recently as 2008, and everything is in place for them to support a nine-figure team. Don't be surprised to see them dip their toe in the deep end of the free agent pool in the coming years.
The Jays aren't going anywhere this year, they're the fourth best team in baseball's toughest division, and their 52-52 record and +12 run differential bears that out. But they certainly play the Yankees tough every time they meet, and that was with guys like Rajai Davis and Juan Rivera in the lineup. Replace them with Rasmus and soon enough Lawrie, and they'll only be tougher. Anthopoulos is building his team from the middle out, focusing on up-the-middle players and pitching. He'll have money to work with in coming years and even more young players on the way. Toronto won't be a factor in the division race this year and probably not next year, but they're well on their way to being a force in the AL East.