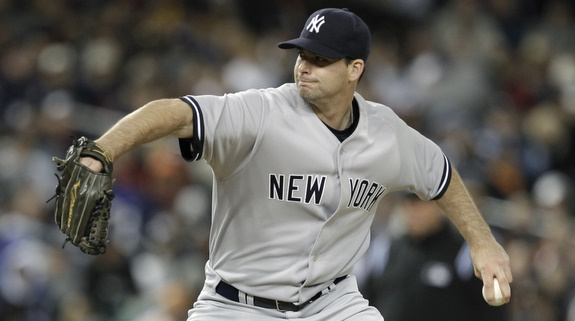 Last night Boone Logan did part of his job, the big part of his job, well. He came into a high-leverage situation and got what should have been a bunch of outs, but thanks to the stadium, and his own poor reaction time, the Rays squeaked across two runs and took the lead. Logan was clearly responsible for the botched comebacker, though he did induce poor contact on the play. In terms of pure pitching, though, there are no complaints, despite him facing two right-handed batters.
Logan vs. righties
It's no secret that Logan, like most lefty relievers, is more effective against same-handed batters. He has faced 448 lefties in his career and has held them to a .249/.324/.364 line, while righties have hit .313/.390/.486 against him. While there are certain lefty relievers, such as the Cubs' Sean Marshall, who can handle full innings of work, Logan, with nearly 200 innings of career work, has clearly defined himself as a left-hand only kinda guy. Why, then, was he facing right-handed hitters?
No platoon advantage
There is a surefire way for managers to make his opponent pay for bringing in a LOOGY. Since the rules dictate that any pitcher brought into the game must face at least one batter, the manager can pinch-hit for his lefty, thus turning the platoon advantage in his favor. Joe Maddon did just that last night, not only with Sam Fuld, but also with the next batter due up, Reid Brignac. In fact, it was an utterly predictable move. Neither Fuld nor Brignac is a good hitter, and Maddon has been known to maneuver like this in the past.
With two weak hitters due up, why didn't Girardi go to Cory Wade instead? He wouldn't provide a platoon advantage, but he doesn't have a significant career lefty/rigthy split. Girardi could have used him against the two lefties and then saved Logan for Johnny Damon, who is a far greater threat than the two batters before him. That makes enough sense, and it very well might have been the right move. But it certainly wasn't the only move.
LOOGYs facing righties
Girardi knew that Maddon's bench was bare. When Logan was announced, Maddon sent up Justin Ruggiano, a 29-year-old with a career .233/.269/.381 line. In place of Brignac he sent up Elliot Johnson, a career .194/.252/.317 hitter. So while he negated the lefty-lefty matchup, he also sent up two horrible hitters. Even someone like Logan should be able to retire these guys (which he essentially did). It's not as though it were Evan Longoria up there.
Because of the one-batter minimum, this is a situation LOOGYs face often. They'll come into the game set to face a lefty, and the opposing manager will pinch-hit. But, because he's pinch hitting from his bench, chances are the replacement is not as good as the original hitter. A good manager will consider his opponent's bench before bringing in a LOOGY, to make certain that he's not running into a regular starter who had the night off. I can't say for certain that Girardi did that, but I'd bet that he did.
It is part of a LOOGY's job, then, to face right-handed bench players. It's unreasonable to ask them to face righties and switch batters who normally hit near the middle of the order. That's asking for trouble. But I find it difficult to complain when the opposing manager gains the platoon advantage by pinch-hitting two guys who have terrible MLB track records. A LOOGY has to be able to retire guys like that. And, again, Logan essentially did.
Using Logan against righties
If pitchers like Logan have to face righties, they might as well face slap-hitting righties with poor MLB track records. That's exactly what Logan faced last night. In fact, it appears that's the type of righty he's faced for the most part this year. Despite his pitching in a few mop-up situations, he's still faced just 39 righties to 68 lefties, and has held them to a .200/.272/.200 line. That is, he's allowed zero extra base hits and only seven hits overall to right-handed hitters.
His success is largely a product of luck; he's shown an inability in the past to retire righties, and we shouldn't think that just because he's fared well in these 39 instances that he's all the sudden cured. But as I look at Logan's play log I see a bunch of poor-hitting righties: Derrek Lee, Mike McCoy, Yorvit Torrealba, Franklin Gutierrez, Orlando Cabrera, and Aaron Hill. Most of the better righties he's faced, such as Kevin Youkilis and Miguel Cabrera, have come during garbage time, when the Yanks were either up or down big.
It's certainly possible, then, that Girardi is putting Logan in a position to succeed. Again, he's faced just 39 righties this year in 107 total chances, or 37 percent. Last year it was 78 of 169, or 46 percent. You can learn a lot about a guy in a year, and it appears that Girardi has learned not only to limit his usage against righties, but also limit it to poor-hitting righties.
While in an ideal world Logan would never face a righty, it's simply a reality of the game. Thankfully, Girardi has placed him in situations this year that favor him. When he does face a righty, it is, for the most part, a poor hitting one. When he faces a quality one, it has come in mop-up duty. Last night was a further example of that. The Yanks lost the lead, due in no small part to Logan's poor reaction time, but he did pitch well against light-hitting righties. It's something that can be expected of him, even as a LOOGY.