Wednesday afternoon was the probably the closest the Mariners are going to get to feeling like they won the World Series for a while. Their 17-game losing streak is kaput thanks to ace Felix Hernandez and some late-inning lolpen action and defensive miscues on the Yankees' part.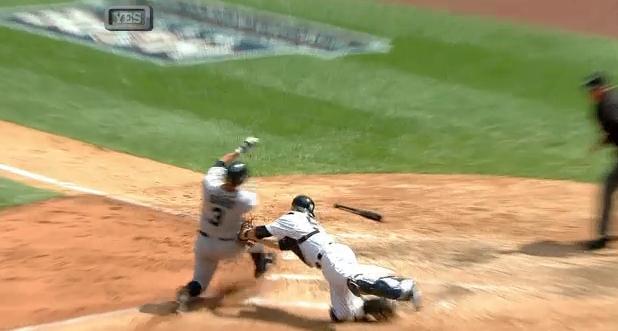 More Of The Same From Hughes
The end result – two runs in six innings – is perfectly fine for Phil Hughes, but the process was unchanged. A better offense would have probably hit him pretty hard, and the only reason he escaped a bases loaded, no out situation by allowing just one run in the fifth was because Josh Bard is unfathomable slow and Brett Gardner has a fine outfield arm. Hughes came out of the gate throwing 92-93 in a quick 1-2-3 first inning, but his velocity soon tailed back off into the 90-91 range the rest of the game. Everyone harps on the velocity, but the bigger problem is his command. Phil's missing his spot consistently, like every single pitch. Sometimes he gets away with it, sometimes the pitch is left over the plate and he doesn't. That's how you give up nine hits in six innings against the worst offense in baseball.
Joe Girardi wouldn't come out and say it after the loss, but Ivan Nova is fully expected to start one of the games in Saturday's doubleheader. Asked if there could be a chance for Nova to take his rotation spot back from Hughes, Girardi replied "there could be … we want guys to throw the ball well and earn their spots every time." He did add the standard disclaimer, saying "as far as saying there's a competition for Phil Hughes' next start, I'm not saying that." Hughes will make at least one more start just because of how the schedule shakes out, and if he doesn't perform better the calls for Nova will only grow louder. That said, he's allowed two or fewer runs in three of his four starts since coming off the disabled list, and the end results have a way of speaking more than they should at times.
Two Runs Ain't Enough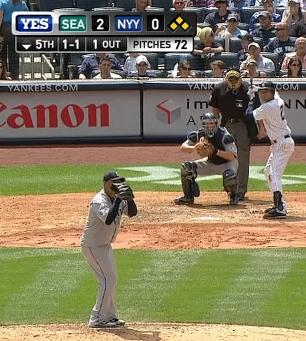 It really doesn't matter who's pitching for you when you only score two runs like the Yankees did in this game. The first run was umpire-aided to a certain extent; first base ump Brian Knight said that Brendan Ryan's throw pulled Justin Smoak off the bag at first on Eduardo Nunez's ground ball, setting up a first and third situation with one out. Replay showed that no such thing happened and Nunez should have been called out. Derek Jeter got the run in two batters later with a sacrifice fly, but the Yankees left men on second and third when Curtis Granderson struck out.
Felix was good but not utterly dominant. He allowed five hits in seven innings but did walk four, so that's nine baserunners the Yankees had to work with. They drew two of those walks in a 24-pitch first inning but couldn't score, and they couldn't build on that pitch count because they went down on seven pitches in the second and 13 pitches in the third. There wasn't much pressure on Hernandez after that. I get the feeling that Felix would have thrown 150 pitches if that's what it took to end that losing streak through.
The Yankees left two men on base in the first, one on  in the fourth, two in the fifth, one in the sixth, and one in the seventh. The leadoff man reached base in the first, second, fifth, and seventh innings, but only one came around to score. New York's only other run can in garbage time, when Robinson Cano drove in Granderson with an RBI groundout after a leadoff double. The Yankees had just one hit in ten at-bats with men in scoring position, and they went down on just 20 total pitches in the eighth and ninth inning. The end of the game kinda had a "let's get this over with and start the off day" feel to it.
Meltdown
It was a one-run game when Cory Wade relieved Hughes to open the seventh inning, but it didn't stay that way for long. Ichiro doubled with one out and Ryan followed up with a single off Cano's glove, setting up a first and third situation with one out. Boone Logan came on to pitch since three of the next four batters were left-handed (the one exception was a switch-hitter), and he got exactly one of them out. Dustin Ackley hit a ground ball to second that had double play potential, but Cano flubbed the flip to Derek Jeter at the bag and everyone was safe. It wasn't routine but it looked like they had a chance to turn two. Hard to assume they would have gotten it anyway, Ackley's not slow. That scored a run to stretch Seattle's lead to two.
Logan then walked Smoak before striking out Adam Kennedy, so he had a chance to limit the damage with Mike Carp coming up. Carp has had a pretty pronounced platoon split in his career, but he drove Boone's first pitch slider to dead center. Granderson had trouble with the ball, either he misread it or lost it in the sun or something, but it clanked off his glove for a bases-clearing triple. That was pretty much the game right there, the Mariners went up by five and then by six with Franklin Gutierrez followed with a double. The defense didn't do the pitching staff any favors that inning, but then again the lefty specialist can't be giving up balls to the warning track to a guy that was in Triple-A two weeks ago. Ugly inning all around, a classic meltdown.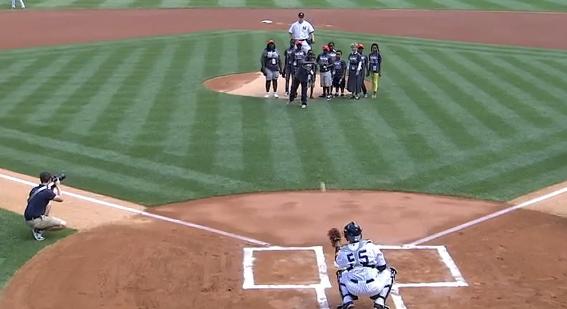 Leftovers
Granderson also misplayed a ball in the ninth inning, and he pretty clearly lost that one in the sun. He overran it by a few steps and was a little too far in. That resulted in one run directly (Ackley scored from second on the play) and another indirectly (Kennedy scored from second on Carp's single when he shouldn't have been on base in the first place). Rough day for Curtis in the field, but thankfully that's not a regular occurrence.
Everyone but Jeter (sac fly) reached base in the game and everyone but Gardner (two walks and a stolen base) and Mark Teixeira (walk) had exactly one hit. Granderson and Jorge Posada had doubles, everyone else singles. Nunez also swiped a bag. The Yankees went down in order just twice, in the third and ninth innings. That's one thing I've noticed and would like to look into a little deeper, the Yanks very rarely seem to have 1-2-3 innings on offense. Of course there's always going to be one or two or three per game, but I'm willing to bet the percentage of offensive innings in which they have at least one baserunner is substantially higher than the league average.
Take a look at Hunter Wendelstedt's strike zone, that thing is brutal. For both sides, I don't want to sound like I'm saying the Yankees got jobbed or anything. No called strikes at the knees and apparently up and away to lefties was the way to go. That call at first was blown in the fifth, and we saw what, two other blown calls at first in this series? I think it's four if you go back to the final game of the A's series. I think the umpires' union has secretly planted some moles to make some blatantly bad calls to help usher in the instant replay/roboumps era. I for one will embrace our new robot overlords.
The loss ends the Mariners' 17-game losing streak, which must have felt like a huge relief to them. That's just brutal, I can't imagine what it's like dealing with that as a fan. I don't think RAB would make it past loss seven or eight, we might all have one foot off the ledge by then.
Box Score, WPA Graph & Standings
MLB.com has the box score and video, FanGraphs some other neat stuff, and ESPN the up to date standings.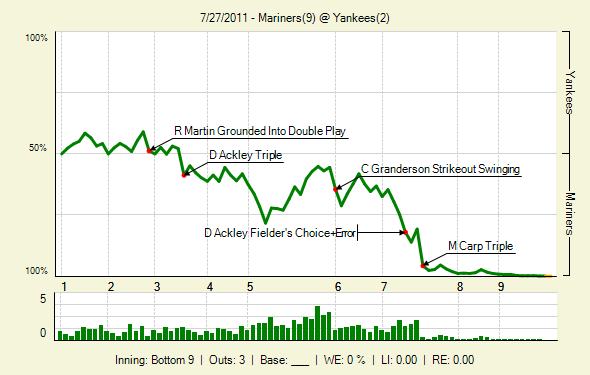 Up Next
Off day on Thursday, then the Orioles come to town for four games in three days. A.J. Burnett gets the start in the series opener against Jeremy Guthrie, though I suppose it's not out of the question that Baltimore could trade its ace before then. If you want to catch the game, RAB Tickets can help get you there on the cheap.