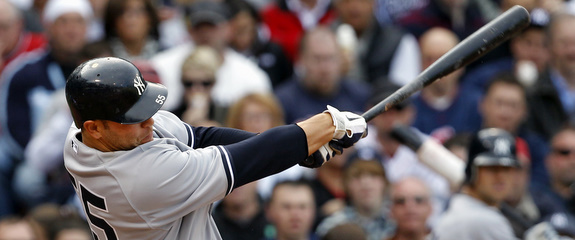 Benjamin Franklin once wrote in a letter a famous phrase concerning life's certainties. "In this world," he said, "nothing can be said to be certain, except death and taxes." Of course, the famous Philadelphian lived long before the Yankees and Twins had a chance to face each other. Had he done so, he might have added a New York victory over Minnesota to that short list.
For the fourth time this year and for the 21st time in their last 24 meetings, the Yankees walked away winners in a contest against the Twins. Phil Hughes pitched into the 8th for the first time since September and Russell Martin blasted a pair of home runs to give the Bombers a comfortable 8-1 victory. For Hughes, it was his fourth strong start in a row, and for the Yanks' offense, it was business as usual.
Tonight marked my fourth game this week on the road with the Yankees. I start work in September, and I wanted to see some baseball in the meantime. I spent two days in Kansas City, and I'm in Minneapolis for the four-game set. I've enjoyed the barbecue and beer in Kansas City and two days of Jucy Lucy's and Blucy's so far in Minneapolis.
During my travels, I've spoken with a lot of friendly midwesterners who seemingly fit my stereotypical view of the rest of the country I developed while growing up in New York. They're always open for conversation and passionately love baseball. In Kansas City, the fans talked about economic imbalance and the impressive display of power and patience from the Yanks. They were thrilled to see the Royals win on Wednesday simply because they don't expect Kansas City to trump the Yanks.
In Minnesota, the attitude is somewhat different. While only 22,000 fans showed up at the K for the Yankee series and most of those were New York fans, Target Field is filled to the brim with Twins fans who are passionate about their team. Tonight was the club's 51st sellout even though the team is struggling in a weak division. Some in Minneapolis say that's a new phenomenon brought on by a gorgeous open-air stadium and a successful team, but it doesn't matter. They know their Twinkies, and they know that the Twins simply cannot beat the Yankees. That 21-3 record covers two post-season series and the past three years. They expect the Yanks to walk away victorious.
Tonight, the story was no different. Trevor Plouffe gave the Minnesota fans brief hope as he deposited a 0-1 pitch from Phil Hughes into the left field seats, but after that, it was all Yankees. The Bombers scored eight unanswered runs. The Yanks' 25-year-old right-hander was the story of the night. He threw 7.2 innings and gave up just a pair of hits while walking three and striking out two. He didn't have his best stuff really as he generated just two swings-and-misses. He was sitting comfortably in the low 90s, a tick or two lower than we'd like, but the Twins couldn't square up against him.
For Hughes, this was his fourth straight strong start. Over his last 25.2 innings, Hughes has allowed five earned runs on 18 hits and five walks with 15 strike outs. With Freddy Garcia on the DL for another week and a double header looming, the Yanks don't have to make a decision on a five-man rotation for at least another two Hughes' starts. It's hard to see, however, the Bombers removing him from the rotation right now. He's been throwing strong and steady lately.
The offense meanwhile plated another eight runs like it was nothing. Russell Martin blasted a pair of home runs to give him 15 on the season. It was his third multi-homer game of the year, and for a night at least, we could forget about his post-April offensive struggles. Derek Jeter added a pair of hits and two runs scored while Mark Teixeira drove in three which included his 1000th career RBI. That 8-1 win was easy as they get.