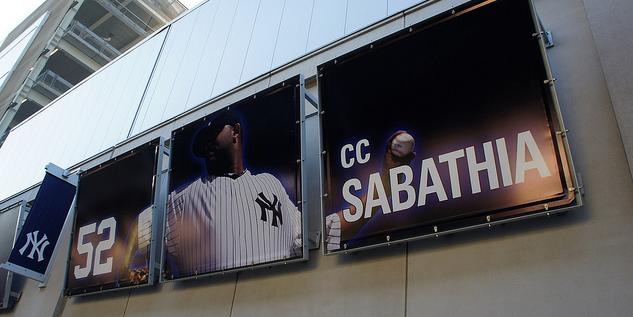 Derek Jeter is not playing tonight after two straight finger-damaging days. Saturday he took a ground ball off his right middle finger, and yesterday Jake Arrieta got him in the same digit with a fastball. Thankfully x-rays came back negative and it's just a bruise, but count on the Cap'n being out of the lineup for at least one night and maybe more.
That's bad because the roster is already stretched thin. The Yankees are carrying 13 pitchers and just three bench players, none of whom can really play the middle infield. Eduardo Nunez will play short in Jeter's absence, which means Eric Chavez will be the regular third baseman for the time being. The more he plays, the more likely he is to get hurt. There's no backup shortstop, and the backup second baseman is Frankie Cervelli. I'm sure Jeter could play in an absolute emergency, but let's hope it doesn't come to that. Here's the starting nine…
Brett Gardner, LF
Curtis Granderson, CF
Mark Teixeira, 1B
Robinson Cano, 2B
Nick Swisher, RF
Eric Chavez, 3B
Jorge Posada, DH
Eduardo Nunez, SS
Frankie Cervelli, C
CC Sabathia, SP
It's an 8:10pm ET start, and YES will carry the game for ya. Enjoy.