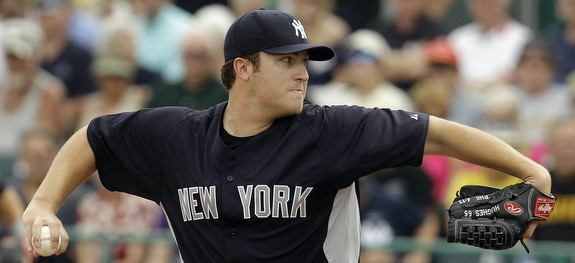 This game is number 108 of the season, exactly two-thirds of the way through. The old saying is that you use the first half of the season to evaluate the team, the second third to make changes, and the third third to ride those changes out. The Yankees chose to make no changes in the second third (or minimal changes, really), which is why Phil Hughes' start tonight is so important. Joe Girardi indicated that they won't continue using a six-man rotation this month, and Hughes' spot is clearly the one most up in the air. A poor performance could land him in the bullpen or in Triple-A, but a good one … could do something else. I dunno what. Here's the lineup…
Derek Jeter, SS
Curtis Granderson, CF
Mark Teixeira, 1B
Robinson Cano, 2B
Nick Swisher, RF
Andruw Jones, DH
Russell Martin, C
Eduardo Nunez, 3B
Brett Gardner, LF
Phil Hughes, SP
Apparently the weather in Chicago is supposed to be bad, so a delay or postponement is a possibility. The game is supposed to start a little after 8pm ET and can be seen on YES. Enjoy.
Update: There is "severe weather" on the way, so the game will begin in a delay. They'll reevaluate things at 7:45pm CT, so we're probably looking at a 9:30pm ET start at the earliest.
Update Part Deux: They're saying a 8:55pm ET start, so my estimation skills suck.