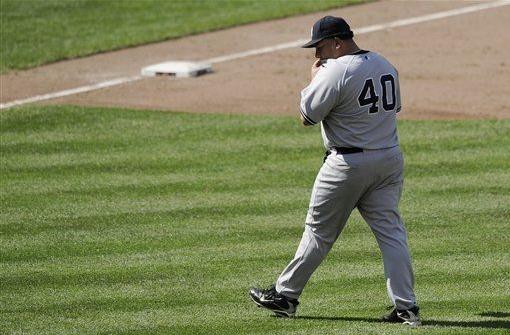 The Yankees lost a rather annoying game to the Orioles this afternoon (didn't get a runner past first base? really?), but the good news is they have a chance to make it up for it right away in the back-end of the doubleheader. Here's the starting nine…
Derek Jeter, SS
Curtis Granderson, CF
Mark Teixeira, 1B
Robinson Cano, 2B
Nick Swisher, RF
Andruw Jones, DH
Russell Martin, C
Eduardo Nunez, 3B
Brett Gardner, LF
Ivan Nova, SP
Despite ESPN's Sunday night restrictions, the game will be available on both YES and MLB.tv. If you want to listen on the radio, tune into WFAN 660 and not WCBS 880. They're still covering Hurricane Irene on the usual station. Enjoy the game.
Update: Well, so much for that. Apparently the game is blacked out everywhere but YES. Those jerks.
Update Part Deux: Derek Jeter is a (very) late scratch. Gardner is leading off, Nunez is at short (batting ninth), and Eric Chavez is at third (batting eighth). Jeter fouled a ball off his leg in the first game of the doubleheader, so perhaps that stiffened up on him. I'll update the post if we find out anything more.