You gotta love the everyday aspect of baseball. Twenty-four hours ago, we were pulling our hair out over a stupid loss to the Angels, but now everything in the baseball world is right again. The Yankees roughed up a rookie pitcher and took home a stress-free win on Wednesday. Perfect.
Oh Curtis, I Can't Stay Mad At You
Curtis Granderson was one of the goats of Tuesday's game, getting picked off first base with Mark Teixeira at the plate and the tying run on base. It took him all of two pitches to make up for that mistake on Wednesday night. We'll talk more about Angels' rookie Garrett Richards more in a bit, but all you need to know right now is that he walked the first two men he faced before catching too much of the plate with a 1-0 fastball to Curtis. It was literally off the top of the wall in right center, hopping into the home bullpen after ricocheting off the fence. Three batters in, the Yankees had a three run lead.
Oh but wait, Granderson wasn't done yet. He tacked on a second homerun in the fifth inning, a solo shot on another Richards' fastball. This one was a no doubter to left and Curtis' 31st homerun of the season, a new career high. There's 47 games left in the season, and right now he's on pace to finish with 43 bombs, which would be the second most in the AL since 2008. Obviously, Jose Bautista tops that list with 54 last year. Even if he takes mercy on opposing pitchers the rest of the way and doesn't hit 40, Granderson has been a marvel this season and the Yankees' best player day-in, day-out, no questions asked.
Cy Nova
Okay, let's not get too carried away. Ivan Nova was very good yet again, serving up just a solo homer through the first six innings (more on that in a bit) before losing the zone in the seventh. He gave up two singles and two walks to the first four batters in that seventh inning, but before that he's allowed just four hits and a walk in six frames. Fourteen of his 18 outs came on ground balls, but he didn't strike out a single batter and only got two swings and misses (both on fastballs) out of 96 total pitches. That's right out of Chien-Ming Wang's playbook.
Nova did get some help though, because he could have easily finished the game with a 6 IP, 6 R line rather than the 6 IP, 3 R he ended up with. Rafael Soriano stormed out of the bullpen with the bases loaded and nobody out in the seventh, then got a ground ball double play out of Peter Bourjos (run scored) and a harmless fly ball out of Jeff Mathis. He's still perfect since coming off the disabled list, retiring all 14 men he faced plus a guy he didn't even face on the double play. It might be overlooked given the score, but Soriano's three outs in this game were huge.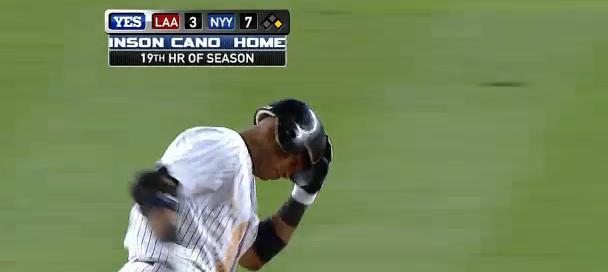 Leftovers
You can see why Richards was the 42nd overall pick in the 2009 draft, the kid's got a great arm. But he was in way over his head in this game, making his big league debut in Yankee Stadium without a single Triple-A inning to his credit. He walked the first two men he faced, gave up a homer to the third, didn't throw a first pitch strike until the sixth batter, and didn't strike anyone out until the fifth inning. The Yankees hung six runs on Richards thanks to six hits (including two doubles, a triple, and Granderson's two homers) and the two walks, but you know what? He can say that his first career strikeout was Derek Jeter, and that he was the first starting pitcher to make his big league debut at New Yankee Stadium. That ain't bad.
Granderson wasn't the only offensive star of the night. Robinson Cano doubled in the first, tripled in the fourth, and homered in the seventh. The long ball was an opposite field shot, a non-cheapie that landed several rows up right next to the visitor's bullpen. He didn't get a chance to complete the cycle, unfortunately.
Aside from Grandy and Cano, you also had a pair of hits from Nick Swisher, singles from Eric Chavez and Russell Martin, and walks from Brett Gardner and Derek Jeter. Mark Teixeira and Eduardo Nunez were kept off the bases.
Nova has now given up eleven homeruns this season, but all eleven have been solo shots and ten of them have come in the friendly confines of Yankee Stadium. That's what you call limiting the damage, folks.
Luis Ayala finished the game off with two scoreless innings, throwing 32 pitches. He's pretty good for the last guy in the bullpen, a veteran dude that can soak up some garbage time innings and keep it from getting interesting. Anyway, the Yankees put their three game losing streak to an end and regained their seven-game lead over the Halos for the wildcard.
Box Score, WPA Graph & Standings
MLB.com has the box score and video highlights, FanGraphs the nerdy stuff, and ESPN the updated standings.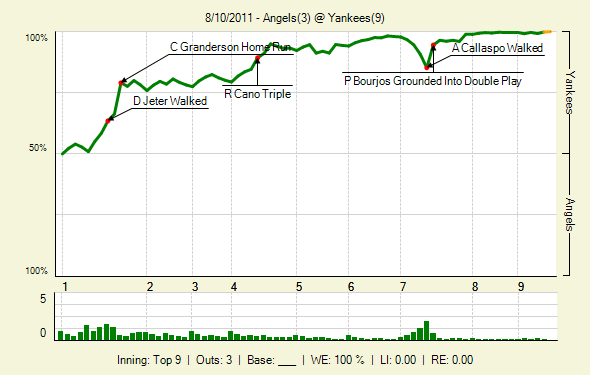 Up Next
The rubber game is a matinee, a 1pm ET start on Thursday. Bartolo Colon takes the ball against his former team and rookie right-hander Tyler Chatwood. If you're making a last minute decision to head up the Stadium, RAB Tickets can help you get in for cheap.