The night started with the tarp but no rain, and ended with the tarp and a lot of rain. The Yankees and White Sox managed to squeeze six and a half innings of baseball in between rain delays, enough for New York to score six runs and put themselves in position for what was ultimately a rain shortened win.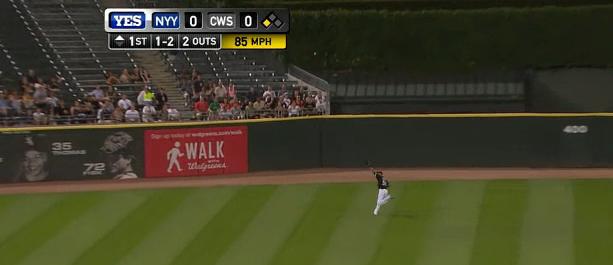 An Early Lead
CC Sabathia had a two-run lead before he even took the mound on Monday, and the Yankees' offense gave Phil Hughes similar support in this game. Derek Jeter opened the game with a single through the left side, moving to second when Curtis Granderson drew a seven-pitch walk. Mark Teixeira tried to kill the rally by grounding into a double play, but Robinson Cano picked Tex up with a two-out RBI double. It wasn't the two runs Sabathia got, but one run is better than none and it's always nice to take the lead before your starter throws the pitch.
No, You Can't Have My Rotation Spot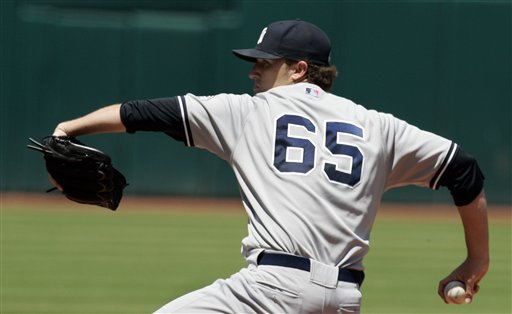 Hughes had a lot at stake in this game. A subpar performance and he was almost certainly headed back to the bullpen, doomed to (a temporary?) fate of long-relief and spot starts based on how Joe Girardi was talking before the game. Given his recent performances against the wimpy Athletics and Mariners offenses, it seemed almost like a foregone conclusion that Hughes would pitch his way out of the rotation in this game. Phil wasn't having any of that.
He came out of the game challenging hitters, throwing ten fastballs in a ten-pitch first inning, the final three at 95 and just one below 93. More fastballs followed in a nine-pitch second inning, though he did mix in one changeup and few cutters. The 17-pitch third inning was his longest, a four-batter frame that featured a ground ball single by Juan Pierre. The fourth inning required just 11 pitches, the fifth just eight pitches, and the sixth just ten pitches. Hughes was on a complete game pace until the skies opened up.
All told, Phil threw just 65 pitches in those six innings, broken down into 45 fastballs, ten curves, six changeups, and four curveballs. Yes, six changeups. I'd like to see more of that, please. ChiSox batters swung and missed at five of his offerings (three fastballs and two cutters), a 7.7% whiff rate that is still below average but worlds better than the 5.1% he had coming into the game. The White Sox didn't get a single baserunner as far as second base in the game, he didn't walk anyone, he struck out four, and got the same number of outs on the ground as he did in the air (six). Yeah, his velocity did drop off as his pitch count increased, but it declined to 92, not from it. That's something that's been getting better each time out, and frankly after this game, I'm not sure how the Yankees could pull him from the rotation. No, the ChiSox aren't a great offense, but don't they have to see if he takes another step forward? There's no harm given their huge lead on a playoff spot.
Overage Charges (get it? too many Tex messages? hahaha … oh shutup, jerks)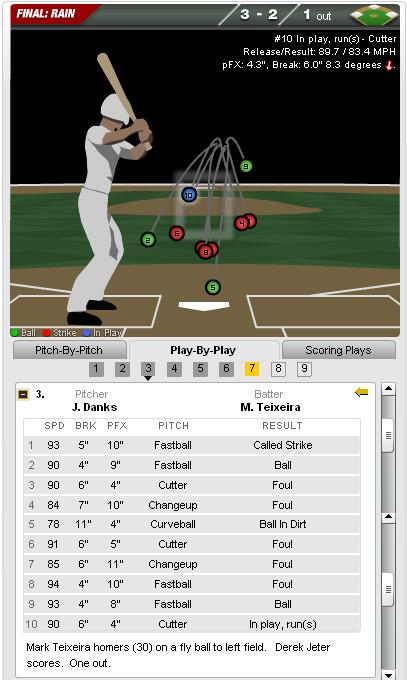 Remember when Teixeira was struggling? When he couldn't do anything but pop the ball up or strike out or ground into the shift? That sucked, but he's been ever so quietly tearing the cover off the ball since the start of the homestand. He went 13-for-39 (.333) with four homers, five walks, and just six strikeouts during those ten games in the Bronx, then on Monday he opened this series with two hits. Although that first inning GIDP took the air out of what could have been a multi-run inning, Tex made up for it with a pair of homers later on.
The first came in the third inning and was a monster at-bat, a ten-pitch encounter that featured five foul balls (including two on changeups down, usually the pitch that eats Tex alive). John Danks eventually made a mistake and grooved a cutter, which Teixeira yanked deep into the left field seats for a two-run shot. He chipped in a solo shot in the seventh inning, coming in a much less dramatic at-bat. It was the 12th time in his career he'd hit a homerun from both sides of the plate in the same game, the most in history. It's his second two-homer effort in the last four games and his fourth straight multi-hit game. The two dingers push his season total to 31, one behind Jose Bautista for the MLB lead. Tex is a streaky dude, but he's definitely feelin' it right now.
Leftovers
I'm not sure if this is how we all imagined Hughes getting his first career complete game shutout, but who cares, I'll take it. Yes, they announced that all the stats do count even though they didn't complete the seventh inning, so Tex does get credit for the solo homer in the top half of the inning (as does your fantasy team). Between CC Sabathia on Monday and the rain in this game, the bullpen is nice and rested for tomorrow. Rafael Soriano kinda needs some work, actually.
Despite the shortened game, every Yankee had at least one hit except for Brett Gardner. Jeter had a single and a double, Tex the two homers and a single, Robinson Cano a double, and both Andruw Jones and Eduardo Nunez singled. Granderson and Nick Swisher each singled and walked, and Russell Martin hit his first homerun since late-June and his second since May. He's hitting .290/.353/.419 over the last week and a half, which I'll happily take with his defense. Grandy, Tex, and Cano each stole a base, the first two together as part of a double steal.
Man, Michael Kay was in full blown mediot mode in this game. No, it didn't rain during the rain delay, but the radar indicated that something was up. It's not the end of the world that they had a delay with no rain, it's not an embarrassment for the White Sox, it's life. Weather reports are wrong all the time. You know if they had started the game on time and then had to pull the tarp for a delay after an inning or so, he'd complain about that too. Oh, and another thing: we don't need to know exactly how many career hits Jeter has every single time he comes to the plate either, thanks. Sorry for the rant, but that gets on my nerves.
YES is really mailing in the trivia questions this series, eh? On Monday they asked which former Yankee was the last White Sox player to win the Cy Young (Jack McDowell), and on Tuesday they asked you the name the last player to win back-to-back AL MVP's while showing you the newly erected statue of Frank Thomas. Not to sound like a total basement dweller, but those questions are as easy as it gets. I'm disappointed, you guys.
Box Score, WPA Graph & Standings
MLB.com has the box score and video highlights, FanGraphs the nerdier stuff, and ESPN the up-to-date standings.
Up Next
They're halfway there; game three of this four-game series will be played Wednesday night. A.J. Burnett and Gavin Floyd will square off in that one. If you're in the Windy City and want to catch the game, RAB Tickets can get you there.