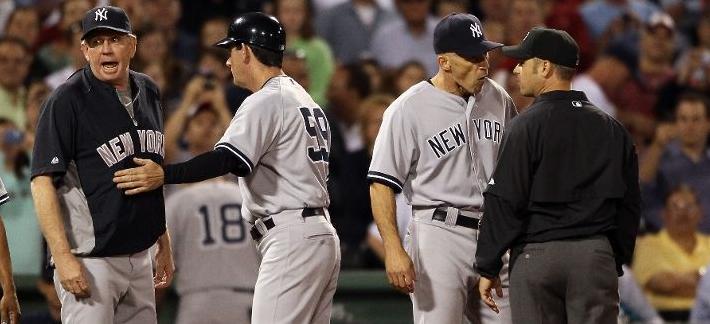 On the surface, a 5-2 win doesn't seem like anything out of the ordinary. Three-run leads are pretty substantial, even against a great lineup like the one the Red Sox ran out there. Of course the game never felt like the three-run lead was all that significant, mostly because the Sox had runners on base pretty much all night. Ultimately, the relief quartet of Cory Wade, Boone Logan, Rafael Soriano, and Mariano Rivera got the final nine outs to preserve the lead, but it's what Joe Girardi didn't do that's worth talking about.
After throwing 18 pitches on Sunday and 19 pitches on Saturday, David Robertson was unavailable out of the bullpen last night according to Girardi. Those pitch totals aren't extreme by any means, so in all likelihood Robertson could have actually pitched without it being too big of a deal. He might not have been able to go more than an inning, but pitching three straight days isn't exactly unheard of. Instead, Girardi showed some restraint and rested one of, if not the best setup reliever in all of baseball. He gave the ball to inferior pitchers against a great lineup in a relatively close game.
Now, it's easy to back off a key reliever in a generic August game, when you're facing some middling fringe contender in a game everyone will forget by the morning. It's another thing to do it in a game like last night's. Consider…
It's the Red Sox!
The Yankees had won just two of twelve against Boston coming into the game.
CC Sabathia hadn't beaten the Sox all year and just gutting out 128 pitches in six innings.
First place was kinda sorta on the line. It was either tie things up or fall two back in the loss column.
It's the Red Sox!
It wasn't a must win game, but it was definitely a pretty big game considering how the season series has played out so far. Girardi could have easily handed the ball to Robertson in the eighth inning and I don't think any of us would have had a problem with it. Instead, he took his foot off the gas and looked at the big picture, which is something he's done during his entire tenure as Yankees' manager. We can quibble about individual moves until we turn blue in the face, but Girardi's overall bullpen management is clearly a strength, and games like last night are reason why Robertson will be fresh and (theoretically) more effective later in the season and potentially into the playoffs.