In this week's edition of the RAB Mailbag, we're going to focus on some future issues/hypotheticals, not necessarily things going on with the Yankees right now. If you want to send in a question, make sure you use the Submit A Tip box in the sidebar.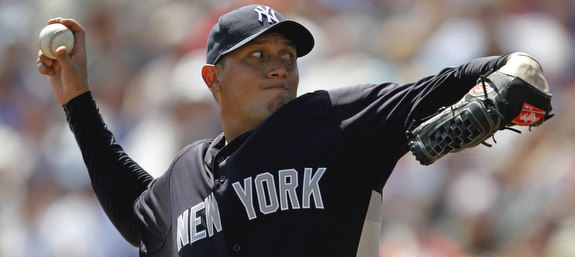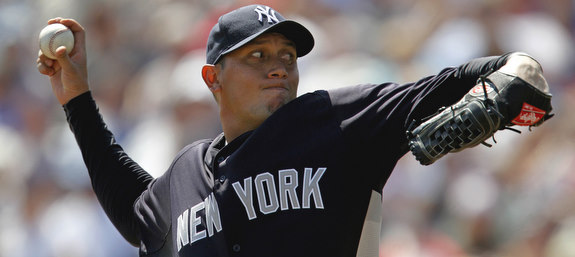 Brandon asks: With Freddy Garcia having a great season he has put himself in position to be a Type-B free agent, do you see the Yankees offering him arbitration?
Garcia currently projects as a Type-B free agent and is pretty safe, I think we're too deep into the season for him to pitch his way out of that ranking. Although his base salary is just $1.5M, he's got another $3.6M in incentives in his contract, which are based on the number of starts he makes. For the sake of argument, let's just say he makes the 30 starts needed to earn all that cash (he's got 19 starts right now) so his base salary going into a potential arbitration case would be $5.1M.
That's nothing given Freddy's performance, and I figure a winning arbitration case would net him a $8-9M or so salary next year. I'd rather give him another low base salary, incentive-laden deal, but I don't think that salary is so outrageous that they can't risk an arbitration offer. There's always a possible handshake agreements as well, like we saw with Javy Vazquez last year. Gun to my head, yeah I think they'll offer arbitration as long as he stays healthy.
Shaun asks: When is Brett Gardner arb eligible? What do you think he will get first time through? Same question for Robertson. Thanks!
Both guys are arbitration eligible for the first time after this season. I'll do a more in-depth analysis during the offseason in my hilariously inaccurate Arbitration Case series, but neither guy will make big bucks next year. Brett Gardner's primary value is his defense, which is still way undervalued in arbitration because no one's going to bother explaining the advanced metrics to the arbiters. Robertson is just a non-closing reliever, which is about the worst demographic you can be in if you want to make big money as a big leaguer. I figure Gardner is in line for $2.5M or so (about what Michael Bourn got his first time through arbitration), Robertson about $1.5M (a notch below what Joba Chamberlain got, when he had a season as a starter under his belt), but those are just early estimations.
Planks asks: Not feasible for the Yankees considering Teixeira is at 1b for a long time, but if Pujols expresses strong interest in joining the Yankees this offseason, what contract would you offer? What do you think he will get from the Cards?
Well if he expressed a strong interest in coming to New York, I would assume he'd be amiable to a discount. The thing about Albert Pujols is that he's having a down year by his standards, "just" a .370 wOBA when his career average is .431. That's a significant drop-off, plus he is 31 (will be 32 by Opening Day 2012) and has had on-and-off elbow trouble for a few years. It's going to take a huge commitment to sign him, so you have to at least consider the possibility that this year isn't a fluke and the sign of decline. I don't think that's the case, but the possibly can't be ignored.
Yankee Stadium is way more hitter friendly than Busch Stadium, though Pujols is one of those guys were park factors don't matter too much. He's a great hitter anywhere and has the power to hit the ball out of any park. Does six years and $183M sound reasonable? That's $27M per season with a $5M signing bonus and a $10M buyout of a seventh year option worth whatever amount ($30M? $35M?). I'm sure Pujols and his agent are thinking Alex Rodriguez money, but the Yankees know the pitfalls of a contract that huge first hand. I'm sure St. Louis would top that offer with a smile on their face, but I wouldn't offer more in my amateur opinion.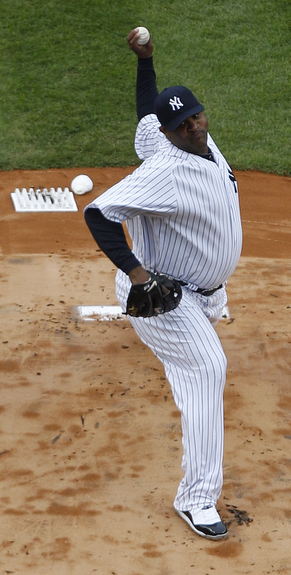 Sam asks: Should CC be getting MVP consideration? Where would be be without the big guy?
I'm not one of those guys think that pitchers should be ineligible for the MVP just because they "have their own award" in the Cy Young, and in fact nothing in the MVP voting criteria explicitly says to omit pitchers. I'm also not one of those guys that thinks there's a difference between "most valuable" and "best." The best player in the league should win the MVP because he's the most valuable to his team. Whether or not the team is in contention is irrelevant to me, Jose Bautista shouldn't be punished because his teammates stink, which is something completely out of his control. Anyway, that's my two cents.
I don't like to look at WAR for MVP voting because a) I don't love it for pitchers (especially relievers), and b) I don't like the way a one-year sample of defensive numbers are used, so the fact that Sabathia is so high on the WAR leaderboard means little to me. Position players play every day and overall I think an elite position player contributes more to his team than an elite starting pitcher. Sabathia certainly deserves some MVP consideration, but I don't think I'd have him among the ten names on my ballot. Among pitchers alone, I'd definitely have Justin Verlander ahead of him, and I'd probably have Jered Weaver ahead of him too. CC's been phenomenal, no doubt about it, but I think some others are more deserving.
Jimmy asks: It's been very quiet so far this season, but how long before the CC opt out debate becomes a huge story?
There's not much of a debate, he's going to opt-out because it's the smart thing to do. It'll be a huge story after the season once he actually says the magic words, but it shouldn't be much of a surprise. Everyone knows it's coming and the Yankees will deal with it then. Nothing else they can do, and there's no sense worrying about it.
Tyler asks: Which minor leaguers are Rule 5 eligible after this season? Who do you think will be added to the 40-man?
College players drafted in 2008 and high school players drafted in 2007 are the newly eligible players this year (I have no idea about international free agents), so that includes three important players for the Yankees: Austin Romine, D.J. Mitchell, and David Phelps. All three are no-brainers, they have to be protected. I'm not the biggest Mitchell fan, but he definitely has value and there's no reason to give him away. George Kontos (a 2006 draftee) is probably worth protecting this time around as well.
David Adams is on the fence, but I think he's worth protecting as long as his recovery from the foot/ankle injury continues to go well. True middle infielders that can hit are exactly the kinds of guys you keep. The interesting case will be Pat Venditte, though I think the Yankees will leave him off the 40-man roster and some team will grab him for a Spring Training look-see.
Johnny asks: Dante Jr. has been insanely hot with the bat lately. However, do you discount his stats because the GCL hardly has any 2011 draftees playing yet? The level of competition right now is way below where it will be in 2-3 weeks right? Or is it safe to get excited about Dante Jr?
The further you get away from the big leagues, the less the stats matter. Baseball history is littered with guys that tore up the GCL but didn't hit anywhere else (check out Tony Blanco's GCL numbers). That said, you'd much rather see a kid tear that league up than struggle, just for piece of mind. If Dante Bichette Jr. started his career hitting like, .200/.250/.350 with 75 strikeouts and ten walks in 50 games, then yeah that's a reason to worry. Strong performance means less that poor performance, if that makes sense.
Full season leagues are the first big test, that's when you can really begin to pay attention to performance. It's the first time these kids are playing every single day for months on end, grinding through long bus trips and crummy hotels and nagging injuries. It's a tough transition and you'd be surprised at how many players can't handle it. Great GCL numbers are nice to see, but ultimately they shouldn't change anyone's opinion. I won't rank Bichette any higher on my next prospect list because of what he's done over the last few weeks. The scouting report always comes first.